A hotly debated proposal before the St. Louis County Council is on hold for now. Councilmember Shalonda Webb (D-District 4) has put forth a bill that would require county employees to be vaccinated. Questions abound as to whether the proposal, as written, would include all county employees and whether such a requirement would withstand a legal challenge.
"What is the county's liability for requiring this mandate?" council member Mark Harder (R-District 7) asked, questioning if the county could be sued by an employee compelled to get a vaccine if he/she had severe side effects. He noted that in other forums it has been stated the vaccine manufacturers have limited to no liability for side effects.
Harder asked, "What's the liability for an employer like St. Louis County that says, 'Take this or you're fired.'"
If the vaccination mandate is passed, it looks to face strong resistance from a major segment of county employees.
Matt Crecelius, business manager for the St. Louis County Fraternal Order of Police (FOP), told the council that his organization would oppose any mandates on masks or vaccines. He called those decisions "personal decisions" to be made between each employee and his or her healthcare provider.
Crecelius noted that it was not the position of the FOP that the council had the authority to unilaterally issue new employment conditions on its members.
"We've had numerous issues in the last 18 years where the county council has passed resolutions … unless they are adopted by the police board they don't get enacted," Crecelius said. "I think the county charter is pretty clear on that … this is a change in employment conditions. This is a mandatory subject of (collective) bargaining … this would have to be negotiated over before it could be changed."
According to Crecelius, FOP represents nearly one-third of all current county employees.
Webb indicated that she did not intend for the bill to apply to County Police officers, but it's not clear if the current language proposed would exclude them.
Much of the discussion and debate among council members took place during a Committee of the Whole meeting on Sept. 7. That meeting was held just a few hours before the council's regularly scheduled meeting. During the later meeting, the decision was made to hold the bill until further information and direction could be provided by the county counselor's office.
Putting a temporary halt to evictions
In other business, the council passed an ordinance putting a temporary halt on evictions in St. Louis County. The measure passed along party lines with all four Democrats in support.
The ordinance is designed to protect tenants who are financially unable to meet their rent obligations at this time.
"The ongoing COVID-19 pandemic and the high level of transmission of COVID-19 in St. Louis County poses a serious threat to public health and the public welfare within St. Louis County. This ordinance is necessary to prevent persons who are evicted from becoming homeless or forced to relocate into close quarters in a new congregate or shared living arrangement, which foreseeably will increase transmission of COVID-19 in the community, thereby posing a serious threat to the public health and welfare in St. Louis County."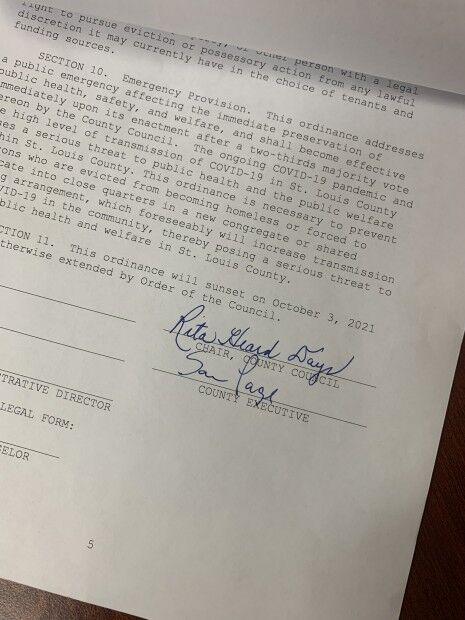 County Executive Dr. Sam Page was quick to sign the ordinance after the council's vote.
"Today I signed eviction moratorium legislation to protect our most vulnerable residents," Page said. "Meanwhile, St. Louis County employees are working through the weekends to get federal emergency rental assistance funds out the door. So far $9.58 million has been issued, assisting 1,353 families."
Republican members of the council had raised concerns on the legal durability of the ordinance given that the U.S. Supreme Court had recently struck down a similar provision issued by the Centers for Disease Control and Prevention (CDC). They also questioned whether the measure was too one-sided, not taking into account the needs of landlords across the county.
Millions of dollars in rental assistance remain available to tenants in need through federal funding provided to the county. Landlords may also be available to benefit from the program, but only if the tenant also applies.