On Dec. 30, the city of Manchester and the Marquette High community said goodbye to a fellow leader, mentor and friend when Marquette Assistant Principal and Manchester Ward 1 Alderman Carl Hudson was laid to rest.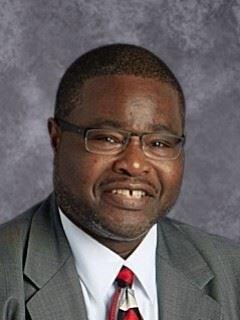 Hudson passed away on Dec. 15 from an extended illness. Hudson had worked for Rockwood since 2010. 
"He was an amazing boss and always treated me as an equal," said Rhonda Costa, Hudson's administrative assistant for the last four years at Marquette. "He made a point to reach out to people. He treats everyone on the same playing field and makes everyone feel great. He was always very kind and looking out for the best interest of students and staff." 
Principal Steve Hankins said in a letter to Marquette's families, "We are all heartbroken over this tremendous loss. He loved Marquette, the students and his colleagues, and he will be greatly missed." 
The district echoed those sentiments in a public statement.
"We are heartbroken over the loss of our assistant principal, colleague and friend, Carl Hudson. … (He) was an outstanding mentor and friend to staff and students. He touched countless lives over the years, and he was oftentimes the one who would be found comforting others. His coworkers at Marquette share that Carl would want us to take care of the kids and to take care of each other, which is what we will do as we mourn and remember our wonderful and kind friend and leader."
Prior to coming to Marquette, Hudson served as assistant principal at Parkway South High. He also worked in the Normandy and Kirkwood school districts.
"I had the true privilege and honor of working with Mr. Carl Hudson at Marquette High school for nine years," Greg Mathison, Parkway's assistant superintendent of student services, said. "Mr. Hudson was a man of character who cared deeply about his kids, his colleagues, and his friends. Carl had a gift for making everyone feel special. In fact, Mr. Hudson took great pride in knowing all of the students by name at Marquette, not an easy task in a school of 2,300 students. 
"He would introduce himself to a new student, ask their name, and tell them that he would give them a quarter the next time he sees them if he doesn't remember their name. I saw him challenged on this over 100 times and he lost only once and that was on a technicality. 
"What kids didn't see behind the scenes was a man who wept for them, prayed for them and truly cared about them. He would also spend countless hours studying the yearbook pictures, the school rosters and anything else during the summer to help him remember their names. 
"Why would he do all of that? It's simple, he wanted them to be seen. He wanted them to feel special and he wanted them to know he cared for them. This 'small thing' goes a long way into looking into the man that Mr. Hudson was and the legacy he leaves behind."
Mathison ended by thanking his former colleague and friend. 
"Thank you, Mr. Hudson, for making me not only a better educator but a better person. I, like many others, will forever remember your smile, your laugh and your love. You will be missed."
A lifelong resident of Manchester, Hudson was a 1985 graduate of Parkway South High who then attended Missouri State University. Hudson went on to serve his hometown when he was elected to the city's Board of Aldermen in April 2021.
"His stories of growing up in Manchester reminded us of the importance of maintaining the same small-town community feel that he experienced as a child. Strong community values were often part of Carl's conversations with us," said Manchester Mayor Michael Clement. "It's hard to imagine the number of lives that Carl Hudson influenced serving as an assistant principal, a role that he loved to talk about, particularly his interactions with youth who, often, merely needed a role model to offer them time and a voice. Soft-spoken, thoughtful and wise, Alderman Carl Hudson will be missed!"
According to Costa, Hudson was also a reverend who made guest appearances at local churches, even officiating at weddings and funerals. He also enjoyed serving as a mentor to staff and helping them to prepare for job interviews, and he talked about pursuing this interest after he retired from Marquette. 
On Dec. 17, the Marquette Mustang football team announced that they would be retiring jersey #98 in his honor. A memorial service was also held at Marquette High on Dec. 19, during which attendees were asked to wear red, or Missouri State University or Dallas Cowboys apparel. The following school day was a dress-up spirit day in honor of the man that wore a suit – complete with pocket square and shined shoes – to school every day.
On Dec. 20, Manchester Alderman Marilyn Ottenad (Ward 2) began the Board of Aldermen meeting with a tearful invocation recognizing the passing of her fellow alderman. She and others expressed how much they enjoyed working with Hudson. 
"He was a great mentor and he offered tremendous support of the city's initiatives," City Administrator Justin Klocke said. 
The city of Manchester plans to honor him with a memorial bench or tree.