There's an art to making beautiful cakes and scooping perfect portions of ice cream. Just ask Wildwood entrepreneurs Tiffany Thompson and Steve Christensen.
For most of the summer, Thompson's 3-foot-tall birthday cake in honor of Bagnell Dam's 90th anniversary was paraded through the Ozarks. The cake features icing that replicates water and waves. There are boats and fish – all the things you'd associate with Lake of the Ozarks. The top tier resembles the dam itself and bears the celebration's logo proudly proclaiming: The Best Dam Birthday Bash!
It all looks good enough to eat. But Thompson would not advise it. The cake's ingredients came mostly from Home Depot and Menards – Rubbermaid totes, buckets, sewer hoses, spackling compound and tape. Yep, it's fake.
While Thompson's creations are "fakelicious," there's nothing inedible about Christensen's passion.  He's the Scoops Guy, who recently opened a Scoop School at 2612 East Ave. in Wildwood, right behind the Grover post office. 
Just as Thompson is an expert at creating fake cakes and other food and drink items, Christensen is an expert when it comes to the world of real ice cream, frozen yogurt, frozen custard and the like.
The Brisbane, Australia, native is the executive director of the National Ice Cream Retailers Association. As such, he has spent the last couple of decades training individuals and management around the world in all the details of entering into and maintaining top-notch frozen dessert stores. His journey to Missouri was, of course, ice cream – or custard – based and a bit circuitous. He moved from Australia to Michigan to Missouri.
"St. Louis stole our hearts," he said. "It's a big custard town and there's great premium ice cream here, too. St. Louis is very central, and (students) can get some great ice cream while they're here."
Christensen has been in West County for the whole 17 years he's been in the state. "I love the family feel of it," he said, "and I've always strived to have the facility close to where we live."
Years ago, Christensen's organization purchased the Silky's in Ballwin and did training there at the Mr. C's facility. He said it was nice to learn how to run a shop within a shop, but the facility was limited in terms of space. His second location, inside St. Louis County's business incubator on Spirit 40 Park Drive in Chesterfield, offered a large auditorium but no retail section. 
"In our new location in Wildwood, we actually have both," Christensen said. "We have a great training room, a lot of space and we're building an ice cream shop in the front of our facility. So, we have space dedicated to training, inventory and a functioning ice cream shop … Cherry Hills Creamery. You got the scoop on that! We haven't told many people."
It may be the one aspect of his work that Christensen has kept quiet. He has literally traveled the world teaching the nuances of running a successful frozen dessert business to tens of thousands of people in seminars, trade shows and workshops. For well-established businesses, he works with stores on a consulting basis. 
"They may seek a few areas of improvement, to hand the business down to a relative or totally get out of the business. In some cases, franchise management teams from various parts of the country are brought here to get up to date with their training," he said. Then, he added, "Potential independently-owned ice cream shops are really our wheelhouse.
Scoop School boasts a three-day standard course that's roughly 50% theory and 50% practice. The theory part is in the classroom learning about finance, operations and marketing. The hands-on portion is making ice cream and everything else – from scooping treats to rolling waffle cones.
Christensen also maintains a YouTube channel and icecream.video website that features some 250 videos about all aspects of the business. Recently, Scoop School videos surpassed their 1 millionth view.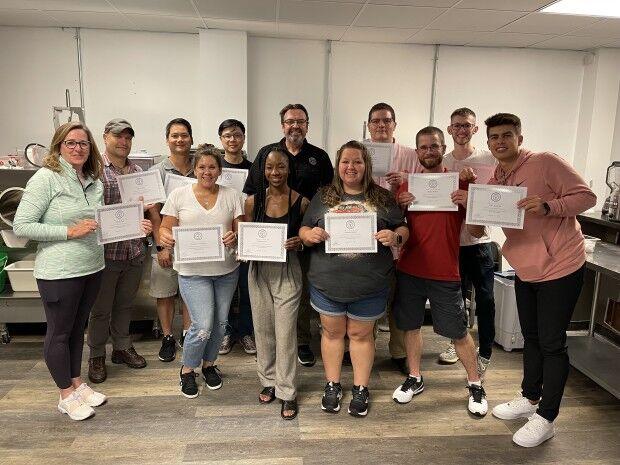 "We're unique in that we train the theory and business of ice cream as well as the hands-on. Yes, it's important to learn about small business finance, marketing and how to lay out your store. But everybody loves standing in front of a freezer or a custard machine, and having that beautiful, fresh ice cream or fresh dessert coming out – it's pretty hard to beat."
Unlike Christensen, Thompson had absolutely no experience in the food and beverage industry before she created "Fakelicious: Fake Food for the Real World!" In fact, she said her business grew out of a childhood hobby and a desire to amuse her father during 2020, when COVID-19 meant she couldn't take him out to eat or bring him real food.
As a child, Thompson made fake food out of Play Dough, boxes of sticks, or whatever else she could find. She made similar items for her granddaughter. Then, last year her hobby took a different twist.
"My dad is a disabled Vietnam veteran who lives in the Columbia VA Hospital," Thompson explained. "We weren't allowed to see him for 14 months during COVID, so I started sending him fake food.  Once we got in to visit him again, they still wouldn't let us bring real food in. So, I would bring him a Cardinal baseball hot dog made out of clay. He loved it!"
And Fakelicious was born.
"I've always been an artist," Thompson said. "In high school, I won the state Best of Show at the State Art Competition in 1986. I'm good at painting and drawing, and can do just about anything creative."
She said she goes into restaurants now and says, 'I can make that better.' For a growing list of clients, she does. Restaurants and stores use Fakelicious food for staging and photoshoots since real food can lose its appeal over a very brief period of time. Thompson's food looks as real and fresh as "just served."
"Margaritaville in Lake of the Ozarks is going to have me stage their bridal room," Thompson shared. "If people are planning to have a wedding there, they can see how it will look with plated food, a fake wedding cake and champagne. They can also pack it up and take it with them when they do bridal shows."
Thompson said she donates a portion of her profits to the Food Bank of Central and Northeast Missouri. She chose that charity because of the assistance they gave her in 2015, at a time when she personally knew what it was like to not have food. She also donates many of her creations to silent auctions and other charities such as Camp Circle Star and those working to increase breast cancer awareness.
Her food, she said, meets more people than she does. But perhaps not for long, as her fame is growing.
Locally, Thompson has created lifelike toasted ravioli for Pasta House and frozen custard for Ted Drewes.
"Now that people are getting to know the product and the name, I can do more," she said. "I'm even talking to Busch Stadium to see if I can get my fake hot dogs and cotton candy into the Redbird Club so they can display their products. I would be so excited to be able to get my food into Busch Stadium!"
For Thompson, Fakelicious is part therapy, part business and all fun.
"It just makes people happy!" Thompson exclaimed. "People just don't know that they need fake food in their lives!"    
That may not be true of ice cream or frozen custard or frozen yogurt.
"Frozen custard is always near and dear to my heart," Christensen said. "We started off in that business. But the country's being taken by storm by these small batches of micro creameries that offer a number of premium ice cream products with unique flavors, locally run and made. So, it's kind of a toss-up currently between custard and premium ice cream.
"The beauty of the business is that everybody loves ice cream products. Particularly in these days when life is a little uncertain and there are some challenges, it doesn't take a lot to go down to the local ice cream shop and get a little treat … it's like a 15-minute vacation."