The Westminster Christian Academy Wildcats boys cross country team heads into district competition fresh off winning the Metro League championship.
Coach Nile Heefner's Wildcats will compete at noon Saturday in the Class 3 District 4 meet. Teams competing in the district meet are Blair Oaks, Boonville, California, Capital City, Eldon, Fulton, MICDS, Osage, Priory, Southern Boone, Warrenton, Westminster Christian Academy and Wright City. The meet will be held at noon Saturday at Linn High School.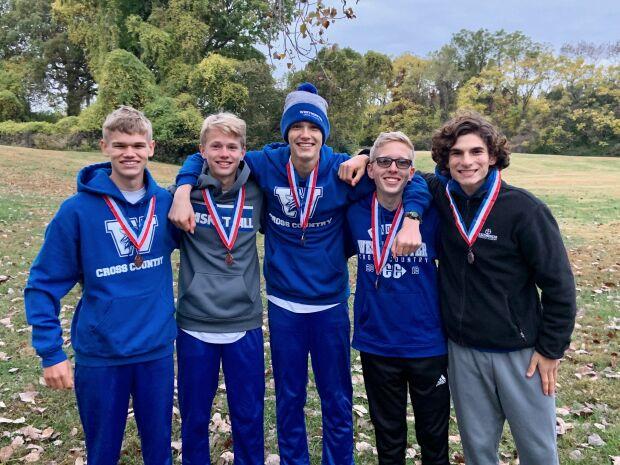 "Our goal is to finish in the top two at districts at Linn and run in the state meet at Gans Creek," Heefner said.
The state meet will be held Nov. 12 in Columbia.
"We finished ninth at state in 2018," Heefner said. "Our goal is to finish higher this year and some day win Westminster's first cross country a state championship."
It's been a good season for Heefner's squad.
"The 2019 season has been a very positive experience so far," Heefner said. "The boys have worked hard, kept a great attitude, and continue to have fun and enjoy running together."
Westminster's team record before districts and state shows the Wildcats winning four out of seven meets. There have been two second-place finishes and one sixth-place finish at a big school meet.
"To put that in perspective, we've competed against 108 teams so far this season (and) beat 101 teams and lost to seven," Heefner said. "Two of our boys have made the top 10 five-kilomter record board at WCA. Juniors Colin Ring, with a time of 16 minutes, 45.06 seconds is fifth, and Hunter Friener, with a time of 16:56.17, is ninth on the record board."
Heefner said his squad was optimistic heading into the league meet that was held at Jefferson Barracks.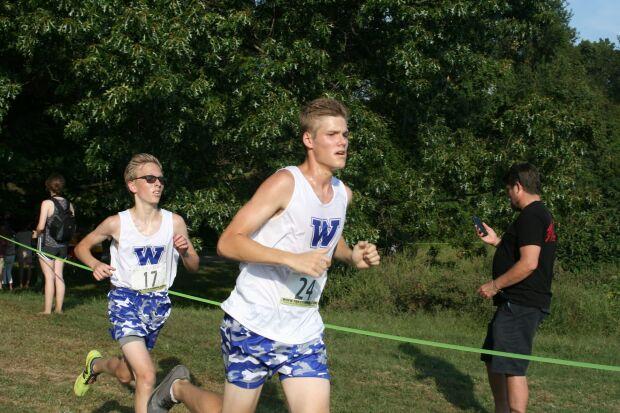 "Based on individual runners season best times from MoMileSplit and their rankings, we knew going in we could win the meet on paper, but like most teams, we've had our share of aches, pains and sickness this season and were not 100 percent sure we would win," Heefner said. "You never know until you race how the places will add up. I encouraged the boys to go out and give it their very best and good things would happen. And that they did."
Jefferson Barracks presents a good test for runners.
"Jefferson Barracks is one of the more difficult courses we run," Heefner said. "There are many hills and the running surface can be rough at times. There is both an uphill start and finish on the course, which really tests a runner's strength and endurance."
The Wildcats won with 36 points. John Burroughs was a distant second with 80.
Freiner was third overall in 17:45.87. Ring was fourth in 17:47.69. Heefner said he was pleased with how they ran.
"Along with juniors Ring and Freiner, our varsity team has two other juniors, Hayden Turley and Thomas Gorline; sophomore Luke Beachy; freshman Connor Vennemann; and three other boys contending for varsity, senior Clayton Perona, junior Vaughn Goff and senior Ethan Storer.
"(We had) Good races by all the boys on a tough course. No personal best times on this one. We're hoping to see personal best times set at districts and hopefully state."
His squad was happy to win the conference meet.
"The boys and I were very excited to see the Westminster white and blue uniforms in five of the top 12 places," Heefner said. "It's always thrilling to see that many Wildcats running so close together up front.
"Winning the Metro League championship was one highlight of the season so far. Another big highlight was the trip we took to Columbia on Sept. 27 to run in the first annual Gans Creek Classic on the new Mizzou cross country course and also the new Missouri high school state meet course. We finished second out of 33 teams in the Blue Division."
Heefner said he is impressed with the new course in Columbia.
"This is a championship level course with many runner and spectator features like no other course," Heefner said. "The course is fast. It has electronic kilometer time and place tracking shown on electronic color billboards that post results as the race is happening; even a play-by-play announcer giving updates on the race for the fans to hear."