Kylee Sullivan cemented herself as the most decorated athlete in Parkway South history male or female.
At the recent Missouri Class 2 Girls Swimming and Diving Championships held at the Rex-Plex in St. Peters, Sullivan shined as bright as a comet. She won four state meet gold medals for the second year in a row. Sullivan's efforts also sparked the Patriots' second consecutive Class 2 state championship. The team finished first with 238 points.
Sullivan finishes her high school career with six individual state titles and five relay state titles. She also owns four school records. But she's humble about her career statistics and being Parkway South's most decorated athlete.
"I wouldn't be the most decorated athlete if it wasn't for our strong relays" Sullivan said. "I'm so grateful that my teammates strive to be the best and push me to be the best every day."
Coach Blakeleigh Mathes has enjoyed her role in helping Sullivan at Parkway South.
"Coaching Kylee has been one of the greatest privileges of my life," Mathes said. "She is humble, hardworking, compassionate and a true leader. She leads by example and truly cares about each one of her teammates. She's made me a better person and a better coach."
Sullivan set new Class 2 state meet records in winning the 200-yard individual medley (2 minutes, 1.88 seconds) and 100 butterfly (54.27 seconds) titles. She won both events in the last three years.
"Winning in three consecutive years is something that I'm really proud of," Sullivan said. "It goes to show that the training we do every season is working. Class 2 is very competitive, so it's a great accomplishment."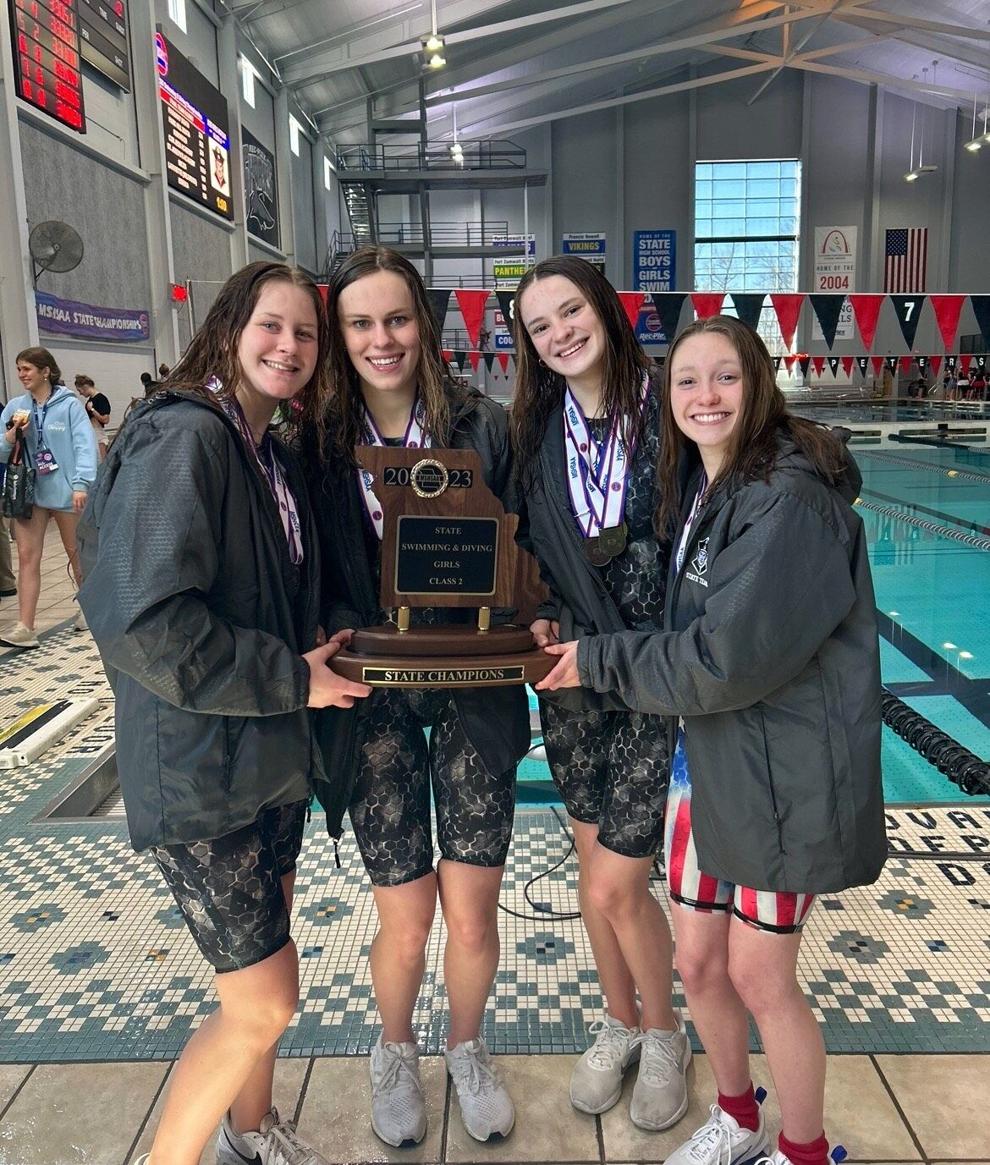 Mathes agreed.
"To have that level of success in Class 2 where the competition has always been high is incredible," Mathes said. "She puts in the work physically, mentally and emotionally year in and year out."
Parkway South's 200-medley relay team of freshman Lexi Cook, junior Alayna Henage, senior Lucy Price and Sullivan set a Class 2 state record of 1:44.51.
"Lexi has been a huge addition to our team. She had really big shoes to fill because our backstroker, Logan Knolhoff graduated last year," Sullivan said. "Lexi is only a freshman, but she stepped up and did her part to contribute to the winning relay. She works really hard at practices and pushes all of us every day, so we're very grateful for all she did for our team.
"The medley relay is my favorite relay to race. Our medley relay is one of our strongest relays, and we knew that this would be the last time all four of us get to swim together," Sullivan said. "We also knew we were capable of breaking the record, so we were so happy when we achieved that."
Mathes was pleased, too.
"This may have been one of my favorite memories," Mathes said. "This group really stepped up. Watching Lexi fit right in with the team is just a testament to the culture of South and how they truly love being with one another."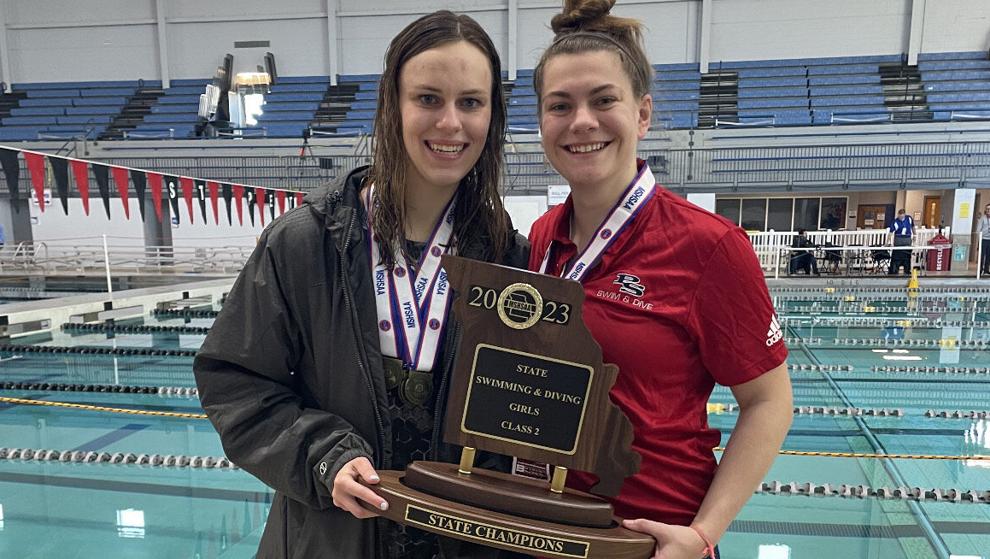 Sullivan's other school records are 1:36.22 in the 200-free relay, 3:30.51 in the 400-free relay and 54.27 in the 100 butterfly. She also was the anchor on the Patriots' winning 400-freestyle relay, which finished with a time of 3:30.51.
The 400-free relay team of Sullivan, Cook, Henage and senior Mia Muckerman was not favored in the race.
"We knew going in that this relay was going to be a dogfight between South, Cor Jesu, Kirkwood and St. Joseph's Academy," Mathes said. "All of these teams were incredibly strong out of the gate … (and) incredibly well coached. Kylee led us off strong and Alayna brought it home for us. Very special to begin and end the meet with a relay win."
"Our team was really confident heading into state, and it was so fun to accomplish all of our goals together and end the season on a high note," Sullivan said.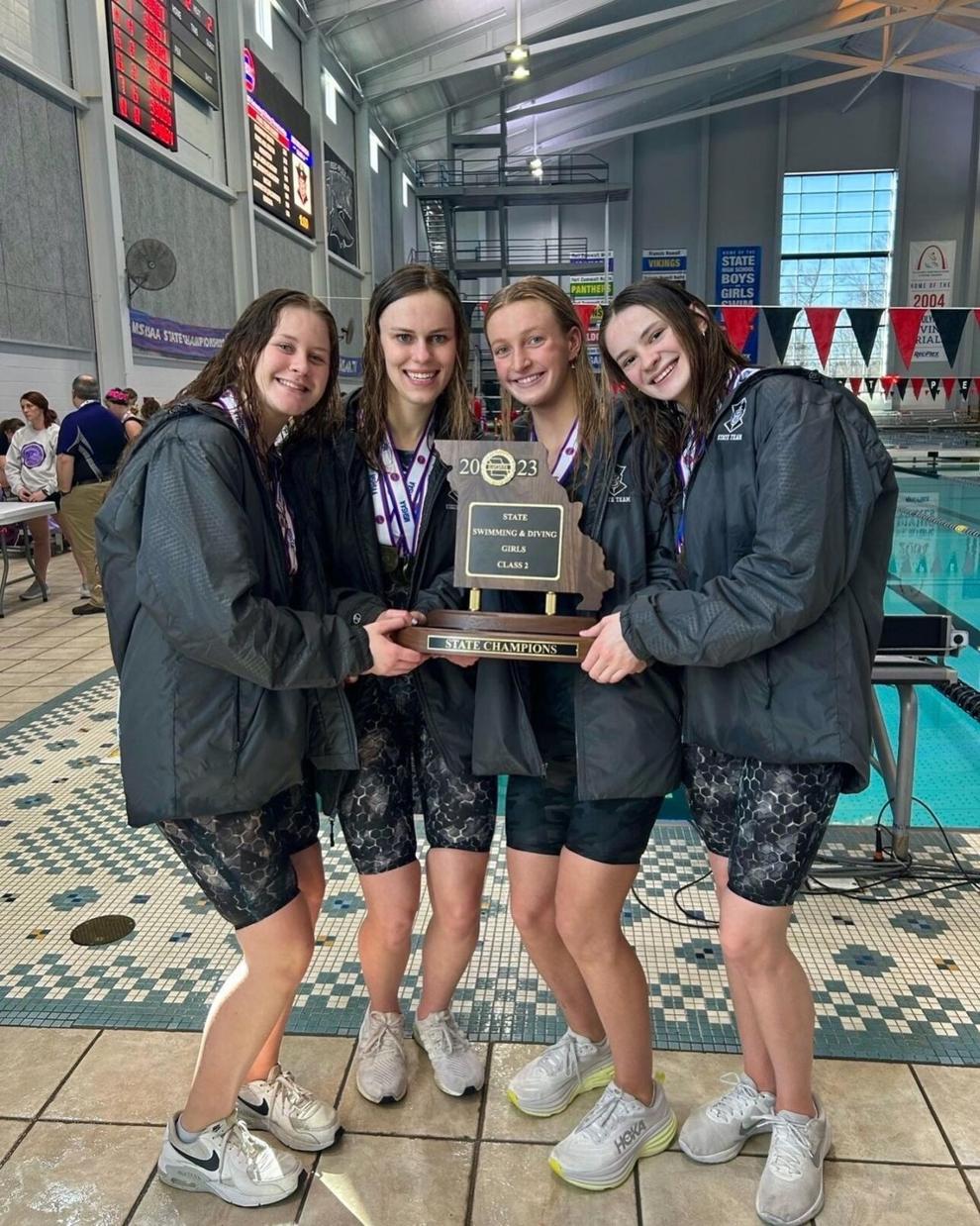 High note indeed.
Sullivan broke her own state record in the 200-yard IM with a new Class 2 best time of 2:01.88. She won the race by almost 2 full seconds.
"I get to train with my teammates, Alayna Henage, and Hannah Fitch on IM sets throughout the whole season, and they always push me to go faster at practice," Sullivan said. "So I was confident heading into the race knowing that the hard work would pay off."
Sullivan said her best stroke is the butterfly; her weakest is the breaststroke so she works on that so she can have a successful IM race. She captured the 100 butterfly in a time of 54.27 to set a state record. Her time topped the previous Class 2 mark of 54.36 set in 2018.
"My goal in the 100 fly was to go as fast as possible," Sullivan said. Mathes said seeing Sullivan set a state record is a memory she will cherish.
"She has wanted that 100 fly record for the past couple of years and I was overjoyed that she finally hit that mark," Mathes said.
For her career, Sullivan finished with a whopping 15 medals: 11 gold, three silver and one sixth place finish.
Next, it will be on to swim for the Tigers. She is excited about the opportunity to swim at the Division I level and in the vaunted SEC.
"When I got to visit Mizzou I loved everything about it," Sullivan said. "The coaches and team have been so welcoming, and I immediately knew that it was the right place for me. I'm so excited to represent my home state at one of the highest levels possible in swimming. It will be a challenge, but I'm looking forward to it."
Her high school time "has gone by so fast for me" she said; but Sullivan will have fond memories of her time at Parkway South.
"Blakeleigh is the best coach that you could ask for. She pushes us at every single practice, but also allows us to have fun and goof off," Sullivan said. "She listens to all of our feedback, and is willing to do anything to help us in and out of the pool.
"I'm so lucky that I have the opportunity to swim for this amazing team. I get to practice with my best friends every single day, and I'm going to miss it so much."
Mathes believes Sullivan will do well at Missouri.
"This is a phenomenal choice for her," Mathes said. "I remember during her recruitment junior year, she came into my classroom after her visit and I could just tell in her eyes she had found her home. The way she speaks about it is just with pure excitement.
"Knowing the person she is, she will thrive at Mizzou. Her recruitment class already talks on a regular basis and I know she will continue to put in the work necessary to compete at an SEC level. I am so excited to watch her at that next level."