High school girls volleyball
The Lafayette Lancers girls volleyball keep improving each week and coach Zach Young likes what he is seeing.
Lafayette recently won the St. Joseph's Tournament of Champions. The Lancers defeated the host Angels 25-12, 25-16 in the championship match.
"We've had a great start to our season," Young said. "We're currently 17-2-1 and have won two good tournaments, but more importantly we're getting a little better every week."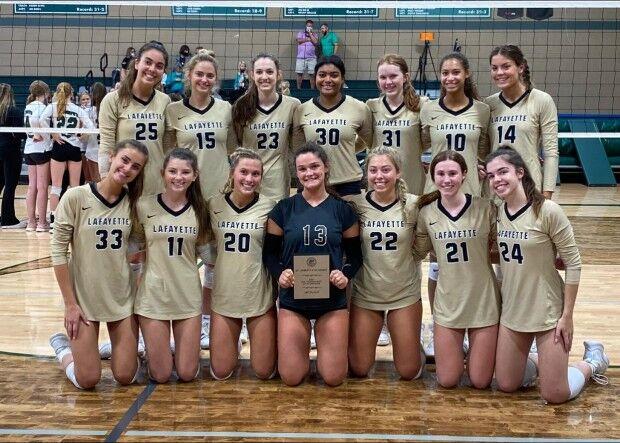 Lafayette defeated Visitation twice before playing the Angels. Lafayette topped Visitation Academy 25-23, 25-11 and 25-18, 25-15
"We played consistently in three out of our four sets against Visitation," Young said. "Our first set, we came out a little slow but senior Liz Katz came in and provided a big spark to get us going."
Then came the solid victory over St. Joseph's, a traditional volleyball power.
"We played a great match in the final," Young said. "St. Joe is a good team and we knew we needed to bring our 'A' game to get past them. We're very proud of the team for performing their best at the end of the tournament after a long day of volleyball."
Several Lancers stood out for Lafayette in the tournament.
"It was truly a team effort," Young said. "We were led in kills by Caitlyn Little (32) and Jordyn Lochmann (29). Layne Witherspoon and Amber Wilt combined for 23 blocks on the day. Allison Risley led the team in digs (42) and provided eight aces. Our back row trio of Madi Hartman, Molly Muschick and Audrey Savacool combined for 70 digs on the day. Alyssa Nelson did a wonderful job running the offense and collected 112 assists and 9 aces for the tournament. Seniors Liz Katz and Paige Borgmeyer stepped in at key moments and provided some big plays."
The win marked the fourth time Lafayette has won the Tournament of Champions.
"This is a great tournament and over the years, it has featured some of the best teams from St. Louis as well as surrounding areas," Young said.
The Lancers program also has captured six successive state championships from 2011-2016. Young said his team has the potential to reach the state final this fall.
"We have great team chemistry and some really nice players," Young said. "Our road in the playoffs is incredibly tough, so we're just trying to get a little better each week to be at our best at the end of October."
High school boys wrestling
CBC sophomore Luke Lilledahl competed in FloWrestling annual Who's Number One, an event featuring the nation's top high school wrestlers. The meet was held in Dallas. 
Lilledahl entered as the No. 2-ranked wrestler at 106 pounds. He left Dallas with the same ranking.
No. 1-ranked Anthony Knox, a freshman from Holmdel, New Jersey, scored an 11-3 major decision over Lilledahl in a match that was contested using current NCAA wrestling folkstyle rules.
In the 106-pound bout for the top spot, New Jersey's Knox secured his place as one of the nation's top talents with a convincing win over Lilledahl, the 2021 Cadet World bronze medalist. Knox relied on two turns in the second period to secure momentum and take command of the top spot at the weight class.
Lilledahl has had an eventful summer. He captured gold medals in both freestyle and Greco-Roman style wrestling for the United States team in June at the Cadet Pan Am Championships in Oaxtepec, Mexico. Then, he made the Cadet World Team and took silver for the USA at the event in Budapest, Hungary, in July. 
Lilledahl also won the Class 4 state 106-pound title in 2021 as a freshman.
High school girls softball
Marquette finished second in the St. Louis Suburban Softball Showdown played recently at the Kirkwood Athletic Association. The tournament was a 12-team affair.
Undefeated Summit blanked Marquette 3-0 in the championship game.
The Mustangs defeated Kirkwood 9-3, Fox 10-4, Lafayette 11-3 and Hillsboro 1-0 to reach the title game.
High school girls golf
St. Joseph's Academy senior Mia Rallo shot a 4-under-par 66 to win medalist honors in the Angel Classic girls golf tournament held at The Quarry at Crystal Springs Golf Club. It was her personal best score. 
In winning the tournament by five strokes, Rallo had a round that included four birdies and an eagle. It was the second tournament victory of the season for Rallo. She won The River Challenge earlier this fall.
There were 18 teams and 103 girls competing in the event.
As a team, St. Joseph's Academy won the Angel Classic for the fifth year in a row. St. Joseph's Academy won by five strokes with a team score of 309.
Senior Izzy Arro finished in the top five for the Angels. She shot a 6-over 76 to wind up in fifth place. Junior Rylie Andrews shot an 82 to tie for 16th place while senior Ellie Davenport was just behind with an 85 to tie for 21st place. Sophomore Isabella Buckley had the fifth score for the Angels, shooting a 90 to tie for 26th place.
High school boys swimming
Parkway West won the 2021 Cape Rock Invite boys swim meet, and senior Will Bonnett was named the meet's MVP.
The Longhorns finished first with 330 points in the recent 19-team event in Cape Girardeau. John Burroughs was a distant second with 293 points.
Parkway West won the meet in 2019, its first time to participate in the event. There was no meet last year due to COVID-19.
"The team was very excited for this meet, mainly for the good competition and friendly rivals," Parkway West coach Coleen Sumner said. "It was an outdoor meet with 10 lanes and was a great chance to travel as a team and compete for some personal best times. That win was definitely a team effort. We finished first through 16th in every event. It took everyone that competed to earn that first-place finish."
Bonnett, who won a pair of championships at the Class 1 state meet in the 200-yard individual medley and the 500 freestyle last year, broke the Parkway West record in the 100 breaststroke with a time of 55.78 seconds. That also broke the meet record. The Longhorns record was held by Carter Murawski who swam a time of 57.24 seconds in 2020. The meet record was 57.88 seconds set by Cape Girardeau Central's Sam Hahs in 2017.
Bonnett also won the 200 IM in 1:52.78. He swam the breaststroke in the 200 medley relay that placed first in 1:42.80. He anchored the second-place 400-free relay that had a time of 3:20.77.
"It was a well-earned nomination as all the coaches voted from all the teams," Sumner said about Bonnett being named MVP. "He has been working hard toward some big season goals, leading this team and having some fun along the way."
Sumner liked what she saw from all three of her divers. They all placed in the top eight. The team's lone freshman, Cabot Murawski, finished fifth and seventh in the 200 and 500 freestyle events. Daniel Budiman finished second in the 50 free and 100 back and was on the first-place medley relay and second-place 400-free relay.
"This group started out strong and ready for the season, many of them are coming off an undefeated water polo season where they were the state champs," Sumner said. "Many have also trained in the offseason. Together, they have set some big personal goals and team goals. 
"Currently, they are working toward getting a strong state team in individual events and all three relays. All three of our divers are qualified for districts competition and we are looking for state spots at that meet."
At press time, the Longhorns were undefeated.
"Just looking forward to keeping the momentum going from our undefeated season so far and to see what they can do come the championship part of the season during conference and state," Sumner said. "Building the depth of our team is very key for us in potentially finishing on the podium at state."