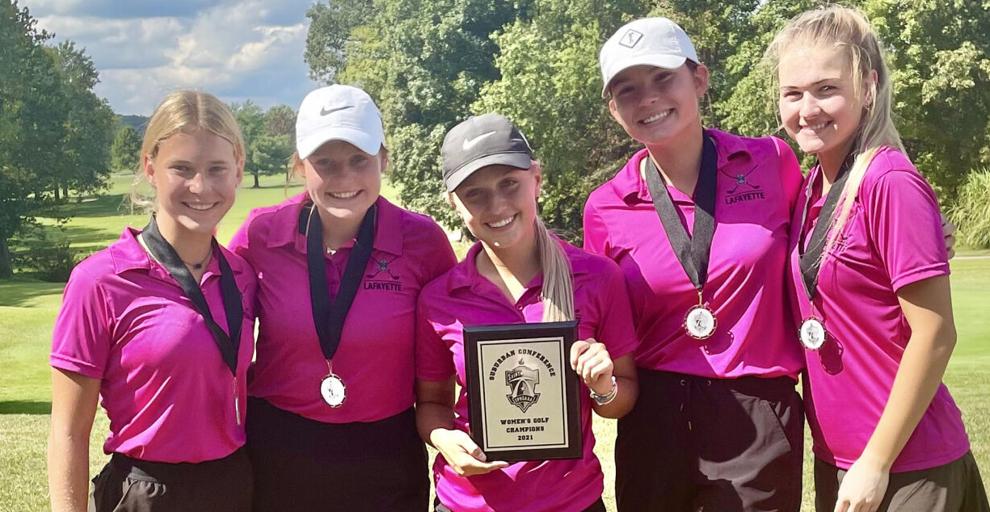 High school girls golf
The Lafayette Lancers captured the Suburban Conference Yellow Pool girls golf tournament played at Crescent Farms.
The Lancers finished first with a team score of 330. The other top team scores were Marquette at 339, Ladue at 362, Summit at 414, Eureka at 419, Parkway Central at 447 and Kirkwood at 452.
Finishing second overall was Lafayette freshman Addy Surber, who shot a 3-over 75. Coming in fourth was senior Caroline Boyette with an 80. Senior Grace Stafford wound up sixth with an 82. Landing in 12th place was senior Kate Worley with a 93.
"We have won all of our matches and have had a couple nice finishes in tournaments with some pretty stiff competition," Lafayette coach Katrina Clark said about the Lancers' season. "We've had three girls fighting for the No. 1 spot, which is a great motivator on our team."
Lafayette was favored to win the conference tournament.
"It is never an easy place to be the favorite," Clark said. "I was proud of how my girls handled the pressure and played their game." She said the team score of 330 was a good one.
"Addy had a solid 75, Grace and Caroline were steady in the low 80s and Kate came in with a solid 93," Clark said. "Those scores are right where I hope they are in each tournament.
"I know (Addy) wasn't happy with her finish (bogey, double), but she really played great," Clark said. "I think she is really peaking at perfect time. Her ball striking is impressive. (She) just needs to keep working on scoring."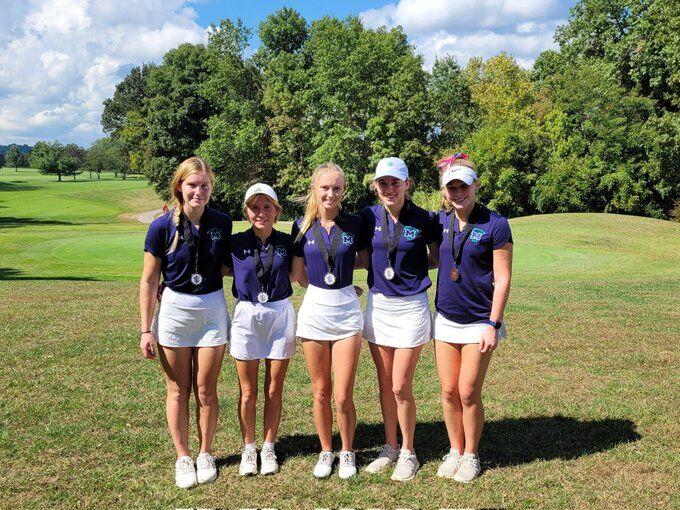 Meanwhile, Marquette junior Peyton Cusick earned medalist honors with a 1-under 71 (2 birdies, 1 bogey) at the tournament.
Marquette coach Kyle Devine said Cusick has played well all fall. She placed second at the Lindbergh Invitational and tied for first at the Summit Invitation, where she lost in playoff to Ella Overstreet, of Jackson.
"Peyton has been phenomenal this season for our team," Devine said. "She regularly is our team low if not the match medalist. I was very impressed with her round. I have become accustomed to Peyton performing well, but she really seemed in control despite the pressure of competing with other solid golfers who were all fighting for individual conference points."
Seeing her nab first in the conference tourney that featured a strong field did not surprise Devine.
"Based on the success that she has seen this year, I knew it was a possibility," he said. "I also knew that there would be stiff competition because of the skills of the other top girls. I am pleased that she was able to perform at her best in the big moment. Peyton was very excited (to win). She puts in a lot of work all year long to play at the level she does so by taking first place, I think it is a great payoff for her."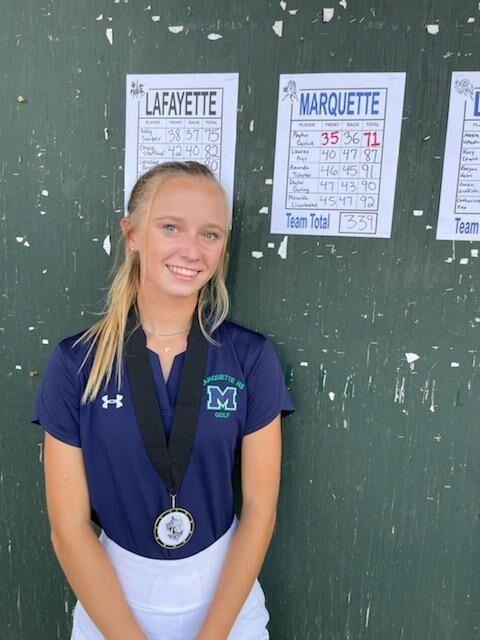 Overall, Devine said she was happy with the tournament's results.
"Much like our team, Lafayette has girls who work very hard to play the way they do. I feel we played well and they just played a little better," Devine said.
"I have no hard feelings about losing to a team that is talented and puts in the work." 
Marquette's other scores were Lauren Prys, seventh with an 87; Skylar Goring, eighth with a 90; Amanda Tichenor, ninth with a 91; and Miranda Linenbroker, 11th with a 92.
"We have an experienced and hardworking group of girls," Devine said. "All five girls have played in conference matches the last couple seasons and four of the five played in districts last year. I think they're calm playing in the tournaments now and they are mature enough to block out the occasional bad hole."
High school girls individual tennis districts
The Class 3 District 1 individual tournament was held at St. Joseph's and the host school did very well. St. Joseph's junior Abby Gaines remained undefeated with a 6-1, 6-0 victory over previously unbeaten Khayli Buckels, of Parkway South. Both of  
St. Joseph's doubles teams advanced. Seniors Ellie Choate and Bella Hong bested teammates Ali Kennedy and Ashley Behan 6-1, 6-2. Kennedy and Behan are freshmen.
The Class 3, District 2 tournament was held at Woods Mill Racquet Club after rain forced it to be moved from John Burroughs. MICDS doubles team of Mikaela Mikulec and Rachel Li lost in the championship match. Visitation Academy's Flora Eidson and Suzanna McLellan defeated Mikuleck and Li 3-6, 6-3, (10-8).   
Marquette and Lafayette saw players advance from the Class 3 District 3 meet played at Francis Howell. In singles play, Gabriella Colette St. Jean, of Fort Zumwalt West, scored a 6-3, 6-1 win over Marquette's Sophie Chang. In the doubles final, Lafayette's Saanvi Gudreddi and Thrisha Kosaraju won 6-1, 6-2 over Josie Maddox and Eleanor Grace Panke, of Francis Howell.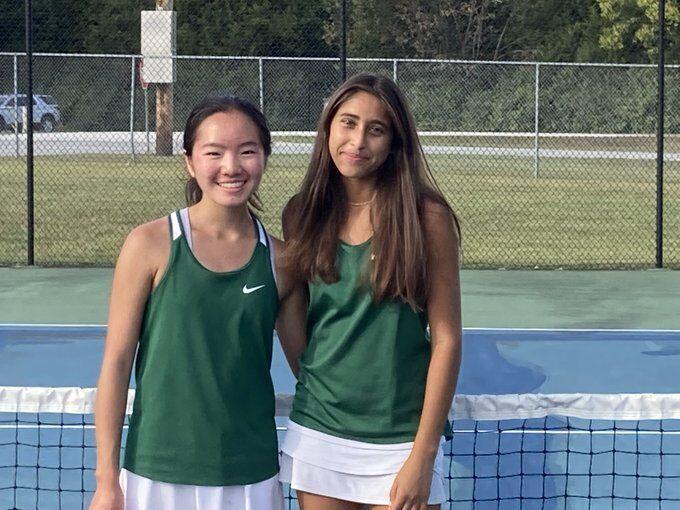 In the Class 1 District 6 meet at Westminster Christian Academy, Whitfield's Ellior Rose posted a 6-0, 6-2 win over Maura Quigley, of Ursuline Academy. In doubles, the Westminster duo of Avery Elizabeth Surber and Greta Jane Larsen earned a 6-4, 6-2 win over Gabriella Meier and Anne Polansky, of Ursuline Academy.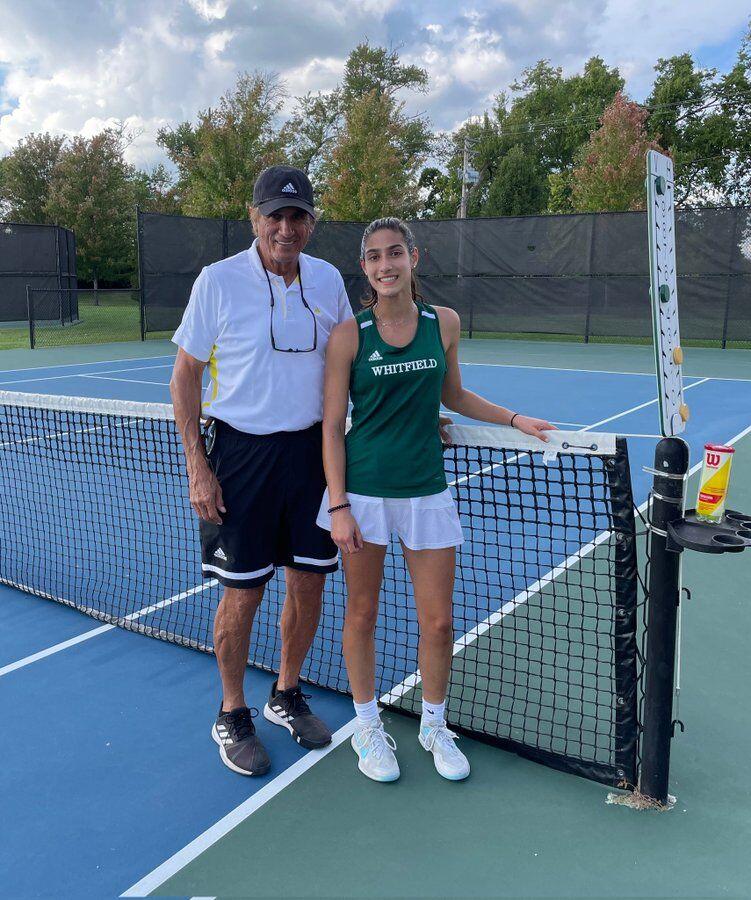 High school girls team tennis districts 
Westminster Christian Academy scored a 5-2 victory over the Ursuline Bears in the Class 1 District 6 team championship match at Westminster.
The Wildcats won two of the three doubles matches in the match. Avery Surber and Greta Larsen won 8-2 at No. 2 doubles and Kate Dempsey and Alexis Hackmann won 8-5 at No. 3 doubles. In the singles wins, Larsen won at No. 2 singles 6-2, 6-4 while Surber won at No. 3 singles 6-2, 6-4 and at No. 6 singles, Hackmann won 4-6, 6-2, 10-8.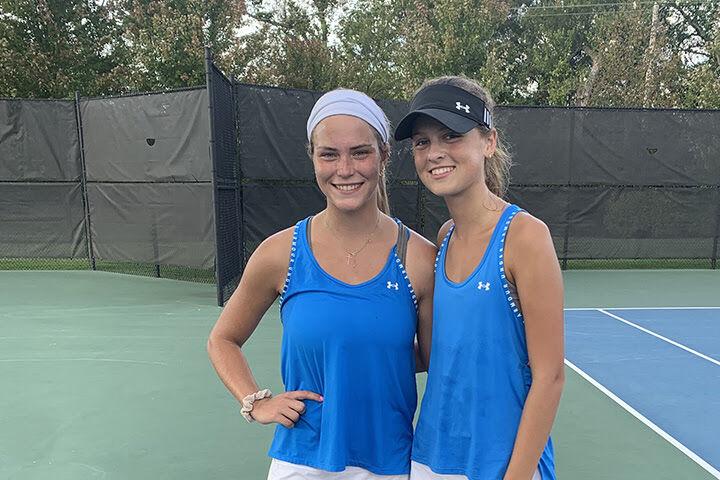 "My girls showed a lot of mental toughness and grit," Westminster coach Madeline Jolly said. "Ursuline is a talented team. They are very consistent. My girls had to play aggressively and confident to win, and they pulled it off. I'm very proud of it."
The was the first district title in Jolly's six seasons as the girls coach with the program.  
"The girls were so excited," Jolly said about winning the district. "It was fun to watch them celebrate with and for one another. I'm just so proud of my girls and their collective effort this season. We have our sights set on our first state championship. I have absolute belief in these girls ability to bring it home."     
The Lafayette Lancers won the Class 3 District 3 district championship with a 5-4 win over host Francis Howell.
The St. Joseph's Academy Angels captured the Class 3 District 1 title with a 5-0 victory over Parkway South.
The MICDS Rams earned the Class 3 District 2 title with a 5-3 win over defending Class 3 state champion John Burroughs. MICDS won five singles matches to take the district after losing all three doubles matches, which were played first. Mikaela Mikulec, Rachel Li, Chelsey Nwamu, Stella Kreisel and Bennett Baur won their matches. In the semifinals, the Rams scored a tight 5-4 triumph over defending Class 2 champ Visitation Academy.  
The Parkway Central Colts defeated the Hannibal Pirates 5-0 to win the Class 2 District 3 crown.  
High school boys swimming
The Marquette Mustangs enjoyed a second-place finish at the Lindbergh Invitational with 483 points. Kirkwood took first place with 535 points.
Marquette coach Joe Schoedel declared the team as "much improved over last year."
"We showed we can compete with the best in the state," Schoedel said. "We had several fast guys come in this season to join upperclassmen that have been steadily improving over the years. Together, they are a solid group, giving us a depth we haven't seen in a couple of years."
The Mustangs' Jack Favazza won the 200 individual medley (IM) with a time of 2 minutes, 1.19 seconds. The time was a personal best for the sophomore. Schoedel said Favazza will likely own the school record before he's done swimming.
"It was a solid swim that he's happy with," Schoedel said of the race. "He didn't push the front half too much and showed that the IM is a breaststrokers' race."
Several other Mustangs impressed Schoedel as well.
Senior Gabe Cohen has been dropping times left and right, putting up personal bests in every event this season, Schoedel said. Sophomore Alex Chen also has had some big drops in his best events, along with Aidan Edgintonton and Ryan Dorch.
"(Cohen's) second-place finish in the 100 breast places him 10th in the state," Schoedel said. "As a team, I think they all know we have something special here. Everyone wants to contribute."  
High school girls softball
The Parkway North Vikings won the Suburban Conference Green Pool championship. The Vikings finished their league schedule with a spotless 6-0 record.