Parkway West freshman softball player Alexa Riddel knows what she likes when she's at the plate.
"The ball looks pretty big to me in the strike zone so I'll swing at anything that looks good," Riddel said.
Everything has been looking good to Riddel lately. At press time, she had clubbed four home runs and was hitting .574 with 17 RBI.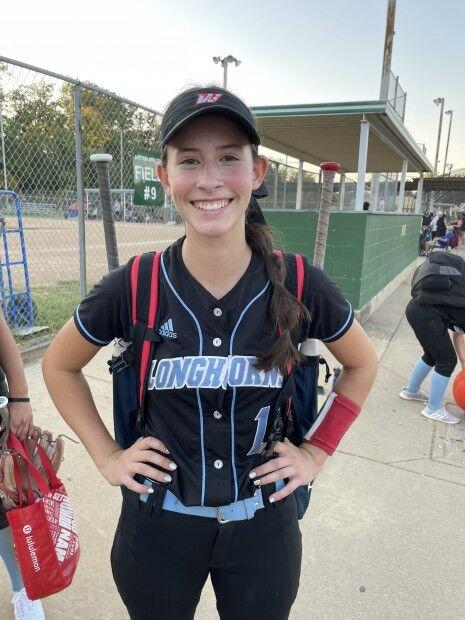 At 5-foot-10, 155-pounds, she can hit for power but she's also looking to put the ball into play and help her team produce runs. At press time, she had eight doubles and one triple to date.
"I do consider myself a power hitter," Riddel said. "Depending on the pitcher, I usually spray the field. I take the ball where the pitcher is pitching it. As a hitter, I'm able to get base hits or hit home runs."
When she's not hitting, she's in center field. Second-year coach Andrew Jett likes what he sees from Riddel, who bats and throws right-handed.
"She is an amazing athlete that knows the game and has a great approach at the plate," Jett said.
Earlier this season, Riddel helped the Longhorns win the Parkway Tournament. She banged out 10 hits in 18 at-bats, had three doubles, one triple and her first high school home run. It's a memory she won't soon forget.
"I remember I was facing a good pitcher (Lydia Feiste) and I knew going into that at-bat I needed to be aggressive," Riddel said. "She was a quicker pitcher so I stood in the back of the box and just focused on staying through the ball. I knew if I got a hold of one of her pitches it would go far because of how hard she was throwing.
"I knew it was gone off the bat. I was excited and pumped up rounding the bases."
It did sail.
"We knew that it would happen, just didn't know when," Jett said. "It was in the first inning against a good Fort Zumwalt West team. It was a no-doubter off her bat to left field. Her teammates were so excited for her. They all of such a good relationship and love seeing their teammates be successful. Of course, they swarmed Alexa at the plate."
That homer gave Riddel a keepsake.
"I have the ball right now in my room on one of my shelves," Riddel said.
Parkway West scored a 10-9 win over Marquette in the championship game. Riddel did her thing to help secure the victory. She went 3-for-4 with a double and three runs scored. Her defense showed up as well. Trailing by a run at 7-6 in the fourth inning, Riddel threw out a runner. With the Longhorns up 10-9 in the seventh inning, there were two runners on base with one out. Riddel made a diving catch in right-center field.
"Alexa was huge for us in the Parkway Tournament," Jett said. "Her offensive numbers were great, but the thing that put her ahead was her two clutch defensive plays in the championship game."
Riddel has been playing competitive softball since she was 10.
"I have been around the sport my whole life," Riddel said. "My mom coached high school and travel softball in Ohio before we moved to St. Louis. I like being a part of a team, I love playing with girls who have the same goals as me and are working hard to succeed. My goal was to make the varsity. I have pretty high expectations for myself. I knew if I did make the team, I would work hard and be able to contribute right away."
Riddel sees herself as an all-around player. Jett does not disagree.
"Alexa is a hard worker that is willing to do anything that is asked," Jett said. "She is an amazing athlete that knows the game and has a great approach at the plate. Alexa does it all. She can go deep into at-bats and fight off tough pitches with two strikes. She can drive the ball to the right-center field gap and she can also turn on one and hit bombs over the left-field fence. Alexa has a strong arm but does an amazing job of tracking down fly balls. There are not many balls hit her direction that get down. She also is not willing to dive and make the big play."
Riddel works with hitting coach
Courtney Gentile on a weekly basis. Gentile also coaches one of the 16U teams for Stl Chaos. Riddel also does hitting drills during practice. That had led to her home runs.
"During practice, we usually do a lot of front toss, or slower front toss to work on timing," Riddel said. "And off the tee, we work on hitting the ball opposite field so hitting inside of the ball. We also work on drills to stay through the ball and driving through the ball like hitting to contact instead of hitting all the way through."
Through this hard work, Riddel has been able to add power to her offensive game. 
"I knew I had the capability to hit home runs. I just need to apply it into a game," Riddel said. "I think being able to hit home runs is awesome and gets the team pumped up but timely hits like singles and doubles to score runs are just as important."
Despite being a freshman, Riddel has quickly fit in with her teammates.
"The upperclassmen have been very welcoming and have made the transition into high school very fun," Riddel said. "I feel like I fit in with this group of girls because we all love softball and working toward getting better every day. Coach Jett has been really encouraging and positive. He pushes us to get better every day, I enjoy having him as a coach."
Jett is happy she's on the team. He had heard the incoming class of freshmen was going to be a strong group.
"We held our summer camp at the end of July and Alexa was there," Jett said. "She was one of the younger kids that stood out immediately. I know that she has spent a lot of time playing for her club team, Chaos. First impression was that she was a smooth outfielder with a solid arm and had some impressive pop at the plate. She has so much potential. I have been so impressed with what she has already done in her short high school career, but she has such a great work ethic that I know she will continue to grow.
"She is one of those kids that you can forget about. She is always taking care of business and never an issue. She is a great student that gets good grades. She can be a quiet kid but is always smiling and having fun.
When softball ends, Riddel will move on to play basketball this winter.
"I'm looking forward to representing West on the basketball court as well," Riddel said.