A rose has bloomed into a state champion at Whitfield.
Senior Elli Rose captured the Class 1 girls tennis singles championship. The 5-foot-7, 120-pound Rose made history with her 6-2, 6-2 victory against Duchesne's M.K. Beckemeier.
Rose, of Creve Coeur, is the first state tennis championship in the history of the school, which was founded in 1952.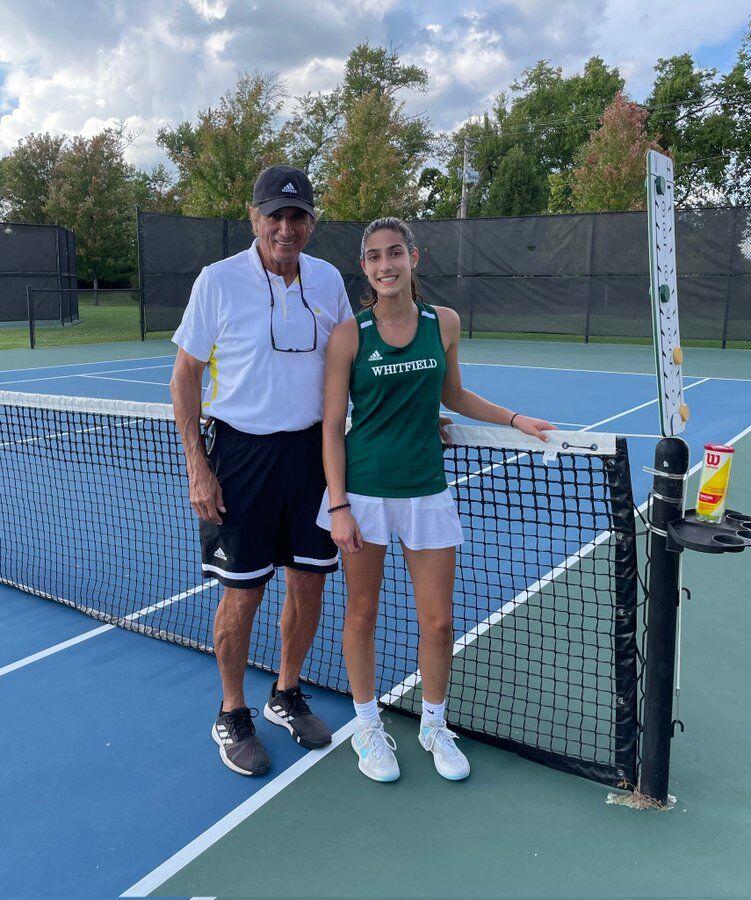 "It's such an honor to be Whitfield's first female state champion," Rose said. "I am so happy I was able to represent such an amazing school that has given me so much these past four years."
She said her parents helped to make her state champion journey possible.
"I am so grateful to my parents for their unwavering support and help throughout this entire process," Rose said. "I feel so lucky to have them by my side and as my support system. I'm so thankful for everything they do for me."
She said she has "dedicated the past year and a half to training year-round to hopefully play at the collegiate level next fall; my parents have encouraged me to truly go for it and pursue my dreams."
Last year, Rose reached the state quarterfinals. She lost to Lutheran South's Emma Pawlitz (6-3, 6-3), who went on to place second.
The loss made Rose more determined to come back and win it all.
After winning her District 6 championship, she punched her ticket back to state. 
"I definitely felt more comfortable and confident coming into the state tournament this year since I had experienced it last year," Rose said. "I think this also gave me a leg up since I knew what to expect. Before the state meet, I was thinking about how much I wanted the win. I knew how hard I worked and I wanted to finish out my high school tennis career with an amazing accomplishment."
She opened with a 6-0, 6-0 victory over Bolivar's Sophia Vestal and then defeated Harrisonville's Morgan Evans 6-0, 6-0. In the semifinals, Rose defeated Clayton's Aanya Singh 6-0, 6-3 to reach the state final.  
"I felt like I played pretty well in my first two matches," Rose said. "I stayed calm and relied on the skills I knew I had been building for the past year and a half. I took the matches one point at a time focusing on ball placement and then putting power behind it. In the semifinals game, Aanya Singh is a friend of mine from club tennis over this past year. She is a great player."
It was a dominant performance at state for Rose. In all, she dropped just seven games in her four state matches.
In the final, she faced Beckemeier, whom she knew well.
"I've played MK a few times in the past," Rose said. "Walking over to the benches before the state championship match, we were joking with each other about having an official on the court. Last year I beat her in a brutally long and close three-set match to qualify for state.
"It was great to be able to play her again in the state championship. She's a great player and I'll be rooting for her next year."
Besides facing Beckemeier in the final, Rose had to battle the wind as well. But Whitfield coach Pete Demos believed Rose would use the wind to her benefit.
"It was such a windy day. You can't hit it hard and high," Demos said. "You (have to) put topspin on the ball and we worked hard on that this year. If you analyze the match, the wind was so great. The other girl couldn't handle the wind. She won very few games on her side when the wind was at her back. I was reminding Elli that it was about topspin, topspin, topspin.
"She's a very coachable young lady. She's a polite young lady but she's a tiger on the court. She's fearless on the second serve. She's smart. In a tennis game on her level, it's who makes the least amount of errors. That's who usually comes out the winner. She realizes that."
Rose's serve is a key to her overall game, Demos said.
"She has a very professional serve. Her form is perfect," Rose said. "She'd throw it up nice and high and in the wind, I can't discount the importance of playing in the wind. She handled the wind beautifully."
When she won the match point, Rose was elated.
"Right after I won I shouted 'come on,' followed by a huge smile at my mom," Rose said. "I was so excited and I knew my hard work paid off."