Fresh off guiding the USA Cadet team to a second-place finish in the world championships in Hungary, CBC coach Cornell Robinson is taking another step in his career.
Robinson, 44, has stepped down at CBC where he built an outstanding program and became the first-ever African-American head coach to win a state title in Missouri. Now, he'll be the African-American coach at
Wyoming Seminary, a boarding school in northeast Pennsylvania, where he will be the new head wrestling coach.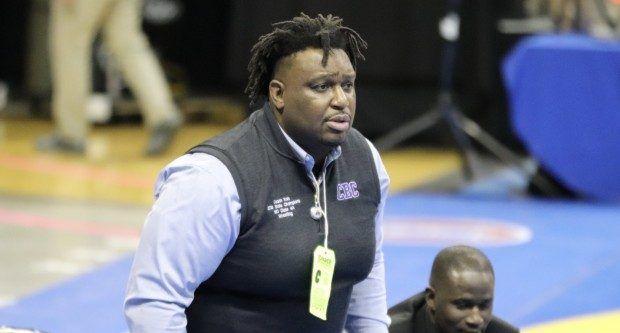 "I'm used to being a first in things like that," Robinson said. "That's why I hold my No. 1 finger up in a lot of pictures when the kids win something. It's about them and me."
Of his new school, he said, "It's the best program in the country and I'll be making a name for myself there."
Wyoming recently won the 2020 National Prep championship.
"I'm going to a school where wrestling is No. 1," Robinson said. "It's a great opportunity. I know I have some big shoes to fill. It's not about football or basketball there. It's all wrestling out there. The wrestling coach is the face of the school.
"Wrestling has its own standalone facility at the school and only the wrestlers use it. Everything is in place for me to be successful there."
At Wyoming Seminary, he'll inherit a solid program. During coach Scott Green's 11-year tenure, Wyoming Seminary went 208-9 in dual meets and crowned 100 individual state champions. The Blue Knights have won 14 consecutive Pennsylvania Prep championships and have captured two National Prep titles (2014, 2020).
No less than eight members of the 2021-22 staff are at present within the nationwide rankings, courtesy of MatScouts.
Robinson also is no stranger to success.
Under Robinson, the Cadets have placed at state for five consecutive seasons. The highlights were winning Class 4 team titles in 2018 and 2019. CBC finished as state runner-up in 2017 and 2021. His tutelage also helped 11 CBC matmen win 18 state championships. Several have gone on to wrestle and enjoy success in college.
"Having kids go one to wrestle in college is important to me," Robinson said. "I want kids to succeed at the next level."
Four-time champion Malik Johnson and three-time champions DJ Shannon and Josh Saunders came up under Robinson. Last winter, CBC produced three state champions in Jack Darrah (195), Lucas White (170) and Luke Lilledahl (106).
Saying goodbye to his wrestlers was more difficult than he thought it would be, Robinson said.
"I'm excited and sad at the same time about all of this," Robinson said. "A lot of people were depending on me a little bit here. I really hate to leave those kids and parents and families that we had at CBC. I haven't broken down in a while. I don't think I cried like that when my father was murdered when I was in high school. It was tough talking to them. I think they're disappointed right now, but a lot of them are happy, too – and the parents are, too. They know how hard I work. They are sad but at the same time, they're happy because I had to go. It's one of those things. It's a great opportunity."
Robinson loves wrestling. He loves to have it competed at a high level.
He always sought to have his CBC matmen compete at more than just during the school season. He wanted them to compete in national and international events.
Along with his high school teaching accolades, Robinson and his wrestlers enjoyed success on the worldwide stage. Saunders made a Cadet and Junior World Crew in 2018. Cevion Severado was a Junior World silver medalist in 2017 in Greco Roman. Severado additionally captured a gold medal on the Pan-American Championships the next year.
Robinson has become an integral part of USA Wrestling's teaching employees. In 2020, he coached the Pan Am Cadet team. Darrah was one of his wrestlers on that team.
After his success with the Pan-Am team, Robinson was named the head coach on the 2021 Cadet World staff.
Robinson is highly regarded in the Olympic development program. Former Olympic gold medalist and two-time World Champion Kevin Jackson, who also is the National Freestyle Developmental coach for USA Wrestling, had high praise for Robinson.
"We were excited to have Cornell as part of our coaching staff," Jackson said in a phone call from Colorado Springs. "He's definitely paid his dues. He's been on several signature tours for us. He was a Pan Am coach and had success. He connects very well to that age level and in fact at every age level. He's been a point man for that cadet age level. He's a great asset to me, the parents and the athletes. We consider Cornell to be a tremendous asset to the program."
His rapport with the wrestlers is strong, Jackson said.
"He communicates at a high level. The kids feel he is there for them in any way – from a workout to being with them in a weight control situation to finding the right music to play in practice, whatever a kid needs, Cornell does it,"
Jackson said.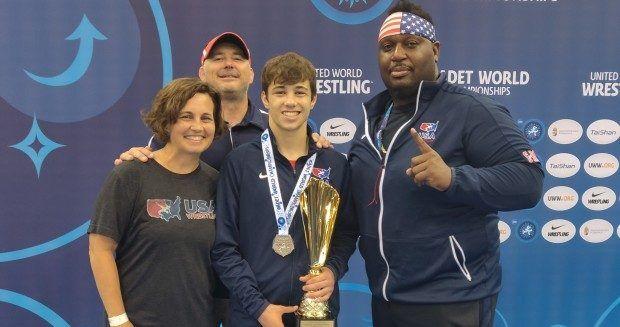 He led the 2021 Cadet World team that finished second in men's freestyle with six world medalists. Lilledahl was one of those medalists. The CBC sophomore was the silver medalist at 105 pounds.
CBC has yet to name a replacement for Robinson, Athletic Director Rocky Streb said. He noted Robinson had a big impact on the CBC program.
"He brought a very high level of commitment and dedication to the sport, really," Streb said. "He fit in quite well with the culture of the department. Two state titles pretty much sum that up. The program garnered some national attention, that's a credit to his commitment. I have no doubt he'll continue to be successful in his new role."
Robinson will not be the only CBC Cadet at Wyoming. Darrah, who is a senior this year, has transferred to Wyoming Seminary and will wrestle for Robinson.
"Jack Darrah is going with me," Robinson said. "It's a good move for him. He was running out of workout partners here. He will go to Stanford next year. So it's going a good place for him as he gets ready for college."