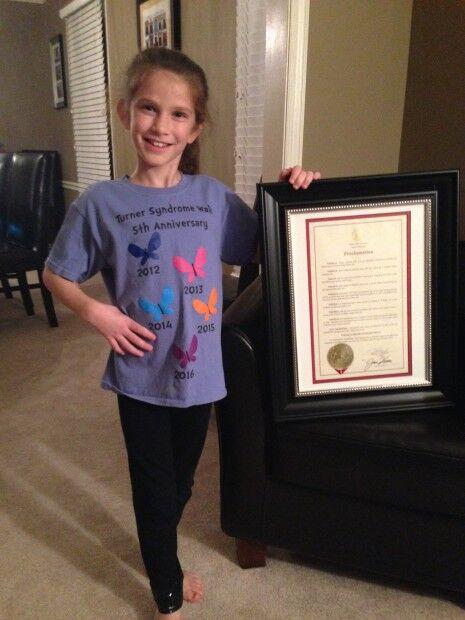 Eight-year-old Sophie Zambrano might be tiny, but she has a big passion and an even bigger heart.
Born with Turner Syndrome [TS], Sophie wants to spread awareness of this condition that affects one in 2000 females but is often undiagnosed. It is considered the second most common genetic disorder in females behind Down Syndrome. In 2014,  former Missouri Governor Jay Nixon proclaimed February to be Turner Syndrome Awareness Month.
According to Turner Syndrome Society of the United States [www.turnersyndrome.org] TS is a chromosomal condition that exclusively affects girls and occurs when one of the two X chromosomes is incomplete or missing. With the average diagnosis occurring at 15 years old, a simple blood test arrives too late for life-altering early interventions and health screenings for potentially life-threatening liver, kidney and heart ailments.
At age 5, her parents explained in simple terms what it meant for Sophie to have the condition. Her reaction was not what her mom, Amy, expected.
"She immediately interrupted with excitement and enthusiasm and jumped around the room shouting, 'So … God picked ME to have Turner Syndrome!?!' She was so thrilled she got selected by God! It was clear she embraced her diagnosis, as it was what made her who she is," Amy said.
TS has a variety of symptoms with short stature at the top of the list. If untreated, the average height will be 4′ 8″, or 56 inches. With doctor-monitored growth hormone treatment, on average, another four inches or a maximum height of five feet, or 60 inches is gained. Chronic ear infections or hearing loss is another indicator. In some cases, this is due to the gradual loss of nerve function. Also, slight abnormalities in skull shape increase the risk of frequent middle ear infections and hearing loss related to these infections. More serious complications include heart defects, diabetes and thyroid ailments.
Sophie is treated at the Here We Grow SSM Cardinal Glennon Children's Hospital Turner Syndrome Clinic. It opened in 2014 and is the 10th clinic nationwide specifically geared for TS patients and their families; which for Sophie, includes her brother Zachary, who is in first grade. Because many patients require a variety of specialists to treat or manage multiple symptoms, the clinic provides coordinated subspecialty care for girls in a centralized location with physicians in nine specialties, such as endocrine, cardiology, ENT and genetics.
What leads a lot of diagnoses in the mid-teen years is due to a lack of the start of menses and delayed puberty onset. One of the potentially devastating effects of TS is ovarian failure and infertility. An estimated 95 percent of girls with TS will need estrogen therapy to jumpstart their puberty. Because estrogen helps with bone density, osteoporosis and scoliosis can develop without intervention.
Sophie is fortunate. Diagnosed through a prenatal amniocentesis test, she does not suffer many of the physical complications, but there are social-emotional aspects of the condition. Attention deficit disorder, anxiety and educational challenges often come into play, including for Sophie. As a third-grader at Pierremont Elementary in the Parkway School District, Sophie experiences academic challenges, particularly in math, but excels in other areas like reading. She considers herself an average girl who loves snuggling with her dog, Biscuit, and taking tae-kwon-do, where she is a first-degree yellow belt.
While Amy considers Sophie the true TS advocate in the family, she serves on the board for 250-member Turner Syndrome Support for St. Louis support group. Through the 501(c)3 nonprofit organization's Fifth Annual Turner Syndrome Walk, Sophie raised $1,600 last year. To make the walk more fun, Sophie came up with the idea to have a butterfly and treasure chest hunt for the kids along the way. As its social committee chair, Amy has helped arrange field trips that celebrate the kids' short stature, such as a visit to the Alton Museum of History and Art to see the Robert Wadlow display. Wadlow grew to be 8-foot-11 and is the tallest person in recorded history.
"We want to show the kids that being the tallest man in the world poses similar struggles as being among the shortest," Amy explained.
She also arranged to visit a local horse named Avyanna, who through blood work, was diagnosed with Turner Syndrome and presents with many of the same physical and social-emotional symptoms.
"Whether making a connection to another human or an animal, we really want the girls to know they aren't alone in their journey."