Breaking the cycle of poverty is the mission of Helping Hand Me Downs (HHMD) nonprofit, one family at a time. The headquarters is located at 16225 Westwoods Business Park Drive in Ellisville.
Wildwood resident Stephanie Suljak founded HHMD in 2011. At the time Suljak's personal interest in working in the foster care system began and she was spending time talking with social workers in the St. Louis area about how she could help. In her research she found that a large number of new moms did not have all of the resources they needed for being a new mom, things like car seats.
"I was talking to the social workers about where the gaps were," Suljak said. "So many moms were borrowing car seats to get their babies home. Or the hospital would give them one, but it wasn't the infant seats with the handle that can go in and out of the car."
Suljak wanted to help fill these needs for the new moms, so HHMD was formed. Shortly after that she realized that most new moms also have older children at home that could use some assistance with clothing. HHMD began serving those needs as well. 
Since 2011, HHMD has served more than 35,000 families in the St. Louis area. Parents requesting assistance just need a referral from a social worker and HHMD can help connect them. Many local agencies and organizations like Nurses for Newborns and area school districts refer clients to HHMD. 
Families are provided with clothes that usually includes something like 10 pairs of pants or shorts, 15 tops and a jacket or coat depending on the time of year. Families are encouraged to bring back the items after they no longer need them and exchange them for the next size or season. New families also receive an item of baby gear, like a car seat or a pack-n-play when they first come to HHMD.
Danielle Brown began working at HHMD earlier this year as its program director and enjoys being able to help families and form relationships with clients and volunteers.
"We don't want to be a Band-Aid, just giving out clothes," Danielle said. "We like to form relationships with people. If there's a need, we're going to jump in and help. That's what I like about this organization. It's not just one thing that we do."
For example, over the summer during the heatwave Suljak reached out to local churches and businesses to ask for monetary donations so they could buy several air conditioner units to give to some families in need. At other times churches or organizations will hold diaper drives for HHMD.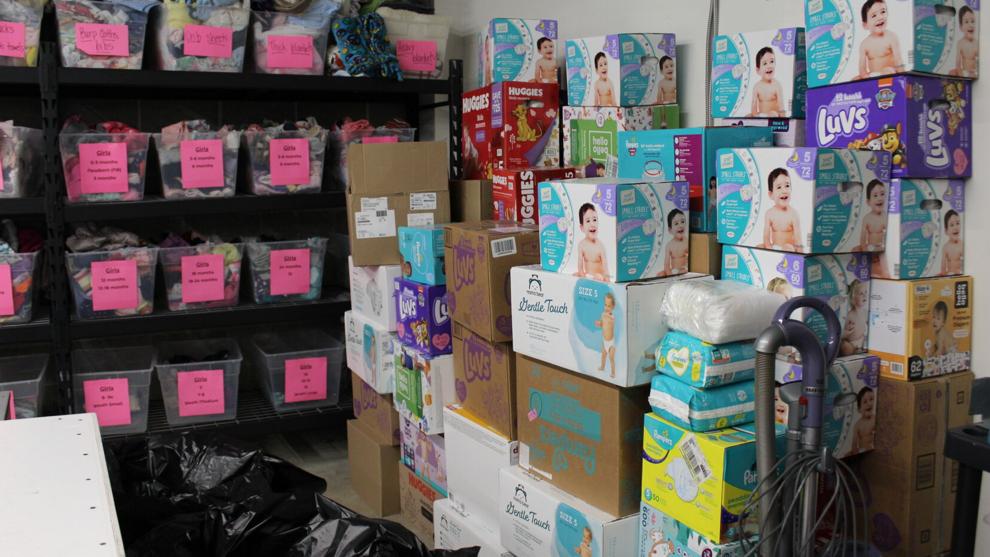 A program called Healthy Habits allows moms who qualify to earn money through an HHMD grant to help pay bills until they get back on their feet. There are a few requirements to participate. Moms must have a job and work at least 35 hours a week, participate in life coaching on a weekly basis, meet with a financial planner and make a budget and provide documentation that they've paid rent on time and utility bills are up to date with a zero balance. If all of these criteria are met, clients can earn up to $2,500 in a year, with payments going directly to landlords or to pay a bill like a mechanic for car repairs. Mary Brown, no relation to Danielle, has been the life coach for HHMD since 2013, and said this program truly is life changing. She believes the life coaching is key in helping moms look at how they make choices in their lives.
"A lot of these families have experienced deeper hurts and they make their decisions based on that," Mary said. "That's where I come in. We look at how to take care of ourselves. We set intentions. I ask them, 'where are you at and where do you want to be?' They have the answers, they just don't realize that they do. Thoughts lead to emotions and emotions lead to behaviors, so we need to really look at where their thoughts are coming from. Any time we can change our thought process or shift our mindset, then we navigate [choices] differently."
Most of the clients are single moms. Mary said they can be in the Healthy Habits program for a year. Some clients may find stability before that time and graduate early from the program.
Former client turned donor Kaitlyn Scott, of Warrenton, said the life coaching requirement was key in helping her succeed in turning her life around. After the birth of her second child in 2016, Scott's doctor gave her a referral to HHMD.
"I had to ask for help and for clothing for my kids," Scott said. "When I walked in they said they offered these other services. I never knew what a life coach was. I was struggling so much. I didn't know how I was going to love my second daughter. If I wasn't aware of the way that I was thinking, I don't think that I would be where I am. Mary helped me realize that my past traumas made me think I could not love her. I never thought I was good enough for my marriage or my kids. She helped me to be able to love myself through it. I used alcohol to cope through my trauma, but I was able to stop. When my daughter came she was very loved."
Mary meets with clients over the phone and really loves the work she is doing through HHMD.
"The work that's been done through HHMD is nothing short of gifting miracles," Mary said. "We have served so many and made an impact and it's not going to stop there. The moms wanting to change their life come in focused and want to dive in and share and that's when you know there's going to be shifts."
While not everybody meets criteria for the Healthy Habits program, the life coaching is available to every mom who comes through HHMD.
Scott's children are now 10 and 6 years old and 7 months old. She said she wishes she knew about HHMD sooner because they've helped her so much. Now that she is able, Scott and her husband like to give back to HHMD whenever they can. This past Thanksgiving they donated a meal to five HHMD families. When they got married, in lieu of gifts, they asked their guests to bring donations for HHMD.
"We know what the struggle is like," Scott said. "We felt like we needed to give back, especially now with the economy. We wanted to show our kids and for them to be grateful for what they have and let them know that not everyone has everything we have. We should try to understand what people are going through or just acknowledge your own struggles. We all have a story and if we shared it I feel like we might treat other people differently."
The idea of HHMD is to create stability and independence for families by helping them with their immediate needs.
"In this day and time there is such a need and there's so many people that are hurting," Mary said. "This is my calling, to manifest wholeness because we can take those broken pieces of hurt and put them back together to make a masterpiece."
HHMD takes donations of children's in-season clothing, books, stuffed animals, unexpired car seats and other items at their location in Ellisville. They have a drop-box shed outside of the building that donors can place items in anytime, any day of the week. 
Danielle said they love having people volunteer their time to help sort and organize donations. 
Mondays and Tuesdays are their busiest days as they sort through donations from over the weekend. Danielle uses their Facebook page, HHMD's to post immediate needs, like certain sizes of clothing that are requested. It seems they always need size 5 through 8 of children's clothes because at that age kids tend to wear out their clothing quickly, so they don't usually come back to exchange for bigger sizes. Last year HHMD gave clothing to 3,674 children in the St. Louis area. Donations are tax deductible and receipts are available if requested.
Have some fun with other HHMD supporters by attending their Bougie Bingo Gala fundraiser at 6:30 p.m. at Pine Hollow Farms in Eureka on Feb. 11. Tickets include three games of bingo, dinner, dancing and prizes. The invite says to come dressed comfortably, not bougie, and be ready to have a great time. Tickets are $100 each, or a table of 10 for $850.
To order tickets or to find out more about how to support HHMD or to receive support, go to their website at helpinghandmedowns.org.