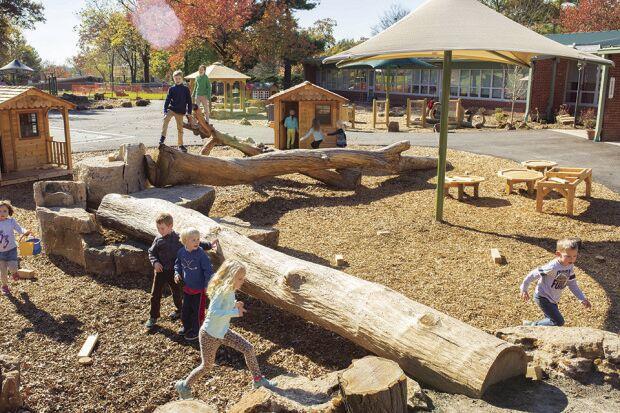 New playground supports classroom learning
With its self-contained creek, mud pit, hobbit holes, tree trunks, boulders, and newly planted native vegetation, Principia Lower School's new playground is much more than a place for students to take a break from schoolwork.
As pre-kindergarten teacher Rissa Arens puts it, "The playground is no longer just a place to run around and get your wiggles out. It is an extension of our classroom!"
The playground redesign provides a more integrated and creative learning environment for students. It also demonstrates Principia's commitment to incorporate its abundant natural resources into the curriculum and to operate in an environmentally sustainable manner.
"From all the different ideas shared it became really clear that teachers wanted to have more than a typical playground with lots of [prefabricated] equipment that 'tells' children how to play," explained Mary Jane Hoff, the lower and middle school science teacher. "What they wanted was a place that combined fun and a sense of adventure with the development and practice of inquiry, risk-taking, and problem-solving–crucial intellectual skills."
Bowling for Special Olympics
More than 150 Rockwood students practiced their athletic skills in the Bowling Special Olympics on Oct. 22.
According to Kerrie Townsend, SSD Special Olympics facilitator, bowling is one of the most popular sports the program offers. "Teachers connect with students in the areas of mathematics, communication and social skills."
Special School District is distinctive in that the district incorporates Special Olympics as part of the curriculum during the school day. This classroom-based approach allows physical education teachers and classroom teachers the opportunity to include Special Olympics materials in the classroom, and then to reinforce the learning activities through Special Olympics events.
What's next for these student-athletes? Middle and high school students will have the opportunity to move on to a bowling tournament in late January or early February. They will then compete against other student-athletes from other school districts based on their performance in November.
Parkway receives grant to support healthy choices 
On Nov. 9, the St. Louis Rams and Midwest Dairy Council awarded Parkway with a $10,000 'Hometown Grant' to support healthy nutrition and physical activity programs at the district's 27 schools.
"We are so honored that Fuel Up to Play 60, the NFL, and the St. Louis Rams are helping us ensure that our students are eating right, getting active and creating lifelong healthy habits," said Ron Ramspott, coordinator of programs for healthy youth for Parkway. "This grant will help our students continue to be leaders in our schools and implement activities to make our district a healthier place."
The 'Hometown Grant' program, developed by Fuel Up to Play 60 and the NFL, provides organizations with the opportunity to identify deserving schools in their area and award them with $10,000 to help meet their health and wellness goals. In its second year, the Hometown Grant program allows each of the 32 NFL clubs, Fuel Up to Play 60 and local dairy representatives to provide funding to schools throughout the country totaling $320,000 this year.
Celebrating veterans
With stars and stripes and salutes, the second grade students at Twin Oaks Christian School  honored our country's servicemen and women during the annual Veterans' Day Chapel.  The sanctuary was filled with students, parents, grandparents and friends who came together to celebrate where God has brought this country throughout its extensive history.
The ceremony opened with the second-grade students filing in singing their rendition of "You're a Grand Old Flag."  The students performed a variety of patriotic songs and then veterans were asked to stand when their branch was represented during the Armed Forces medley. It was moving for the students as well as the audience to take a moment to honor our veterans, some of whom even dressed in uniform.
As stated by a Twin Oaks grandparent and veteran who attended the Chapel, "It sure was great seeing our youth showing their love of God and country."
Impressive showing at TriMathlon competition
West County students put their math skills to the test, winning prizes for themselves in the Mathnasium of Wildwood 2015 TriMathlon contest.
Area winners of the competition included third- through fifth-grade students.  Representing fifth grade in second place was Wilson Gao, Mason Ridge Elementary; representing fourth grade in first place was Tarini Karnati, Wild Horse Elementary; and, in second place, Ella Fusco of Pond Elementary. Representing third grade was second-place winner Owen Sattler, Wild Horse Elementary; third-place winner Vinay Prajapathi, Claymont Elementary; and fourth-place winner Megan David, Pond Elementary.
"Our Mathnasium of Wildwood TriMathlon contest was a lot of fun for students and parents alike this year, demonstrating clearly that math can be fun. Everyone who participated should be proud of what they've accomplished for their schools, their community, and themselves," said Dave Bannen, center director of Mathnasium of Wildwood.
Westminster students collect items for local charities
Doubling last year's collection, Westminster Christian Academy students collected 22,000 items during their 'In the Spirit of Giving' campaign during the first week of November. The items will benefit children in the St. Louis area, rural Missouri and around the world.
The items collected included food, board games for teens, gently used outerwear and pajamas, baby items and school supplies. Students also were asked to donate gently used youth baseball equipment and Bibles for youth teams in the Dominican Republic.
This year, items will be distributed to nine different agencies. Ministries and charities receiving the Westminster student donations include: Freedom School; Mission St. Louis; One Heart Ministries; Pipes International; Thrive St. Louis; Weekend on Wheels; Whole Kids Outreach; St. Louis Area Diaper Bank; and KidSmart.
New Head of School announced 
Michael F. Baber has been appointed the next head of school of Villa Duchesne and Oak Hill School, beginning July 1, 2016.
Baber has led initiatives in curriculum development and strategic planning, served on both the New England Association of Schools and Colleges accreditation team and the Sacred Heart Commission on Goals, and led a campaign that raised $21.5 million for capital improvements. He has quickly established himself as an adaptive and beloved leader who approaches challenges with a clear vision and collaborative style.
"I am humbled and honored to be appointed as your head of school. I am very eager to meet everyone who shares my deep desire to advance the mission and vision of our prophetic and energetic foundress, St. Madeleine Sophie," Baber said, "What a privilege it is for me to join your community and to work tirelessly with you to transform our world, one child at a time."