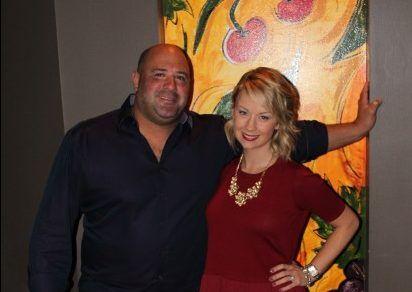 Anchoring a quiet shopping center near Edison Avenue and Long Road in Chesterfield Valley, Vito's in the Valley is conveniently close to home, but world's away in terms of taste, authenticity, atmosphere and experience.
The food at Vito's is highly reflective of co-owner Giovanni LaFata's mother, whose Sicilian background brings unique flavor profiles to the Italian-focused menu. She grew up in Sicily and goes back a couple of times each year to see family and gain inspiration.
"She and her sister-in-law get together and cook the entire time," said Jessica LaFata, Giovanni's wife and co-owner of Vito's. "She comes back refreshed and ready to create more recipes based on her experiences there."
At Vito's, family intersects with exceptional food and great expectations.
Jessica believes the restaurant's happy hour can compete with any in the St. Louis area. "Frankly, you can't beat the price for our quality and quantity," she said. Offered seven days a week from 4-6 p.m, Vito's happy hour features wallet-friendly drink and small plate specials, including its hand-tossed, 10-inch pizzas. Other outstanding options are its Arancini, a Sicilian specialty consisting of deep-fried saffron risotto balls filled with meat, mozzarella and peas; and flavorful Meatballs, which come to the table in a copper au gratin pan simmering in a bright, homemade tomato sauce.
Lunch at Vito's is designed to be fast, fresh and affordable. For those on the run, Vito offers an Express Lunch Special that includes one of four starters, followed by a choice of homemade Pastas, Paninis or Hand-Tossed Pizzas.
"We want people to be able to get quality food at an exceptional value." Jessica said. "Yet that doesn't mean a whole lot to those on their lunch break if we cannot execute their order in a timely manner, so we designed the menu accordingly."
As cooler temperatures make outdoor dining ideal, diners can enjoy Vito's' happy hour noshes and libations, lunch or dinner on Vito's' expansive patio. A quiet retreat amidst the crowds of the Valley, the patio, which can seat up to 75 people, is surrounded by plants native to Sicily. As autumn approaches, the LaFatas are transforming the space by adding seasonal mums and pumpkins to the lusciously landscaped hideaway.
While in no hurry to usher out the weather and colors of harvest time, Jessica reminds customers that it's not too early to consider the corporate and personal holiday celebrations of November and December. Vito's has the ability, and the passion, to host private events, including rehearsal dinners, showers and holiday parties.
"Every customer affects our family because they are helping us achieve our dream of running our restaurant," Jessica said. "And those who ask us to host their special event, they are inviting us to be part of their history. That is a responsibility we do not take lightly. We understand the significance and impact such interactions can have because we experience it everyday with our customers. We are truly honored by that request and, as owners, Gio and I, personally do everything we can to make our guests' event truly special.
"We try to make the planning as seamless as possible for our customers. One phone conversation can get everything set up and we will work to fit our guests' budget. We are honored to be local and feel our service, level of care and passion differentiates us from most of what else you will find in the Valley."
And, of course, there is the food, which Jessica said they strive to make so consistent and true to Gio's mother's recipes that customers can depend on deliciousness whether they dine at lunch, happy hour, dinner or for a special event.
Vito's in the Valley • 138 Chesterfield Towne Centre • Chesterfield • (636) 536-3788 • www.vitosinthevalley.com • Hours: 11 a.m.-9 p.m., Monday-Thursday; 11 a.m.-10 p.m., Friday-Saturday; 4-9 p.m., Sunday Happy hour: 4-6 p.m., daily