Charlie Gitto, the legendary restaurateur whose name graces two operations – Charlie Gitto's On The Hill and Charlie Gitto's At Hollywood Casino – says "We've been blessed." 
"Our curbside service and carryout business has been unbelievable; more than I ever dreamed it could be," Gitto said. "People are actually driving from West County to The Hill and to our location at Hollywood (Casino) to pick up Charlie Gitto's."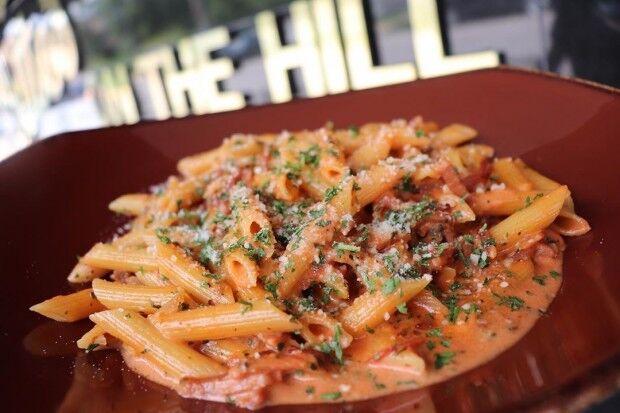 The restaurant's customer loyalty and support is the result of decades of delivering superior dining experiences and outstanding Italian cuisine. A winning combination now enhanced with the safety protocols required to make the successful transition to indoor dining. Extra steps have been taken to insure social distancing, include spacing out tables, new plexiglass partitions and an air filtration system. 
"We're abiding to all the rules and I think we're doing a really good job. I'm proud of our staff," Gitto said. "We are blessed to have the capabilities to evolve, which allows us to turn on a dime without creating any noticeable changes to the dining experience." 
Gitto's escaped many of the shortages other foodservice operations reported during the pandemic because of their commitment to house-made products. 
"We're in control of our own destiny, so to speak. We make a lot of our own products in house. We bake our own bread and make our own pasta fresh daily," Gitto explained. "We make all our desserts and our Italian specialty items. Not having to depend on other suppliers for those items has helped us a lot – keeping our cost down and quality high."
Quality along with affordable unpretentious fine dining has made Gitto's On the Hill and Gitto's At Hollywood Casino favorite destinations for generations of diners who have enjoyed house specialties and signature dishes such as Seafood Pasta Suzanne. Comprised of tender ribbons of tagliatelle noodles studded with shrimp, scallops, clams, langostinos and mussels, this specialty is tossed with a spicy three-pepper cream sauce. 
Nunzio, another signature preparation, is available with beef, veal or chicken topped with jumbo lump meat crab, cheese and finished with a lemon butter sauce. 
And don't forget St. Louis' Original Toasted Ravioli. The St. Louis delicacy reportedly was first fried at Gitto's On The Hill in the 1940s when Gitto's was Angelo's. Gitto's faithful wouldn't think of dining there without enjoying an order of the famous ravs. 
Gitto's menu sports an impressive offering of steaks, seafood, chicken, brick oven pizzas and appetizers, including classic small plate specialties such as Eggplant Napoleon, Arancini and Meatballs in Pomodoro. Small plates are perfect for sharing with a bottle of wine on the patio, which according to Gitto, has become the place to be. 
As the temperatures dip and holiday planning begins, Gitto said guests can be assured that accommodations in the dining room are available along with private rooms for larger parties.
"I don't know what the holidays are going to be this year or what the flu season is going to bring, but we're taking it a day at a time, Gitto said. We'll do everything we can to continue our tradition of serving our customers great experiences and great food. We love what we do."