Daylight Donuts has a dark side. 
To be specific, it's an "After Dark" side, with hours that stretch into the evening and transform the typical all-American scratch bakery donut shop into a hot spot for boozy donuts and sophisticated shakes. And yes, classic donut specialties.
Daylight Donuts is a partnership between Dan and Julie Ring, and Drew Selman.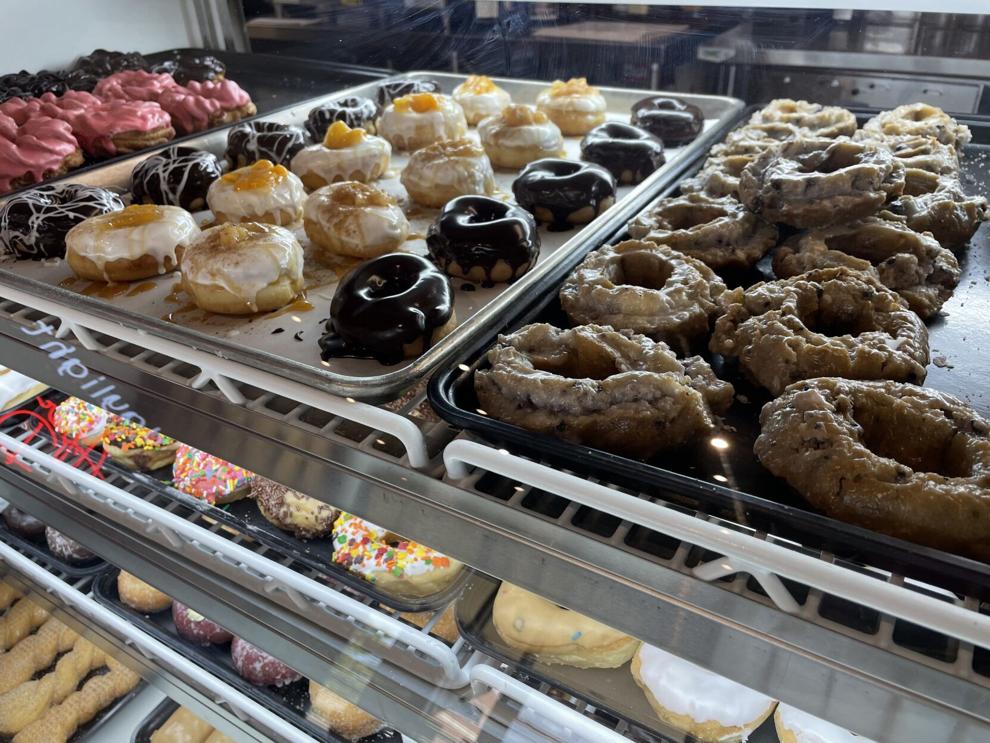 "We really wanted to create a place to come after the show. A dessert place where you could come in, sit at a table in a great environment and have something fun to eat," Selman explained.
Selman and his team met his goal. The menu is ladened with creativity and Selman's personality – as showcased by the Suzy Q donut, an interpretation of Selman's favorite childhood treat. 
Every donut is hand made, and customers can taste every delicious attention to detail. 
"We're an all-American scratch made bakery where we hand make all the donuts every day … we begin most days at 1 a.m. On Saturdays, we begin at midnight," Selman said.
Selman likes to compare his recipes to prose, which yields donuts that are poetry. 
Daylight Donuts has elevated donut making to a culinary art form with variations that range from raised dough varieties to cake donuts with shapes and cooking techniques that define their style. 
Classic donuts include yeast-raised, such as the ultimate fan favorite: Glazed. Next on the list of top sellers are Selman's delicate French Crullers, followed close behind by its cake donuts. Cake donuts range from traditional vanilla and chocolate to specialty flavors, such as blueberry, red velvet and the seasonal must-have: Pumpkin. 
Don't forget the timeless classic, the Old Fashioned made with sour cream.
"Old fashioned donuts are a style of cooking. It's a donut we make with sour cream; other (bakeries) usually use buttermilk," Selman explained. "Old Fashioned are cooked at 315 degrees. Our regular donuts are cooked at 375 degrees. When you put something in oil that is really hot it helps them hold their shape. When you cook slower it gives the donut the chance to spread out. That's where you get those nice crisp edges and a tender inside, which is what sets the old fashioned apart."
Filling out the cases are Apple Fritters, Rosettes, Cinnamon Rolls and Pine Cones. 
Pine Cones, as described by Daylight Donut employee Patrick Wyatt are "exploded cinnamon rolls that are a little crunchy." 
Next are the fancies: Long Johns, Maple Bacon Long Johns, Twists and Bismarks.
"A Bismark is a filled donut. All jelly donuts are Bismarks but not all Bismarks are jelly filled. For example, a Long John filled with cream is a Bismark. We do have unfilled Long Johns, and, of course, anything that's a ring with a hole in it."
Non-traditionalists craving something savory sweet in the morning have two options: A Breakfast Donut built on a toasted, maple frosted donut with egg, cheese and sausage or bacon, and two different Kolaches. The Egg Kolache features a scrambled egg. The Texas Kolache is a donut wrapped around a sausage.
The bakery's After Dark menu kicks in around 3 p.m. when its menu shifts to boozy donuts, such as the Black Out Black Forest that is filled with vodka-infused cherries, or the Apple Jack Daniels and the Kahlua Chocolate Cream. Purchase of those donuts require a valid ID, showing proof of legal drinking age.
"The alcohol in the donuts isn't cooked out, so we do ID. We so the same for any of our milkshakes, coffees, or other drinks that feature alcohol add-ons," Selman said.
Early morning to late night, Daylight Donuts provides varieties that are hard to find elsewhere and with one secret ingredient: Love. 
"You have to love what you're doing to make a great donut," Selman said.
Daylight Donuts
155 Hilltown Village Center • Chesterfield • (636) 489-3732 • daylightdonuts-stl.com
Hours: 6 a.m.-7 p.m., Monday-Thursday; 6 a.m.-11 p.m., Friday and Saturday, 6 a.m.-8 p.m., Sundays