The annual Woodchopper's Ball, a friendly gathering of Wildwood and Chesterfield residents that features a tug-of-war between the cities and the awarding of a traveling trophy, wasn't held this year as a result of precautions related to the COVID-19 pandemic. But that did not prevent the trophy from traveling.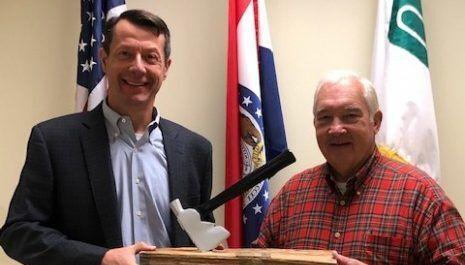 Wildwood has won the trophy for each of the last four years. That city could have left the trophy in its care; however, Wildwood Mayor Jim Bowlin had another idea of what to do with it.
"In the spirit of being a good neighbor to our Chesterfield friends, especially at this point with all that's occurring in our communities, I proposed to Mayor (Bob) Nation that Chesterfield have the trophy until we meet next for the competition," Bowlin explained on Monday, Nov. 23 when he met with Nation to hand off the trophy.
Nation was happy to hold onto the trophy until next year and looks forward to claiming it in competition in 2021.
"I appreciate the gesture of good will from Mayor Bowlin and acknowledge that, due to creativity, the Wildwood residents have had the better end of the tug-of-war in recent years. Without COVID-19, we look forward to the return of the Woodchopper's Ball next year," Nation said. "Thanks to Bill Ballard and Stacey and Stuart Morse for putting on the event annually!"