Two developments presented on  Nov. 1 at the Wildwood Development and Zoning Review Committee meeting – one for an apartment complex and another for villas – were met with mixed results.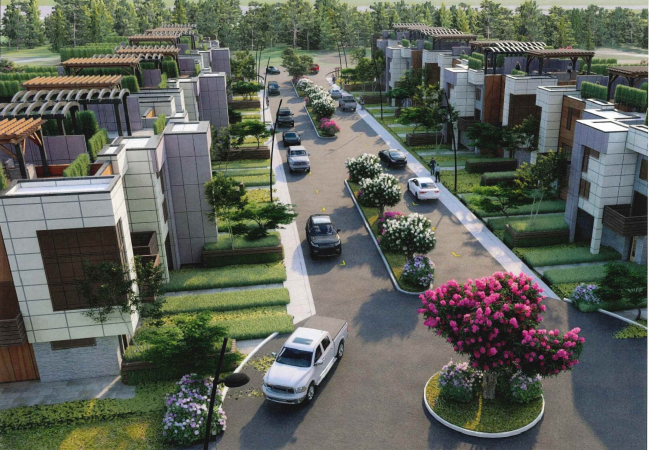 Wildcrest Development Partnership LLC has proposed a 180-unit luxury apartment complex in the Town Center area on the north side of Manchester Road at its intersection with Old Fairway Drive.
At the meeting, Streiler Planning President Todd Streiler said there would be 12 multi-story structures, each with 12 units, on 12.33 acres to be known as Wildview. In addition, a mixed-use building would include 14,400 square feet of retail and 36 additional rental units, with electric charging stations nearby. The contemporary design features a modular construction technique.
A 2-story, 4,000-square-foot leasing office and clubhouse is also planned. Resort-like amenities would include a swimming pool, fountain, outdoor dining area, pavilions and barbeque stations. 
In the middle of the site is a segment of old Route 66 that would be preserved with a nostalgic roadside park, professional landscaping and signage, Streiler said. 
It would be home to a new and underserved market segment of tenants known as "renters by choice" that include "singles, mingles and jingles," he said. 
"Consumers in this segment have the most disposable income and enjoy shopping, eating, arts and entertainment," he added. "They would be a complement to Town Center and all the businesses that are currently there."
But the prospect of rental units was met with a lot of pushback.
There have been concerns raised with prior proposals at this location, in particular with the neighborhood across the street, the Enclaves at Cherry Hills, said committee member Joe Garritano (Ward 8).
"When you say, 'This is going to complement Town Center and businesses already there,' you're not referring to the neighborhood across the street,'" he said.
Garritano had issues with both the density and the additional traffic it would bring to a highly congested intersection. Homes in that area are two-thirds of an acre or more, with one home currently listed for $1 million.
"This would devastate the value of these homes that are right there," he said. "There is a place for this, but not in that location." 
Streiler responded that he thought a "new and different idea" might get some traction at the undeveloped site.
However, Mayor Jim Bowlin was adamantly opposed.
"I just don't think a multi-family rental unit situation is something that would be good for the city. I wouldn't be able to support this either," he said.
Streiler noted that there's a component of workplace designation that allows for a mixed-use development. But the mayor responded that his concerns were multi-faceted.
"Density is part of it," Bowlin said. "But it really relates to who has a stake in our city. It would be better to have it be simple ownership in this particular location than tenancy as a renter."
Streiler suggested that Wildcrest Development Partnership was trying to present something that was market-driven and right now the market hasn't taken into consideration "elected officials' vision."
But the mayor persisted.
"What's at consideration for the city is homogeneity and the overall effect of the proposal and how it relates to the city, how it fits, what our residents think about it," Bowlin said. "What the market may want at the time is not something that guides, as a primary feature or factor, my opinion on a proposal such as this or anything else."
Streiler retorted that multi-family is the "darling of the current real estate trend" and that's why they see these resort-like apartment complexes popping up everywhere.
Council member Mike Gillani (Ward 8) was more reticent. He thought the development looked nice, but said he believes the constituents would not support it, as previous proposals with the same type of development received an overwhelmingly negative response.
However, Streiler countered, "The Town Center needs rooftops to succeed; it needs synergistic tenants that build off each other, that draw people in. Without rooftops, Town Center will have a hard time filling those commercial spaces."
Committee chair David Beattie said he may be the only one who wouldn't mind seeing more apartments and appreciates the modern design but realizes he's in the minority.
The other proposed development would be known as The Villas at Wildcrest and located on the north side of Crestview Drive, east of its intersection with Eatherton Road, also in Town Center.
The site once designated as Downtown zoning is now Neighborhood General, which allows for residential units, Streiler noted. It is adjacent to the proposed Village Green near city hall and would include 28 single-family, owner-occupied villas on a 2.7-acre parcel.
This development would consist of six 4-unit structures and two 2-unit structures, he said. Each would have 4,200 square feet per unit, or approximately 10 units per acre.
Best management practices for stormwater treatment would be adopted for the site, which would use strategically placed micro-detention features such as rain gardens, curbless drives and flat roofs to slow the flow and intensity of rainwater, Streiler said. 
There would be an abundance of outdoor space incorporated into the design and it would be nicely landscaped and pedestrian-friendly, with multi-access points for vehicles. 
Plans include an interconnectivity with Village Green that would provide focal points for gathering areas, pavilions, food trucks and exposure for the park.
Bowlin said he liked the ownership approach with this development but was reticent to embrace the design from an aesthetic standpoint. 
"It is definitely not what I consider to be a mild departure from what we typically see in our city; it's a substantial departure," Bowlin said. "This … is so different, I'm not sure I could support this either."
Streiler said that since the Town Center design guidelines don't advocate a particular style, the company was taking liberties.
The next step would be to bring the proposals before the Planning and Zoning Commission.