While the demand for new housing has risen dramatically, builders face challenges dealing with the supply and costs of new construction materials.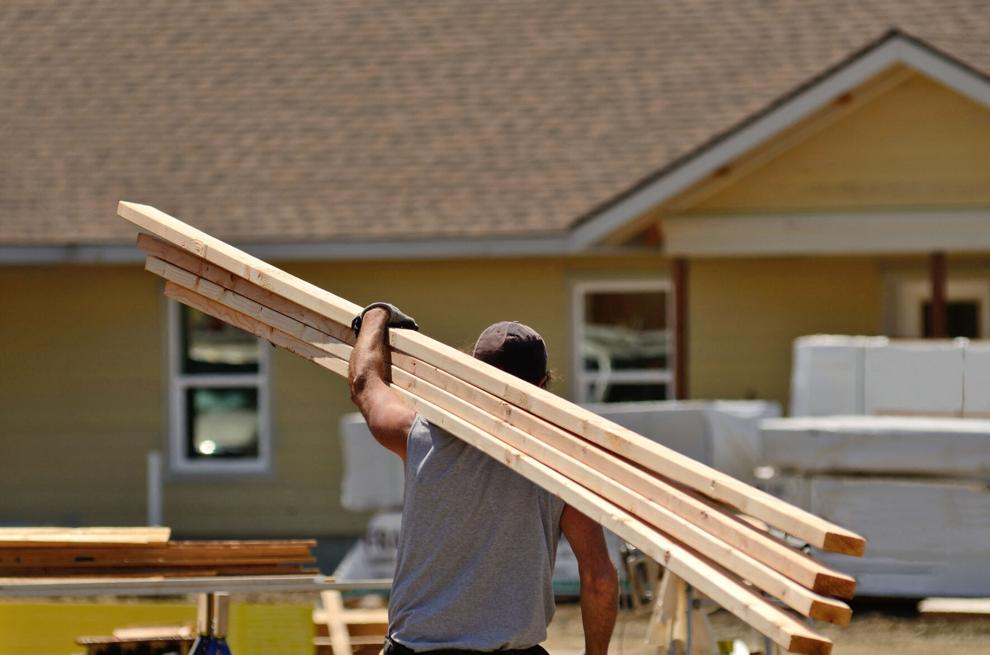 At the Progress 64 West luncheon on Oct. 27, those on the leading edge of new home construction discussed today's challenges and trends as well as how new housing numbers reflect the region's economic growth.
Celeste Rueter, executive vice president of the St. Louis Home Builders Association (HBA), tracks new home permits in the region that includes St. Louis and eastern Missouri. From Jan. 1 through Aug. 21, approximately 3,000 permits were issued in the St. Louis area, she said. As it has for years, St. Charles County is leading the way in new home construction, followed by St. Louis County and then Jefferson County.
Since 2008, there has been a slow and steady increase in single-family new starts. Although interest rates remain low, home prices are up 13% since 2019, mainly due to the tight supply and low interest rates, Rueter noted. 
Currently, there is only a 1.5-month supply of homes on the market, where normally there would be a 6-month supply, Rueter said.
But a low inventory isn't the only barrier to homeownership. National statistics show that for every $1,000 increase in the price of a new home, 154,000 families no longer qualify for a home purchase, Rueter explained. In Missouri, that number is 3,100 families; in St. Louis, it's 1,700.
Then, there's the challenge of regulations and zoning. 
Jeremy Roth, president of Elite Development Services, said what's unique to the St. Louis area is the disorganization caused by so many municipalities, each with its own zoning codes and ordinances. Elite Development Services is a land development company created by McBride Homes and J.H. Berra for land acquisition and zoning issues. Currently, Roth is working on 31 projects with 19 different municipalities.
"Zoning is tougher than ever," Roth said.
He noted that it can take between 18 to 24 months with due diligence on zoning, feasibility and other issues to develop a subdivision. And those regulations come at a cost. Regulations, imposed by all levels of government, add roughly 24% to the current average sales price of a new single-family home. 
The availability of land is another issue. In 2010 there were thousands of lots on the market, Roth said. However, in a survey by the National Association of Home Builders (NAHB) taken in September 2021, 76% of builders had indicated some type of problem with lot supply. In addition, the topography of the St. Louis region makes it difficult to get utilities to some sites. 
Then, there's the fact that not every development is welcomed. 
"A lot of people don't want more development near their properties – the
NIMBYs (Not In My Backyard)," Roth said.
Nick Luizza, owner of NJL Custom Homes, discussed the material shortage and price increases that have affected the home building and remodeling market.
At presstime, $24 billion in materials is floating outside California's biggest ports waiting to be delivered. The shortage in delivery has been blamed on the massive surge in demand.
On Oct. 20, NAHB Chairman Chuck Fowke testified before the House Small Business Subcommittee on Oversight, Investigations, and Regulations that told lawmakers that disruptions in the building materials supply chain, made worse by the pandemic, are having a disproportionate impact on smaller home building firms. He called on Congress and the Biden administration to help ease building material supply chain bottlenecks by removing trade barriers and seeking solutions to port congestion and persistent delays in truck and rail transportation.
"From steel mill products and plastic piping to copper pipe and wood windows and doors, prices are up dramatically year-to-date and are exacerbating the growing housing affordability crisis," Fowke said. "Small home building firms are particularly threatened by the current situation."
According to the U.S. Bureau of Labor Statistics (BLS) Producer Price Index, the average price of goods used as inputs to residential construction has risen three times faster than the rate of core inflation throughout 2021. Drywall is up 23%; aluminum is up 39% since January; and steel prices have increased 123% over the past year. 
Perhaps the sharpest increase has been in the lumber market. According to the NAHB's "Eye on Housing" series, "Skyrocketing lumber prices in 2020 and early 2021 caused the average price of a new single-family home to increase by nearly $30,000." 
Lumber costs are down from their peak in May, when they hit an all-time high of more than $1,500 per thousand board feet, according to Random Lengths. But in the last four weeks, they have increased 21%, Luizza said. Making it even more difficult, some vendors are giving no notice for price increases.
"It's an overwhelmingly difficult market (in which) to control costs," he said.
Bill Wannstedt, vice president of Consort Homes, said in addition to problems with materials, there's also a labor shortage. Homebuilders have been looking for good workers since the Great Recession, which officially began in December of 2007.
"We're still looking today," he said. "We've always been short. Nationally, we're 100,000 people short."
Making matters worse, a lot of people retired when the COVID-19 pandemic hit and are now out of the workforce, he said. But even before the pandemic, the number of new tradespeople entering any given field could not keep up with the number of those retiring, resulting in a skills gap. 
According to the BLS, the number of tradespeople working in construction dropped from 2018 to 2020. During those years, construction laborers decreased by 3%; plumbers, pipefitters and steamfitters saw a 4.7% decrease in workers; carpet installers decreased by 11.8%; drywall and ceiling tile installers decreased by 2.2%; carpenters decreased by 2.7%; construction trades workers saw a 1.5% decrease; and painters, construction and maintenance experienced a 4.6% decrease in workers.
In response to the need for younger skilled workers, the HBA launched a student chapter in 2017 that partners with North and South Technical high schools. Operated by the Special School District, the technical high schools provide students with career and technical education including in the construction, electrical and HVAC (heating, ventilation and air conditioning) trades. Programs offered to students through the HBA and partner homebuilders include: 
• Competition in a Box, which teaches students about blueprints and construction methods.
• Muddy Boots, which takes young people on the job site to get a feel for what's involved in homebuilding.
"It's hard work, but they have fun doing it," Wannstedt said.
Perhaps the harder work is convincing parents that their children should work in the trades rather than going to college.
"It's easy to talk to the kids," Wannstedt said. "We need to educate the parents."
A new event for the HBA – Build My Future – will be held in April 2022 at the St. Charles Family Arena. Its goal is to do just that. Students and parents can explore educational programs with interactive displays and learn about employment opportunities in the construction industry.
Recruitment is just another key to both homebuilders' and homebuyers' success. 
For homeowners, the movie "Field of Dreams" comes to mind. "If you build it, they will come." But the question on everyone's mind is whether the new year will bring a renewed ability to build more homes at prices homeowners can afford. 
According to the NAHB's Housing Trends Report, released last month, 66% of homebuyers expect that finding the right home will be harder in the months ahead, or not much different than it is today. That statistic is up from 54% of homebuyers who shared that perception in the last quarter of 2020.