A new residential development has been proposed for a 2.51-acre tract of land in Wildwood that has been on the market for several years.
The McBride Berra Land Company, LLC, plans to build 18 attached, single-family dwellings to be known as Westridge Commons along New College Avenue between Route 109 and West Avenue. McBride is seeking a request to modify the use of the property from the undeveloped commercial status to a residential type of use.
At the Planning and Zoning Commission public hearing on Oct. 4, attorney Jeannie Aumiller stated that the site has been listed for commercial use since 2014.
The developer plans to build a series of row houses attached in groups of three and four, she said.
McBride's plan is consistent with the city's master plan for the Town Center property, is adjacent to commercial and complements those uses, and is in low supply in this area, she added.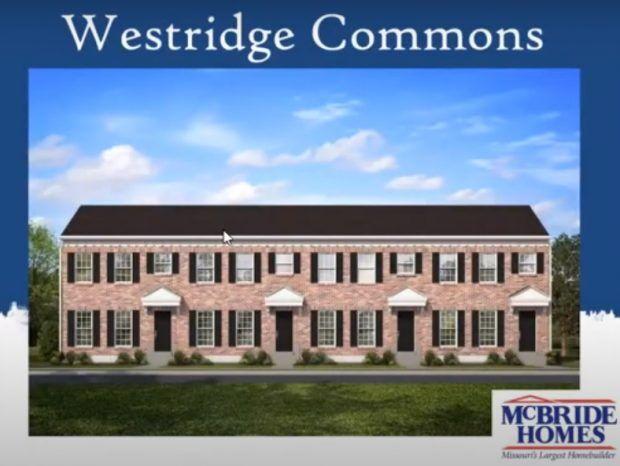 "The intent of the zoning change is to allow for flexibility in creating a residential plan that is harmonious with the adjacent commercial development," Aumiller said.
In keeping with the urban architectural streetscape of Town Center, units would be accessed from an alley in the back, she said. There would be one garage space per home, with additional space on the driveway, along with 12 guest parking spaces.
Additional features of the townhomes include all brick fronts, energy-efficient units, sidewalks on both sides of the street and common ground. A Homeowners Association (HOA) would be formed to maintain the property.
Aumiller pointed out that this project is less dense than what the residential zoning would allow.
No vote was taken on the request for modification from the existing Workplace District designation to Neighborhood General District, or a rezoning from the amended C-8 Planned Commercial District to the R-6A 4,000-square-foot Residence District, with an overlay district.