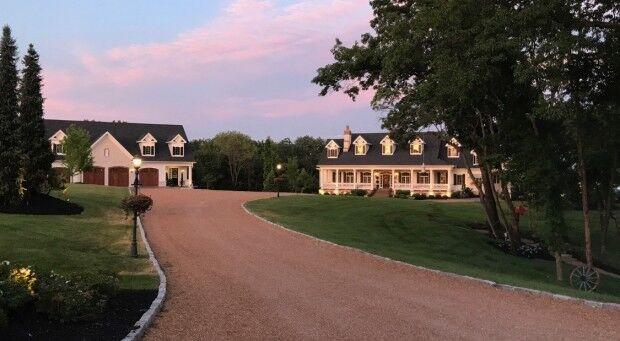 Located off Wild Horse Creek Road just east of its intersection with Hwy. 109 in Wildwood is a large, white, absolutely stunning home, designed in a unique Cape-Cod-meets-classic-Southern architectural style. Connected by a picturesque arched bridge to an equally gorgeous barn surrounded by a large paddock, the fenced and gated property is postcard-perfect. It looks as if it belongs somewhere in the rolling hills of Kentucky rather than in West County. 
If you're driving through the area for the first time, the property's sheer beauty is enough to make you slow down for a double take. But depending on the time of day, you may actually hit the brakes when you see more than a dozen miniature horses grazing, resting and playing out front. 
This wonderfully scenic property, called R&R Ranch, is the realization of a dream for longtime area residents David and Stacy Rolfe and their three children. The Rolfes have lived on the 30-acre property since late 2015. They developed the land and the buildings on it to meet a number of specific goals.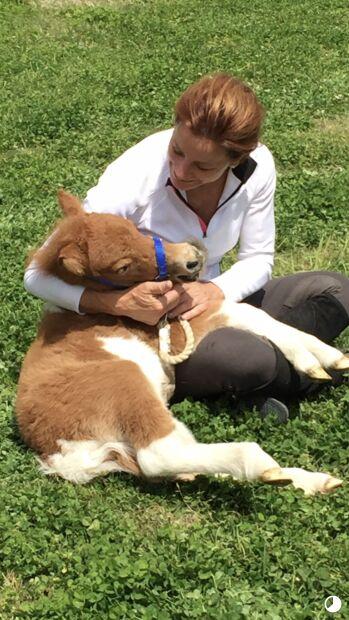 "From day one we had a vision … we wanted a house, a barn and a bridge connecting the pieces together. We wanted it to feel like it was in a very secluded country setting even though we have this pretty major road that runs along the front," said Stacy. 
The Rolfes selected veteran St. Louis area builder Brett Hardesty to help them bring that vision to life. Their other requirements included an expansive freestanding garage that houses David's large vintage car collection, a beautifully landscaped backyard pool, and acres of trails weaved carefully through the surrounding woods. 
Of primary importance to Stacy and her daughter Belle were the animals that occupy the ranch's barn, which was completed in 2016: two full-size horses previously owned by the family, along with a growing menagerie of miniature horses and donkeys – affectionately known as "the minis" – which have been rescued from abusive and neglectful living conditions in Missouri and surrounding states. They now number 17 in all. 
A passion for rescue
A lifelong horse enthusiast, Stacy said she got into adopting the minis a bit by accident. Years before construction on R&R Ranch began, she purchased her first two, Sherman and Miss Mackenzie, on Craigslist. She learned that, although they were only 2 years old, she was their fourth owner. 
She said she quickly received a "crash course" in miniature horse ownership. That early experience opened her eyes to the fact that many other minis were being neglected or even abandoned by their owners, and physically harmed by riders too heavy for their small bodies. So she began rescuing more, even though they all had to be boarded off-site until the barn was completed.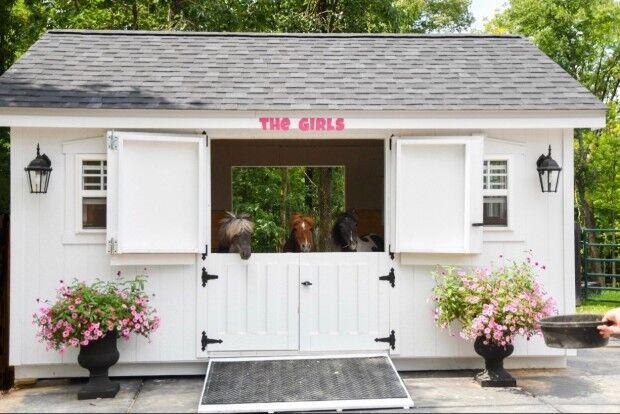 "These guys are so cute that everyone says, 'I want one,' without realizing how much work they are. They are all the work of a regular-size horse and then some," Stacy explained. "Their digestive systems are different, so their diet has to be different. They tend to eat so much that they get fat very easily, which causes a lot of health problems."
For example, Stacy said one of the little horses, Chloe, had hooves that "looked like elf shoes" when she was first rescued. Chloe has Cushing's Disease as well as chronic laminitis – an inflammatory foot condition – and is insulin-resistant. She now wears special boots to protect her feet, takes 32 pills a day and is fed a customized diet. 
"We wanted her because other people don't want horses with health issues," Stacy said.
Two of the minis, sisters Ella and Sophie, came in already pregnant, which added quickly to the growing "herd." They and several of the others were saved from a lifetime of being hitched to pony ride attractions.
One of those was Banks, an adorable all-white horse standing just 30 inches tall, rescued from terrible living conditions in Arkansas. 
"When we got Banks, it changed everything. His feet were long, his teeth were in terrible shape, and his hair had been mostly chewed off by other horses … but we could immediately see his sweet nature," Stacy said.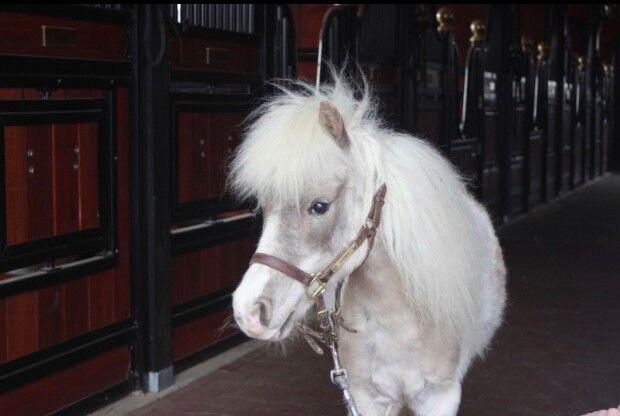 While many of the minis have started out in mainly feral condition, unable to trust humans or other horses and requiring many months of slow, patient training, Banks did not. After about six months of nursing him back to health, Stacy started working on getting Banks certified as a therapy horse. He now serves as an "ambassador" for R&R Ranch, which includes regular visits to the Stonecrest of Wildwood senior living community [see "A little visitor" in Mature Focus on page 38].
Several of the rescued minis came to R&R via Longmeadow Rescue Ranch, a Humane Society facility for farm animals located in Union, Missouri. Others have come through word of mouth, when people reach out after hearing about Stacy's passion for rescue and the outstanding care she is able to provide for the minis.
A routine of kindness 
Inside the elegant R&R barn, where the minis live two to a stall, the meticulous attention paid to every detail attests to the loving care they receive.
A small pipe installed overhead releases fly spray for 45 seconds, six times a day. Although it wasn't a building code requirement, a large pipe spanning the beamed ceiling houses a sprinkler system for the horses' safety. Cameras mounted on the wall over every other stall allow them to be checked on around the clock. Large overhead fans and heated automatic water bowls are other "creature comforts" that these once-neglected animals now enjoy. 
The minis' day starts at 5:30 each morning, when their stalls are cleaned and they receive their first hay. A few hours later, after breakfast, the stalls are cleaned again while the horses are turned out in the paddock. Each day continues in a similar fashion until "bedtime" at around 7 p.m. They are kept on a strictly regimented schedule, which both comforts them and helps them to thrive physically, Stacy said. 
Caring for the minis is a lot of painstaking work, which can no longer be done without considerable help. 
"Everything about them is very time-consuming. If I had to do it all myself, I wouldn't have a single minute to do anything else," Stacy said. Managing the barn is nearly a full-time job in itself, though, and she also continues to spend several hours there on most days, brushing, visiting and playing with the minis.
A mission of education
As she tells the stories of all 17 little horses, Stacy's devotion to each one of them is evident. However, caring for them over a lifetime comes with an extremely long list of expenses, including barn help, feed, supplies and frequent veterinary visits. For that reason, she is currently in the process of applying for 501[c][3] nonprofit status for R&R Ranch as a miniature horse rescue. A website, dedicated Facebook page and children's book also are in the works. "Our whole purpose is education," she said.
To that end, Stacy has begun to host area Scout troops and other groups about once a month for tours of the ranch and barn. She also helps Scouts earn merit badges related to helping animals and caring for pets. 
An educational seminar also is being planned for February 2019, a sort of "miniature horses for dummies," she said. Its purpose will be to help prevent others from making the same mistakes as the previous owners of her adopted minis. "People have to understand what they're getting themselves into as far as [a mini's] health, the finances and all the other obligations that come with owning one."
A commitment to community
From the outset, one of the Rolfes' main goals when developing R&R Ranch was not to hide it from others, but to make its beauty visible to anyone in the community who might also appreciate it.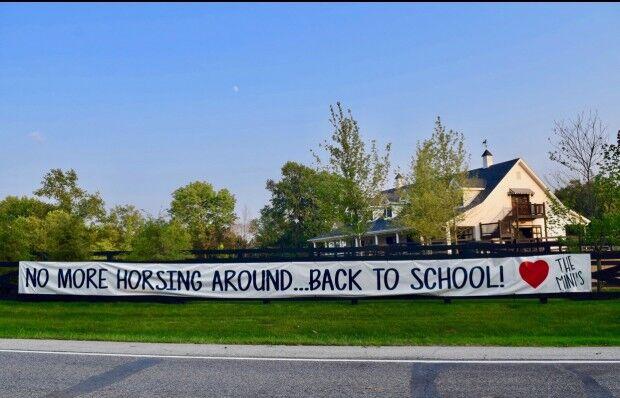 "At first, our landscape architect wanted to grade the property up in front, make a big berm with lots of trees to obscure the view of it from the road. I said 'No, that's not what I want. I don't want to shield it,'" Stacy said. "When we first moved in, I got notes and gifts left in the mailbox, from people telling us how beautiful they think our home is and to welcome us to the neighborhood." 
In that same spirit, the family threw an appreciation party for all the contractors who had worked in and around their home during construction, and their families, shortly after they moved in. They've held similar community events for the nearby Chesterfield and Wildwood police and fire officials they have worked with, and for employees of their trash and recycling contractors, "because of all the special things they've done for us," she said.
"Honestly, we sort of pinch ourselves … It's a blessing to be here. We want to share it," Stacy said, adding that the minis seem to feel the same way. "Right now, when visitors come over and people enter the barn, every head comes out of the stall and they're ready for company."
• • •
Individuals, families and groups interested in touring the barn and grounds of R&R Ranch can email Stacy at stacyrolfe@me.com; include "tour" in the subject line. Advance appointments are required.