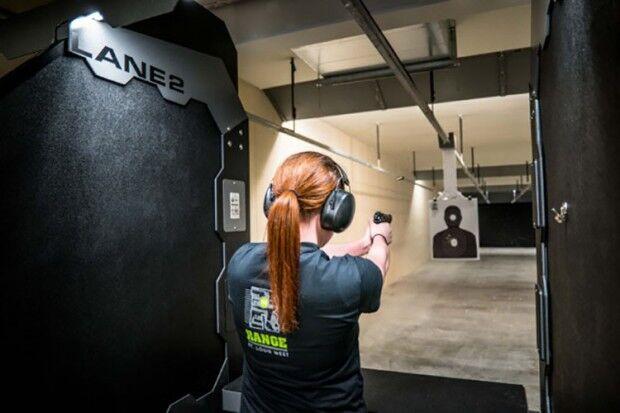 In a time of an ongoing pandemic and continuing protests, trends of self-preservation have manifested in what items fly off store shelves each month. From hand sanitizer to toilet paper, warehouses and grocery stores have experienced an influx of demand while trying to keep their stores properly stocked.
That same concern is spurring interest in the sale of firearms across the country.
John Henderson, managing partner at The Range – St. Louis West, said that the recent spike is an industry-wide phenomenon that has impacted firearms sellers, ranges and training centers across the county. 
"I'd say, overall, we've probably seen a 100% increase in demand," Henderson said.
The Range, which is located in Ballwin, operates as an indoor training facility and shooting range, but also sells firearms and related gear. 
The location first noticed an uptick in sales around mid-March. A state of emergency related to the spread of COVID-19 was declared in St. Louis County on March 13, with stay-at-home order for the city and county of St. Louis following suit shortly thereafter. In late March, President Donald Trump classified gun stores, shooting ranges and weapons manufacturers as essential businesses.
"When they started announcing the shutdown of states and so forth, that's when we noticed it," Henderson said. 
The Range is far from the only entity to experience an influx. 
In fact, according to the National Instant Criminal Background Check System developed by the FBI, the rate of initiated background checks prior to the sale of a firearm rose to about an all-time high 3.7 million in March. In February, the total number of checks topped out at 2.8 million. According to the NICS, the March 2020 period remains the month with the most background checks for firearms documented in the United States since November 1998.
After a slight decline of 2.9 million checks in April, the number spiked again with about 3.1 million documented in May, the third-highest level of checks in the programs 22-year history. 
Henderson's experience mirrors those numbers. "It went through a big spike in March, and it faded a little bit in April, gained ground again in May," he said.
May was also when George Floyd died while being taken into custody by Minneapolis police officer Derek Chauvin.
"Obviously with what has been going on in the past week or so, not related to the COVID-19 pandemic but to all the protests, riots, etcetera, we saw that spike come back," Henderson said.
According to Henderson, one of the driving forces behind the recent wave of interest is self-defense.
"We're a training center first, we also just happen to sell the gear," Henderson said. "So, when they come here during normal times or times like right now, it's about self-defense."
Handguns, as well as a noticeable surge in the interest of shotguns and firearm training have been popular these past months.
"Most people are focused on home defense," Henderson said.
As for firearm sales, what hasn't changed is the state's requirements for legal sales. According to Henderson, all individuals purchasing firearms through federally licensed dealers go through a vetting process that is codified in state law. 
"It doesn't matter where they purchase that firearm, whether they came here to do it or there to do it or went to a gun show, they have to undergo that same background check if it was purchased from a federally licensed dealer," Henderson said. "You cannot legally engage in a firearms business unless you are a federally licensed dealer in the United States."
The only exception in the state of Missouri are private person-to-person sales, which according to Henderson, are not as common as purchases from federally licensed institutions.