The Republic Services star logo represents five essential core values – respectful, responsible, reliable, resourceful and relentless in all they do in providing nonhazardous waste and recycling services. But for the residents of Manchester, there is one additional "R" as in Robert Chestnut.
Chestnut was honored at the April 15 Manchester Board of Aldermen meeting for his service to residents as the city's waste disposal driver for the past 11 years. Chestnut and fellow drivers Richard Mansco, "Big Joe" Moore and Johnathon Drake make up a dream team of excellence.
The Manchester Police courtroom facility was filled to capacity with residents and more than a dozen relatives including Chestnut's mom, several of his children and grandchildren, and his wife, Patricia.
Chestnut's attendance was requested at the meeting under false pretenses. He was asked to attend, with other Republic Services' employees, to discuss the Manchester trash route.
Chestnut admits he's not a fan of surprises, but with a smile, he added that "this one was OK." The shock of the tribute found him speechless, and a bit teary-eyed until he was able to process it all.
Several residents came to the podium during the public comments to laud the extraordinary lengths Chestnut goes to provide excellent service and engage the community where he serves. One example is Sam, a young resident, who dons a Republic Service hat and excitedly waits every week for Chestnut to arrive. Sam even dressed up like Robert this past Halloween. Other heartwarming stories included Chestnut aiding a resident with an injured bird. Another explained how Chestnut offered a hug and kind word after discovering a resident was unexpectedly widowed – and he went one step farther by placing her trash receptacles by the garage each week because she has multiple sclerosis.
"In a community, we don't see this kind of reaction or response, Mayor Mike Clement told Chestnut. "People are happy and appreciative, but it goes much beyond that in what you give back to the community. You are part of this community and this is your family."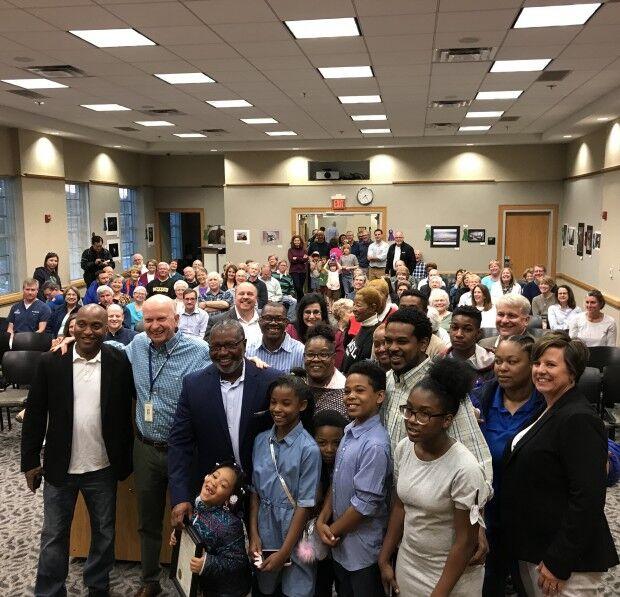 "I always knew the customers are beautiful and the kids are beautiful. But I realize that I have been given a bigger family," Chestnut said. "That gives me a good feeling. Republic is a good company, a good work environment and they help me to succeed on the job."
Municipal sales manager Joell Aquirre was the point person at Republic to help bring the details of the surprise together.
"I am so proud of Robert, I can't even to begin to put it into words," Aguirre said the next day. "All of us from Republic Services were proud to be there for Robert, his family and the city of Manchester. It was such a humbling and exciting experience to witness the appreciation for Robert. Wow … just wow! Last night, was one of the proudest moments I've experienced with my job."
Alderman Megan Huether [Ward 2] suggested the event because of how frequently Chestnut's name is positively mentioned by residents.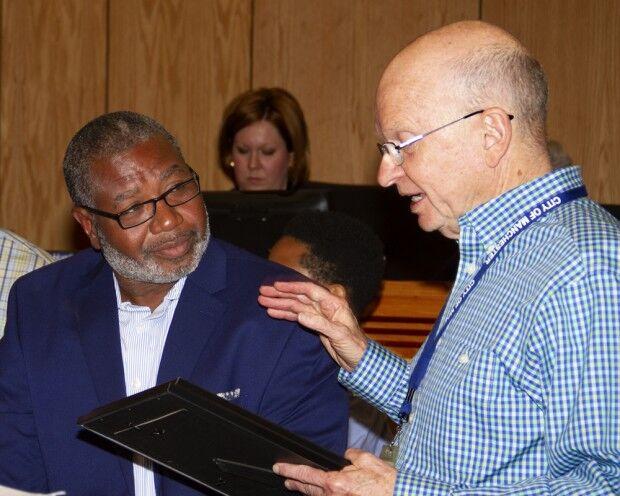 "I'm still smiling after Monday night's event. Thanks to our entire team, and Manchester's residents, for making it such a spectacular evening," Huether added. "I would also like to thank Mike Clement for facilitating the evening. It wouldn't have had the right tone without Mike's generosity of spirit and value of community. It was a joy."
As an extension of the Manchester event, Chestnut will be recognized on a corporate level. In the corporate magazine "Blue Nation" an article and accompanying photos will highlight the event. Additionally, a video and picture feed will be placed on scroll mode in the break room for other employees to enjoy, and Chestnut was recognized at the weekly staff meeting following the proclamation. Chestnut has received the "Dedicated to Safety Award" for no preventable safety or discipline incidences six times while serving Manchester, but seven times in the 16 years with the company.
Operations manager Allen Elliotte spoke on behalf of Republic at the meeting,
"It's hard to find good employees in the world today, but Robert is outstanding for us and is one of the best. Robert epitomizes all five of our core values," he shared.
The city of Manchester has proclaimed the week of May 5 through May 11 as Robert Chestnut Week so that residents may congratulate Chestnut during his route.