As the city of Manchester says farewell to one longtime employee and welcomes another, the city's motto "A Proud Past, A Bright Future" comes into focus.
Representing the "Proud Past" is Public Works Director Bob Ruck, who is passing the proverbial baton to Dave Pracht later this month.
Ruck has spent the entirety of his over 50-year career with Manchester. He began as a seasonal road maintenance employee during the summers of 1969 and 1970 and was hired in a full-time position with the city on Nov. 29, 1971.  During his public works career, he has worked as the wastewater treatment plant operator, maintenance superintendent and assistant public works director. He was promoted to department director on May 1, 2008.
Mayor Mike Clement called Ruck a "transformational city leader who sees his role in public works through the eyes of the city resident."
"He's been working to make Manchester a better city for 51 years!" Clement exclaimed. "That's an unheard of tenure of public service."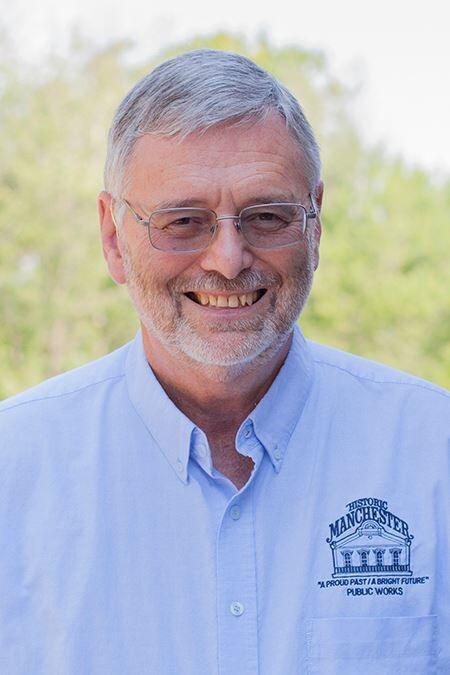 Ruck has worked closely with nine different mayors, including former mayor Howard George, who was Ruck's Little League coach. He has deep family roots in Manchester that date back to the 1800s.
Ruck said he has seen Manchester Road grow from a two-way roadway to the major highway it is today. Additionally, he assisted with the expansion of Route 141 in the '90s. The expansion of those roadways has transformed the city.
"Through the years there [has been] the fluidity of working with different mayors and various changes to the board of aldermen, but there (also) has been one constant," Ruck said. "We all have the same goal of wanting to help our residents. We may have different views of what that looks like, but in the end, we achieve our goals together."
Professionally, he is ending his tenure on a high note. With a team of support, he secured two federally funded grants totaling $2 million – one for sidewalk improvements along Manchester Road and another for a resurfacing project along LaBonne Parkway from Big Bend to Carman roads. The total cost of the project to the city is about $300,000.
"I was always a proponent and advocate for street improvements. The overwhelming support of the passage of the (city's) Prop. S bond issue (in April 2018) was the fruition of that effort," Ruck said.
A standout moment for Ruck was receiving the prestigious "Public Works Leader of the Year" award in 2015. The state award from the American Public Works Association recognizes career excellence and dedication of service in the public sector.
"I am proud to be recognized for my service to the city by my peers. I'm always in awe of the people I'm associated with whose talents are far and above mine."
In 2019, popular votes cast through the Municipal League of Metro St. Louis resulted in Manchester's public works department being named Best Public Works in all of St. Louis County. 
As assistant director of public works and representing the city's "Bright Future," Pracht was the natural choice to replace Ruck. His appointment was unanimously approved by the Board of Aldermen on Dec. 7.
Pracht, who started with Manchester in June 2019, has assisted Ruck with all of the city's public works programs and the management of its staff. Like Ruck, he embraces the sustainability initiatives that Manchester has expanded in recent years.
He holds high esteem for Ruck's leadership.
"Bob is a great person and is great to work with. He provides an exceptional level of service to the public and is one of the most dedicated people that I know," Pracht said.
Pracht joined Manchester with several years of experience in city government. He began his foray into the field as summer help for the city of Brentwood, where he worked his way up to full-time maintenance following in the footsteps of his stepfather and grandfather. After a five-year stint with St. Louis County, he came to Manchester.
"Manchester is a very well-managed city with outstanding staff members. I am very happy to be part of the team here, and I am excited to take on the director's role of the public works department," Pracht said, "Bob and I have worked well together and he's given me a great example to follow."
However, Clement said, "I've told Dave that the city did not hire him to fill Bob's shoes. The city hired Dave to embark on his own journey here, bringing his own leadership and vision to the department.
"Dave is a solid, thoughtful leader who has quickly developed strong and good working relationships with his peers and elected officials. He is very active in all aspects of city government."
Coming back to Ruck, Clement exclaimed: "Bob's contributions to Manchester cannot be measured without the use of superlatives! How fortunate we have been to have him at the helm of public works for years. Perhaps, the highest accolade I can offer him would be that he is a wonderful person who never lacks for a smile or kind word." 
In light of COVID restrictions, city officials are hoping to recognize Ruck in a celebration this spring.