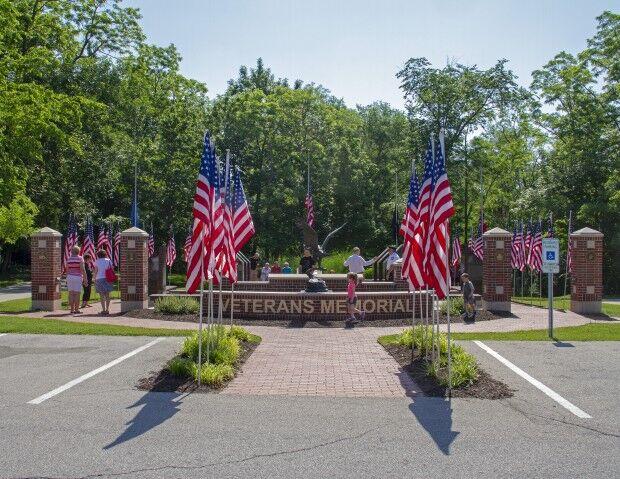 The city of Manchester officially was recognized as a Purple Heart City and a POW/MIA City during its regular Board of Aldermen meeting on May 20.
The Purple Heart City designation is given by the state Military Order of the Purple Heart to cities who honor and recognize the service and sacrifice of the nation's men and women in uniform, wounded or killed by the enemy while serving to protect our freedoms.
The POW/MIA City designation is given by Jefferson Barracks POW/MIA Museum, Inc. to cities that honor and recognize all who served our country in any branch of the United States military who were captured by enemies of the United States or who are missing in action from any year and from any conflict.
Manchester is the first city to have both designations recognized in tandem.
As part of his campaign platform, Mayor Mike Clement made a promise to honor veterans. In addition to Memorial Day celebrations each May, the city hosts Greater St. Louis Honor Flight training, connecting guardians and the military veterans at VFW American Legion Walter Le Pere Post 209 to the nonprofit organization. The mission of Greater St. Louis Honor Flight is to recognize veterans, most urgently World War II veterans or those who are terminally ill. This is accomplished with a one-day, all-expenses-paid trip to Washington, D.C., to visit the appropriate war memorials, built to honor their service and sacrifice.
A February suicide of a former Manchester United Methodist Church  [MUMC] member and military veteran suffering from PTSD sparked an even a deeper desire to honor veterans, Clement said. Unrelated to the suicide, a veterans meeting was held the following day with, among others, Clement and two Manchester police officers. One of those officers, a former Marine in his mid-20s, has lost 16 military brothers to suicide.
"I saw this tragic situation as an opportunity to do more for our large veteran population," Clement said. "Our Veterans Park at Margaret Stoecker Park is underutilized. I sought to change that."
On May 27, the city held a Memorial Day Remembrance Service at the Veterans Memorial. The address was given by Legion Post #208 Commander Mike Beasley with the invocation by Rev. Greg Weeks from MUMC and the closing prayer by Rev. Steve Harbaugh, Manchester's police chaplain. Also featured were the Manchester Community Band, which played a number of stirring songs; a three-volley salute by the V.F.W. Rifle Team Post 6274; and special guests from the Combat Veterans Motorcycle Association. Clement and alderman Megan Huether [Ward 2] served as the emcees of the event.
Guests of honors included World War ll, Korean and Vietnam War veterans, and those men and women who have served in post 9/11 conflicts.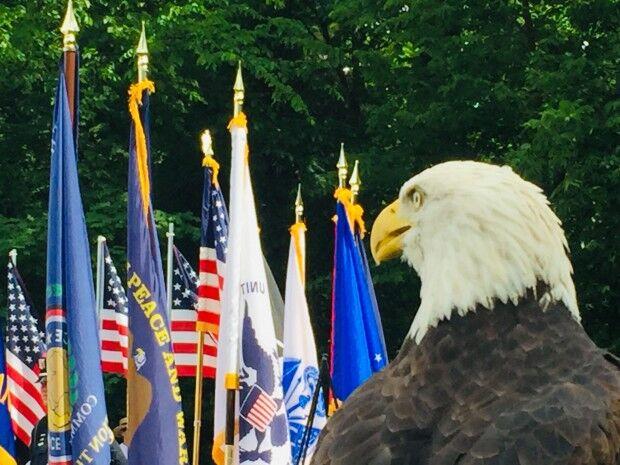 The city flew its 26 Flags of Valor, which were acquired by Clement while still an alderman. Since the inaugural 2018 Memorial Day service, the flags have flown to commemorate other important events, such as Independence Day and Veterans Day.  
The flags, gifted by Richard Randall, Jr. with the nonprofit America's Heartland Remembers, were donated from the "Flags of Valor" project at Art Hill in Forest Park. On Sept. 11, 2016, 7,000 U.S. flags were displayed, each representing one U.S. military casualty following the 9/11 attacks and their ultimate sacrifice to ensure such an attack would never happen on American soil again. The flags also symbolize respect for those who serve or have served our country.  It's a project close to Huether's heart.
"My involvement with the Flags of Valor began with the installation on Art Hill.  I was a volunteer with the Patriot Training Foundation, one of the military charities that benefited from funds raised through the Flags of Valor project. PTF was one of several organizations responsible for helping to assemble, install and care for the flags over the week on Art Hill," Huether explained.
Part of the project included the adoption of each flag, which has the name, dog tag and photo of a U.S. service member who bravely served their country but did not return home. The 26 flags acquired by Manchester are flags that were not adopted. With family in attendance, one flag flew for fallen soldier Spec. Matthew Walker, whose family has a special connection to the city as members of MUMC.
A memorial tribute flag that represents the men and women who have lost their own battle with the trauma of war by taking their own life was presented to the city by Randall at the May 20 meeting. This special tribute flag was one of three flown in the center of Art Hill as part of the "America's Heartland Remembers" installation. The flag represents the 22 lives lost to suicide each day by veterans.
"In our minds, we need to recognize and acknowledge all the veterans, whether soldiers who lost their lives in theater or here on home soil. There's no distinction," said Huether.
As part of the Flags of Valor project, the Huether family adopted Cpt. Tamara Long-Archuleta, a co-pilot of a HH-60 Pave Hawk helicopter who died on a medical evacuation mission to save two injured Afghani children.
"Our family visited her flag several times during the week on Art Hill, researched her life and service, and ultimately made contact with her parents, which continues today. Her flag hangs in our daughter Rosie's bedroom," she explained. Recently, Huether's daughters were presented artwork to be included at the Women's Memorial in Washington, D.C., in Capt. Long-Archuleta's honor.
"Through my experience tending to the installation, interacting with Gold Star families [who lost loved ones in service], and then specifically connecting with Capt. Long -Archuleta's family, I realized that we needed a greater awareness in our community of the sacrifice and service of those serving our country," explained Huether. "As one Gold Star mom said to me, 'I just want someone to remember my kid.' That hit home."