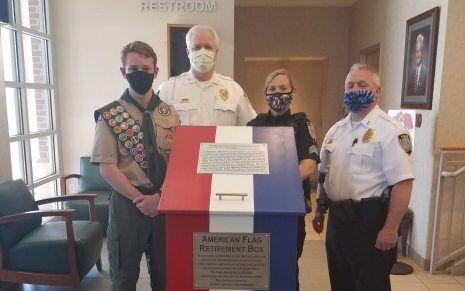 Michael Ludwig, a Scout with Troop 751 chartered by St. Joseph Catholic Church in Manchester, has installed a collection box in the lobby of the Manchester Police Department for worn American flags. 
Ludwig is working on achieving his Eagle Scout rank, the highest rank available to Scouts, and one of the requirements is to construct something that will be of benefit to the community, such as park benches, memorials, donation collection bins, etc. Ludwig decided to make an American Flag Retirement drop box.  
Once an American flag is so worn it is no longer serviceable, it needs to be retired properly.  Ludwig will periodically collect the deposited flags for proper disposal by his troop.