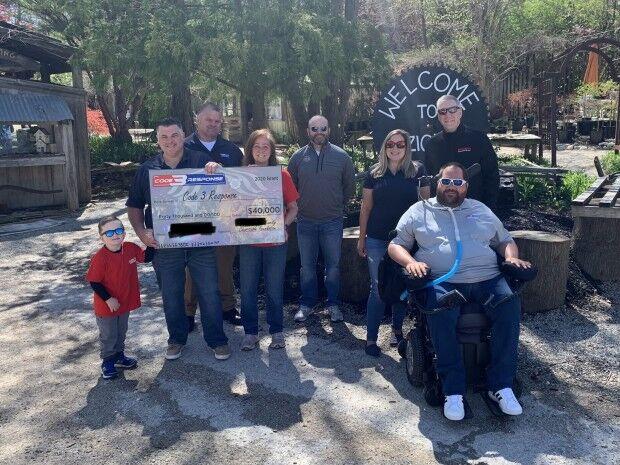 Code 3 Response, a local nonprofit that seeks to assist first responders in need, has received a $40,000 donation from a local family, who wishes to remain anonymous.
The donation was made in honor of the donors' late father, who left a benevolence trust to his children to be used for local charities. 
"They heard about Code 3 Response and our mission and said that it fit their criteria for a 'small, startup organization making a difference,'" Mark A. Gilliam, president of Code 3 Response, said. "We cannot extend enough thank you's to them for this incredibly kind act, and for having faith and believing in our mission!"
The check presentation was made at Zick's Great Outdoors in Wildwood in early April. "We would like to thank Mr. Doug Zick for welcoming us to his Wildwood nursery to use as the backdrop for the picture. Doug said he was honored to provide this opportunity for us and to help our organization," Gilliam said. 
He explained that he and his wife started raising funds for first responders the year that Michael Flamion was shot.
"With support from the first responder community, we put together an event called Hotdogs with Heroes," Gilliam said. "After two years of successful events, we shifted into a 501(c)(3) nonprofit to help first responders that have been critically injured in the line of duty or who have suffered catastrophic life events.
"Since December of this year, we have issued over $80,000 in support to local first responders. Since our founding, we have issued over $200,000 in support."
The name Code 3 has special significance as does the nonprofit's tagline.
"Code 3, in firefighter terms, is an urgent response," Gilliam explained. "Our tagline, 'Answering the call for heroes in need' was suggested by a local woman as part of a tagline contest we held.
"Right now, the urgent response we need is for financial support and people to spread the word about us."
One way to get involved is coming up on May 22, when Fallon's Grill & Tap in Ellisville hosts Code 3 Response's second cornhole tournament. People can sign up at code3response.org and on our Facebook page.
"Fallon's is very big into charity and they came to us asking how they could help," Gilliam said. 
He noted that Code 3 Response welcomes organizations and individuals who want to host fundraisers on its behalf. Interested parties can email Gilliam at markgil@code3response.org.
Since its founding, community support has been the backbone of the nonprofit, enabling them to spend zero dollars on infrastructure. 
"All of our infrastructure needs have been specifically donated to us," Gilliam said. "Recently, we were given several anonymous donations, totalling $35,000 to meet our infrastructure needs so that every dollar donated can go directly to support first responders."
As the nonprofit has grown so has its signature event. Hotdogs with Heroes 2021 is planned for Sept. 18 at the Macy's parking lot in Chesterfield. With bands, vehicle displays, kids activities and more, it has grown into a mini festival that, in 2019, raised more than $80,000.