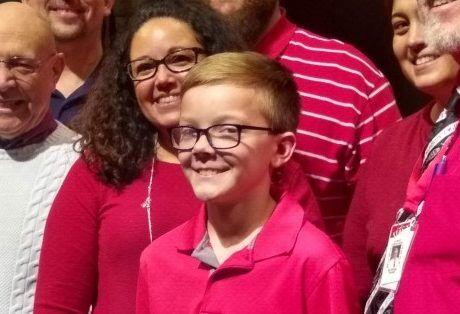 James Teuscher, a sixth-grader at St. Mark's Lutheran School in Eureka, has been named 2019 Lutheran Student Christian Leader of the Year by the St. Louis-based Lutheran Elementary School Association. The award, which includes a $500 scholarship underwritten by the Lutheran Church Extension Fund, recognizes students who demonstrate courage, compassion, leadership, academic achievement and community commitment. 
Teuscher, 11, was nominated for the award by teacher Linda Dehn. 
"James has overcome a lot in his personal life," Dehn said. "But instead of becoming angry or bitter, he has taken it upon himself to be kind to everyone." 
Dehn said that Teuscher has become an advocate for classmates who also face challenges, such as his friend Hugh. 
"James has taken Hugh under his wing," Dehn said. "He's very patient with him and helps him feel better when he becomes frustrated in school." 
Teuscher enjoys volunteering with his family in St. Mark's nursery during Sunday services and helping out at Sunday school. He plays basketball for St. Mark's and takes part in drama productions.
"I have a really close bond to everyone here at St. Mark's, because I know them so well," he shared. "We have lots of fun."