There's no getting around it – Wildwood values its roundabouts.
Locally, two more roundabouts are being planned. One is a new roundabout improvement at Hwy. 109 (Route 109) and Wild Horse Creek Road (Route CC) being designed by the Missouri Department of Transportation (MoDOT). The other is a roundabout to be located at Hwy. 109 and Route BA South (Babler Park Drive, south junction) being designed by the city of Wildwood.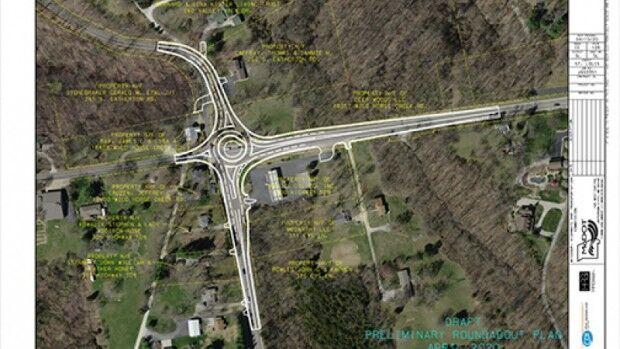 According to MoDOT, the intersection at Wild Horse Creek Road and Hwy. 109 is already congested and with several ongoing and anticipated developments in Wildwood, Franklin County and the Chesterfield Valley, that congestion is expected to get worse.
MoDOT engineers studied the area to see what improvements could be made to improve the flow of traffic and help reduce congestion. Based on the study, MoDOT determined the best solution to keep traffic flowing would be a two-lane roundabout, similar to those constructed further south on Hwy. 109 between Clayton and Manchester roads.
The improvements are expected to cost $4.474 million.
To assist with the cost, MoDOT applied for, and received, federal funds specifically for projects that address congestion mitigation and air quality (CMAQ).
Preliminary plans for the roundabout are being reviewed by MoDOT's district engineer and upon approval, the department will determine a format and date for a public hearing, Ryan Pearcy, MoDOT area engineer, said.
"It has taken a bit longer to work through the preliminary plan phase of this project," Pearcy said.
Pearcy noted that several revisions to the plans were made, mainly focused on the reduction of right-of-way impacts to adjacent properties. The plan includes surveying around the intersection and doing an analysis of the soil so that designers know what they might encounter during construction. As part of the process, MoDOT will contact property owners who might be in the footprint of the roundabout to get their permission to access portions of their properties.
Right-of-way negotiations will not begin until next summer. Construction is not expected to begin until fall 2022.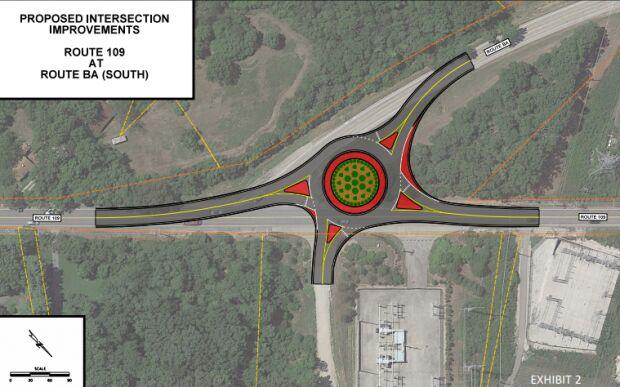 The total cost of the Hwy. 109-Route AB roundabout is estimated to be $1.7 million. By obtaining STP-S (Surface Transportation Program-Suballocated) Funds through the East-West Gateway Council of Governments, the city can leverage its existing capital improvement funds. The city's local match would be 20% or $340,000.
Legislation authorizing that funding agreement will go before the City Council later this fall or winter.
In a memo to the city council last year, Brown wrote that the intersection of Hwy. 109 and Babler Park Drive (Route BA) South had been identified as a high crash intersection.
The current intersection is heavily utilized and exhibits poor sight distance due to the alignment of Babler Park Drive, he wrote. In addition, Hwy. 109 lacks a left-turn lane for northbound traffic.
"Thus, intersection improvements are recommended to alleviate the crash problem," Brown said. A previous study that reviewed the intersection recommended the construction of a roundabout, which was listed as priority No. 1 on the list of improvement projects approved by the council in 2018.
Roundabouts have existed in Wildwood since 2003 when the one at Manchester and Taylor roads was built. Since then, several more have been added.
Studies have shown that roundabouts are safer than traditional stop signs or signal-controlled intersections. According to a study by the Insurance Institute for Highway Safety (IIHS), roundabouts reduced injury crashes by 75 % at intersections where stop signs or signals were previously used for traffic control.
The study found that roundabouts force drivers to slow down and all but eliminate the most severe types of intersection crashes – right-angle, left-turn and head-on collisions.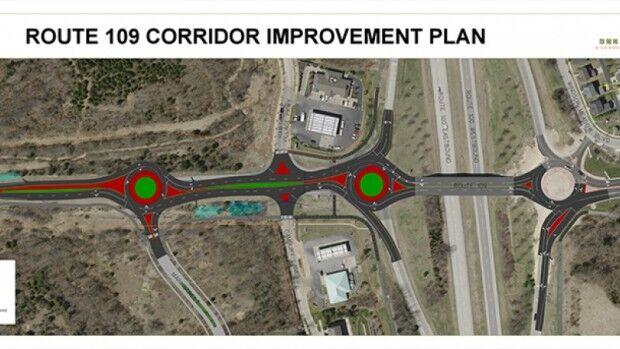 Recently, Wildwood completed a joint project with MoDOT to improve Hwy. 109 just north of Hwy. 100 to Main Street. The project included replacing the existing Hwy. 109 bridge over Hwy. 100, constructing new roundabouts at Main Street and the eastbound ramps to Hwy. 100, constructing a new pedestrian tunnel under Hwy. 109, and widening that roadway to extend the current four-lane configuration from north of Hwy. 100 to Main Street.
Roundabouts down the road
The city of Eureka also has major road projects along Hwy. 109 that began this year.
One project is at the intersection of Hwy. 109/Route W and Route FF. New dedicated turn lanes and a traffic signal will be added. This project is scheduled to be completed by MoDOT this fall.
Another project involves the widening of Hwy. 109 in front of Legends Parkway. That work is currently underway and should improve north-south traffic flow on Hwy. 109 at that intersection.
A third project is at the intersection of Hwy. 109 and Fourth Street. The median in front of Sacred Heart Catholic Church is being moved back and a new, dedicated northbound turn lane onto Interstate 44 is being created. This improvement is expected to greatly reduce the stacking up of traffic as cars wait to turn onto I-44 from Fourth Street, as well as improve the flow of northbound traffic from Hwy. 109 onto I-44. That project also is slated to be complete this year.