Eureka's first-full service library for residents is set to open at 9 a.m. on Wednesday, June 2. The new Eureka Hills Branch of the St. Louis County Library (SLCL) system is located at 500 Workman Road.
The 15,000-plus-square-foot facility replaces its 6,500-square-foot predecessor, which permanently closed on May 15.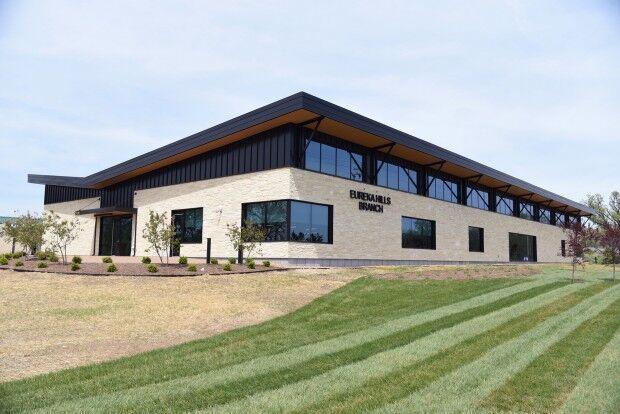 The new $6.5 million branch offers a 60% larger materials collection than the previous library as well as a children's area; a teen space; three private study rooms; a community meeting room with surround sound; a business center with fax, copy and scanning machines; a commons area with tables and a laptop bar; and a quiet reading area. The exterior space offers a reading patio.  
McBride & Sons Homes donated $100,000 toward the children's area, which is painted teal, orange and peach and features a honeycomb motif. Several carpeted reading nooks will allow young patrons to curl up with a good book. Kid-friendly furniture, browsing bin shelving, oversized reading chairs and interactive learning stations with computers round out the space.
Unlike so many of its counterparts, the new branch was not part of the multi-year, $120 million Your Library Renewed campaign, which renovated or replaced 19 of the system's 20 branches.
"The original Facilities Master Plan did not include a construction plan for the Eureka location. At the time the plan was developed, the branch had just moved into a larger space. Library administration has since determined that the growing community in Eureka needs a full-service branch," SLCL Communications Manager Jennifer McBride said in a press release.
Just prior to the Eureka Hills Branch opening, the remaining 19 branches had a bit of a reopening themselves. On May 10, the library system expanded its hours of operation and dropped the need for appointments on encouraging news from the county health department.
"We are thrilled to welcome patrons back to the library," said SLCL Director and CEO Kristen Sorth. "Our curbside service and appointments have been very popular, but we know patrons are eager to browse and visit the library when it's convenient for them."
Hours of operation are from 9 a.m.-9 p.m., Monday through Thursday and from 9 a.m.-5 p.m. on Friday and Saturday. Access to the history and genealogy department, located at SLCL Headquarters, 1640 S. Lindbergh Blvd., is still available by appointment only.
Curbside service is still available at all 20 library locations from 1-6 p.m., Monday through Thursday and from 1-5 p.m. on Friday and Saturday. For more information, visit www.slcl.org/curbside.
Masks are required while inside all library branches for those 5 years of age and older. Free masks are available to patrons who do not have one. Social distancing and other safety guidelines are in place.