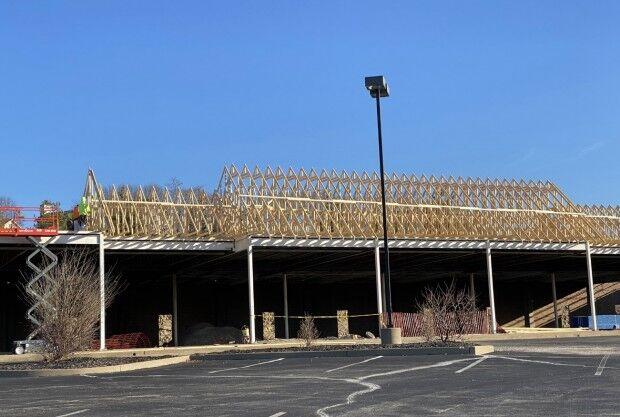 The partially finished retail and service center in Eureka known as the Shoppes at Hilltop, located at 405-463 Meramec Blvd. in Ward 1, has recently seen upgrades aimed toward finishing the structure, which has sat unfinished and partially vacant for 10-12 years.
Most recently, wooden roof trusses were delivered to the site to be set, and construction remains ongoing in other areas of the property.
According to Julie Wood, director of economic development, an estimated 30,195 square feet of retail bay space is available. Usage of the space is also fluid depending on the potential needs of future tenants interested in the space. The finished areas of the shopping center have housed multiple entities like Mercy Health, a fitness center and other small businesses while also serving as the home for The DaVita Eureka Dialysis Center. 
Mayor Sean Flower and city staff have had ongoing discussions with the owner on finishing the site and resolving ongoing issues. The city has committed to work through the remaining permit and regulatory issues and the owner has committed to finishing the exterior of the building. The site's current owner is not the original developer but has complied with the city's requests and continued work on the property as promised.
"The hope with finishing the new center is that it will attract new uses or retail services," Wood said. 
According to Wood, the goal of the city and property owner is that the completed construction of the exterior of the building will make the location more desirable to prospective renters.
"I think the owner and the city are open to a lot of different uses for it," Wood said. "I know residents have spoken up about wanting more restaurant choices, more choices for entertainment, things for teens to do, and things like that. Of course, it would be great to get something in there that everybody is excited about."
While no information has been released on potential tenants for the open spaces at this time, construction remains ongoing.