"Super exciting!" "Awesome!" "Very cool!" These are just some of the superlatives used on Facebook in reaction to news of a new mountain bike park in Eureka.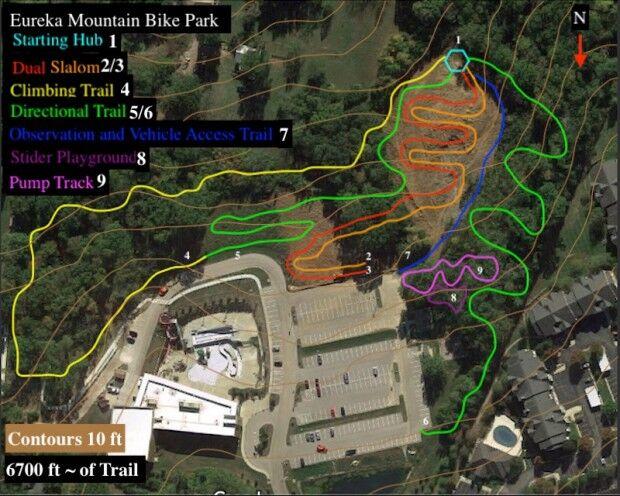 The park will be located next to The Timbers Recreation Center and will feature dual slalom lines, a natural stone hub/starting ramp, a climbing trail, double-track access and a strider course for riders ages 18 months to 5 years. A pump track, comprised of rollers, banked turns and other features that require up and down body movements to generate momentum instead of pedaling or pushing, also is planned.
While these amenities may not sound familiar to the casual bike rider, to bike enthusiasts – they're "totally rad."
Mountain bike professional Cameron "Cam" Zink and Sensus R.A.D. Trails are helping design the dual slalom.
The project was first proposed to the city by Mountain Bike Shed and GORC [Gateway Off-Road Cyclist] Gravity, a local nonprofit that helps build and maintain multi-use trails. A fundraiser they held last year attracted between 400 and 500 people, who donated to the design of the project, Adam Scott, owner of Mountain Bike Shed, said.  
According to Scott, most of the trails around St. Louis are cross-country trails. He said he was thrilled when GORC started talking about directional downhill trails.
This will be the first large-scale project that GORC, who will help facilitate the construction process, has worked on. The volunteer group presented its plan to the city and convinced it to send out RFPs [request for proposals]. After receiving five proposals, the city chose Kansas City-based Nomad Trails Development to develop the trail system.
Brett Shoffner, one of Nomad Trails Development's owners, said the company has been designing and building similar bike parks all over the country. He explained that mountain bike trails are evolving and designers are building in more dirt jumps, flow trails, wooden features and pump tracks.
In Eureka, the process will involve using the existing natural resources, modifying vegetation and excavating the hillside, Shoffner said. The park primarily will be geared toward beginners and kids but will have optional features for more progressive riders.
"People are stoked for sure," Shoffner said.
Eureka Mayor Sean Flower confirmed local interest. He said the city's Facebook entry on the park has been viewed more than 50,000 times.
Flower said the city will spend approximately $80 to 100,000 on improvements. When completed, the park will be connected to the city-wide trail system.
City officials hope to see Eureka become a mountain bike destination for visitors not only in St. Louis but from across the country looking for something different to do.
"We are thrilled to be able to add such a unique outdoor recreation aspect to our community and complement the more than 200 miles of trails, zip-lines, camping, river access and so much more that our region has to offer," Flower says on the city's website.
Terrain Magazine recently named Eureka as the area's next outdoor hub in its list of the best Midwest outdoor towns.
Construction is expected to begin this week with an opening scheduled for April.
The GORC Gravity crew also is involved in building a pump track in St. Charles County. In September, they presented plans to city officials for the construction of a pump track at the Youth Activity Park in Dardenne Prairie.
At 30,000 square feet, the new pump track at Youth Activity Park, 7801 Hwy. N, will be the largest asphalt track in the country and can be used with skateboards, scooters, bikes and skates, according to Nancy Gomer, public information officer with St. Charles County. It is designed to accommodate riders of all abilities, yet be challenging enough for national bike competitions.
R.A.D. Trails also is conducting a trail evaluation to determine if a gravity trail, a downhill trail packed with challenging features, can be implemented at Matson Hill Park, 670 Matson Hill Road in Defiance.
So, as they say in the biking community – get ready for the shred!