Eureka resident Evan Pina-White became interested in fine food and cuisine from a unique location: a hospital bed.
It was from that bed that he watched American chef and travel host Anthony Bourdain on television and became hooked on the foodie's adventures across different cities and countries. Specifically, Pina-White's favorite show to watch was Bourdain's global travel show "Anthony Bourdain: No Reservations." He watched while undergoing chemotherapy treatments following a diagnosis of acute lymphocytic leukemia when he was in middle school.
"It combined food, culture, people and travel," Pina-White said. "There really wasn't anything else like it. Being trapped in that hospital bed, it was also like I was able to live vicariously. He took me to those places."
According to Pina-White, what fascinated him most about Bourdain over other travel hosts was his emphasis on people, from gourmet chefs to everyday civilians, across the world.
"Every episode was new and fresh," Pina-White said. "It was focused on the people as well, not just the places or the food."
In 2010, following chemotherapy treatments, Pina-White had the opportunity to meet Bourdain in-person at a book signing event in St. Louis.
"It was almost like a stand-up or talk show routine, but he was also doing a book signing and answering questions from the audience," Pina-White said.
When it came time for the event's Q&A session, Pina-White raised his hand and sought travel advice from Bourdain.
"I was very clearly undergoing treatment at the time," Pina-White said. "But I love seafood, so I asked him where I could get the best seafood once I was cancer-free."
Bourdain's answer was a trip to Spain.
"He told me to eat my way through Spain," Evan said.
Bourdain also signed Evan's copy of his book "Medium Raw: A Bloody Valentine to the World of Food and the People Who Cook" with the phrase, "See you in Spain."
When Pina-White became eligible for a wish with the Make-A-Wish Foundation, he opted for a Mediterranean cruise with Bourdain's advice in mind. Pina-White became well enough to make the trip in the summer of 2012. Before his departure, Bourdain's assistant reached out to the family with a list of restaurants, selected by Bourdain, for Pina-White to visit on the trip. In addition, Bourdain also sent him a personally signed check for $5,000. According to Pina-White, he and Bourdain hadn't been in touch since the book signing event.
"After all that time, he remembered me," Pina-White said.
The list of restaurants and the donation had not been part of Pina-White's wish; Bourdain had reached out to the Pina-White family independently.
Pina-White was 13 years old when he departed for Barcelona with Bourdain's list in-hand. During and following the trip, the two kept in touch through social media sites such as Twitter. Along the way, Pina-White tweeted Bourdain pictures from the suggested restaurants he had suggested with pictures of food, like the "Rias de Galicia" restaurant in Barcelona, Spain.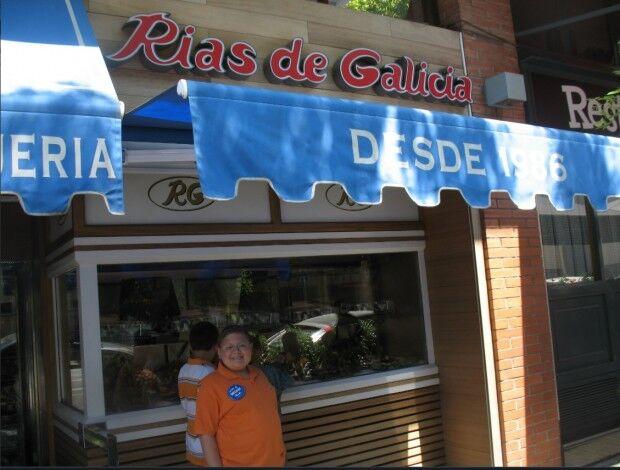 "We went to a couple of the restaurants he suggested, and they were really good," Pina-White said. "The trip was amazing. I don't think anything can ever top it."
Pina-White said Bourdain's death earlier this month "felt more like a friend's death."
He is now 19 years old, cancer-free and currently attending Washington University and studying biology. He still has the book Bourdain signed and "all the emails he sent."
Although Pina-White has no immediate travel destinations planned, he still has the goal to travel to more countries in the future.
"I've always said that I want to travel to all seven continents," he said. One of his favorite trip memories is of his family's climb to the top of Mt. Vesuvius in Italy.
"I was still in recovery and I was having some trouble climbing up, and I remember my mother turning to me and saying, 'If you can't make it to the top now, we can come back,'" Pina-White said. "I was determined and I made it up. At the top, there was this other climber and he noticed my Make-A-Wish button. He was actually an oncologist in the St. Louis area who knew my personal oncologist back home."
According to Pina-White, the chance encounter was a reminder of what made Bourdain's shows so special.
"To meet someone I knew all the way across the world, it just kind of made the world feel small," Pina-White said. "That's what Tony did. He made the world feel small. He made everyone feel like neighbors."