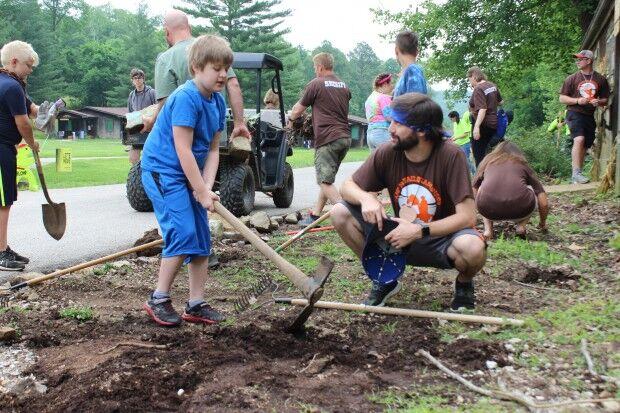 On a sunny Friday in Eureka, 34 campers equipped with shovels and spades spent the morning gardening with peers to beautify a health lodge, affectionately known as the "Med Shed" at the Wyman campsite in Eureka.
Later that day, campers also learned how to self-infuse their medicinal treatment through a vein in their arm. For some campers, it was their first-time self-infusing. For others, it's just another daily task as an individual with a bleeding disorder.
For one week in June, Camp Notaclotamongus [Not a clot among us] provides kids with hemophilia a summer camp experiences while simultaneously educating campers and raising awareness about blood disorders, including hemophilia and von Willebrands disease [VWD].
The camp is an initiative of the Gateway Hemophilia Association, a nonprofit organization dedicated to supporting individuals and families affected by bleeding disorders, which are categorized by a lack of proteins in the blood that prevent clotting.
"I'm so proud of these kids," Bridget Tyrey, executive director of GHA and camp director at Camp Notaclotamongus, said. "They've planted flowers, they'd built benches, they've painted fences. They own camp. They clean up camp. They respect camp."
Gardening was chosen as an activity this year because of the June for Joint Health initiative, where organizations like GHA spend the month promoting activities that can be utilized by individuals with hemophilia or bleeding disorders maintain healthy joints and prevent future injury.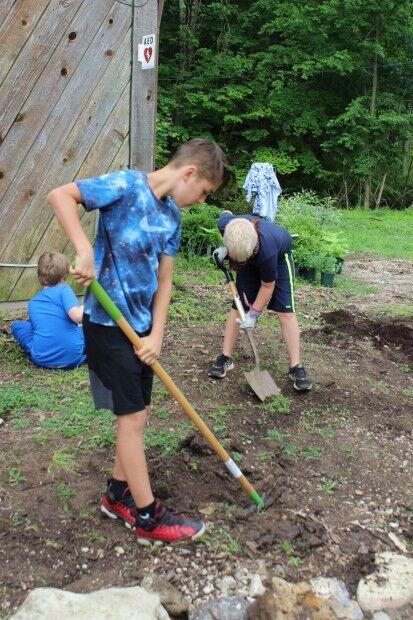 "For kids with bleeding disorders, we have to be very protective of their joints, because they do have a higher chance of getting joint damage," Tyrey said.
Over 125 kids come through the camp's 11 years of operation, where counselors and directors strive to raise awareness for those living with bleeding disorders.
"Years ago, they didn't want individuals with hemophilia to do anything," Tyrey said. "Don't go out. Don't play sports. I have a son [with hemophilia] that's played baseball and soccer. He went to state for swimming because he had access to care and medication, so he could be active. He could have healthy joints and not be in pain. An active joint is a healthy joint, and that's what we try to promote here at camp."
Like the campers, many of the camp counselors returning to Camp Notaclotamongus are also individuals with a bleeding disorder. According to Tyrey, about 85 to 90% of the campers also return to become counselors.
One counselor, Austin, previously attended Camp Notaclotamongus as a camper before participating in Leader in Training [LIT] initiation to become a counselor. 
"I try to come back every year," Austin said.
In addition to activities that help promote healthy joints like gardening and fishing, campers also learn how to self-infuse their bodies with clotting factors at the camp's infusion clinic.
Without infusing factor into the bloodstream, individuals with hemophilia can bleed for a longer time after an injury, lose consciousness or worse.
Austin learned to self-infuse when he was 7 years old, and learned how to do so from his camp counselor at Camp Notaclotamongus. Now, he teaches younger campers how to self-infuse.
"You can see it from their eyes," Austin said. "I also learned when I was seven, and you feel the same emotions that they did, so you can kind of walk them through it and talk them up."
Camp counselor Josh, who also learned to self-infuse at camp, returns every year from Kansas City to work with local kids, some of whom are experiencing summer camp for the first time in their lives.
"You're pretty much told that you can't do a lot of things because of your disorder, whether it be sports or camping, but you can do most things after you take your medicine," Josh said. "I play paintball a lot. I play soccer completely. You can still do things if you take your medicine. It gives you the freedom to go out on a lake and go tubing or go harder than usual in sports. You can fall down and not worry about getting a bleed that's going to know you out for a week."
Depending on the disorder's severability, some individuals may infuse once a week while others may have to administer treatment daily.
"It's just another part of life," Tyrey said.
Josh, who self-infuses every other day, agreed.
"To me it's not a big deal, but I get choked up when I see little guys fighting through the tears," Josh said. "They're so happy too. They're like, 'I did it!' You can tell they're still scared, but they're so, so happy about it. They can go to slumber parties or they can be with their grandparents. They don't have to have mom or dad help them."
Self-infusion can open doors to many future life experiences, from living away at college to living independently.
"When I was a camper, [Josh and Austin] were actually my counselors," Johnny, a former camper and current counselor, said. "I looked up to all these people. I didn't want to leave my first year. I was like, 'Mom, why are you here? I want to stay. This is a great place.' I have a few kids that I've helped teach how to self-infuse, and that's magic. That's where it all starts."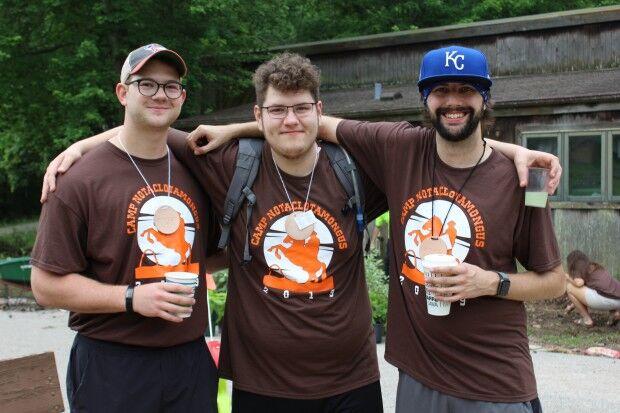 In addition to helping campers become independent, Camp Notaclotamongus also strives to teach campers and members of the public about bleeding disorders while raising community awareness.
According to GHA, Hemophilia A is the deficiency of clotting factor VIII and affects about 1 in 10,000 males. Hemophilia B is the deficiency of clotting factor IX and affects about 1 in 60,000 males. However, many females can go undiagnosed compared to males due to menorrhagia, which a common clinical problem among women. According to the Centers for Disease Control and Prevention, underlying causes are not identified in 50% of cases, meaning many women may have undiagnosed VWD or another blood disorder.
However, according to Tyrey, Camp Notaclotamongus has seen a rise awareness through an increase in female participants with bleeding disorders. Like hemophilia, VWD is also an inherited disease that does not allow blood to clot properly. It affects one to 2% of the population.
"At our first year at camp 11 years ago, we have three girls, and now we have nine," Tyrey said. "That means more females are being diagnosed. They're healthier, their joints are being taken care of, and that goes back to the June for Joint Health mission we have out here."
Camp counselor Riley was diagnosed with VWD at age 6. She also attended Camp Notaclotamongus as a camper before entering the LIT program to become a counselor.
"A lot of times for women, unless you have a surgery early-on in childhood, you may never even know if you have something, especially if you're not active in sports," Riley said. "A lot more information is coming out and doctors are becoming more aware, but I know when I was young, my parents said to me multiple times that nobody knew what it was."
Riley also teaches campers about self-infusion.
"The first time, I know I was scared. It took me months," Riley said. "I had a home infusion nurse, but when I came to camp, I was so nervous. I was like, 'I need someone to sit next to me…but I know I have to do it.'"
While the infusion clinic is a "huge" part of the camp experience, according to Riley, another goal is to help build lasting friendships and confidence.
"You really get to connect with the kids," Riley said. "Last night, me and some of the younger girls were throwing around a ball and sharing facts about each other. They just came up with that all by themselves because they were like, 'We want to know more about each other.' We sat up and did that for an hour."
At the end of the day, Camp Notaclotamongus is a weeklong experience that strives to bring the camp experience, sense of community and independence to a growing group of kids.
 "For some of these kids, this camp is what helps them break out of their shell and helps them realize that they can be independent," Riley said. "They can do anything anyone else can."