"Ready! Set! HUT!!"
That's a phrase that most of us remember as 12-year-olds throwing a football around the backyard. But Gavin Meyer, a sixth grader at Francis Howell Middle will likely flashback to a different memory. Thanks to the generosity of Make-A-Wish Missouri & Kansas, Gavin went to the 2023 Super Bowl in Phoenix, Arizona, to watch his favorite team, the Kansas City Chiefs, compete against the Philadelphia Eagles. 
He was one of 17 youth chosen from across the country by the Make-A-Wish foundation to attend the 2023 Super Bowl. 
At 3 1/2 years old, Gavin was diagnosed with a rare nervous system disorder called Duchenne Muscular Dystrophy. He currently goes through weekly infusions but the treatments can be exhausting. Despite these challenges, his smile endures. His parents say he has a great medical team supporting him, including his neurologist, Dr. Craig Zaidman, his home care nurse, Jackie, and others. 
Almost 3 years ago, his mom, Barbara, began the journey of adding another member to his team, when she started working with Make-A-Wish to fulfill his wish to go to the Super Bowl. After delays around COVID, the Meyers found out in October 2022 that Gavin's wish would be granted. Barbara said they bubbled with excitement trying to keep it a surprise for Gavin. 
The family was about to burst from this secret when the Chiefs – Gavin's favorite team – clinched the AFC championship and a spot in the biggest game of the season. 
It might be an understatement to say Gavin was overwhelmed at the news that he was going to watch the Super Bowl in person. Y98 FM conspired with Make-A-Wish to surprise Gavin with the news via a phony radio contest. Gavin listened as some tough trivia was asked of his opponents and quickly saw three other contestants eliminated. Brian Miller, vice president of marketing and communications for Make-A-Wish Missouri & Kansas, was one of those contestants who was glad to be a happy loser in the contest. Brian remembers vividly the reveal moment. 
"When Gavin learned that the contest was actually a ruse and that his wish was coming true he was speechless. Gavin walked out of the Y98 studios smiling ear-to-ear," Miller said.
After the news broke, Gavin's teacher, Rebecca Klinginsmith, worked with the school and quickly assembled a huge sendoff for him. That celebration included musical performances by teachers and a parade down the hall of the school with high-fives from classmates and friends. Barbara and the family were really touched by the enthusiasm.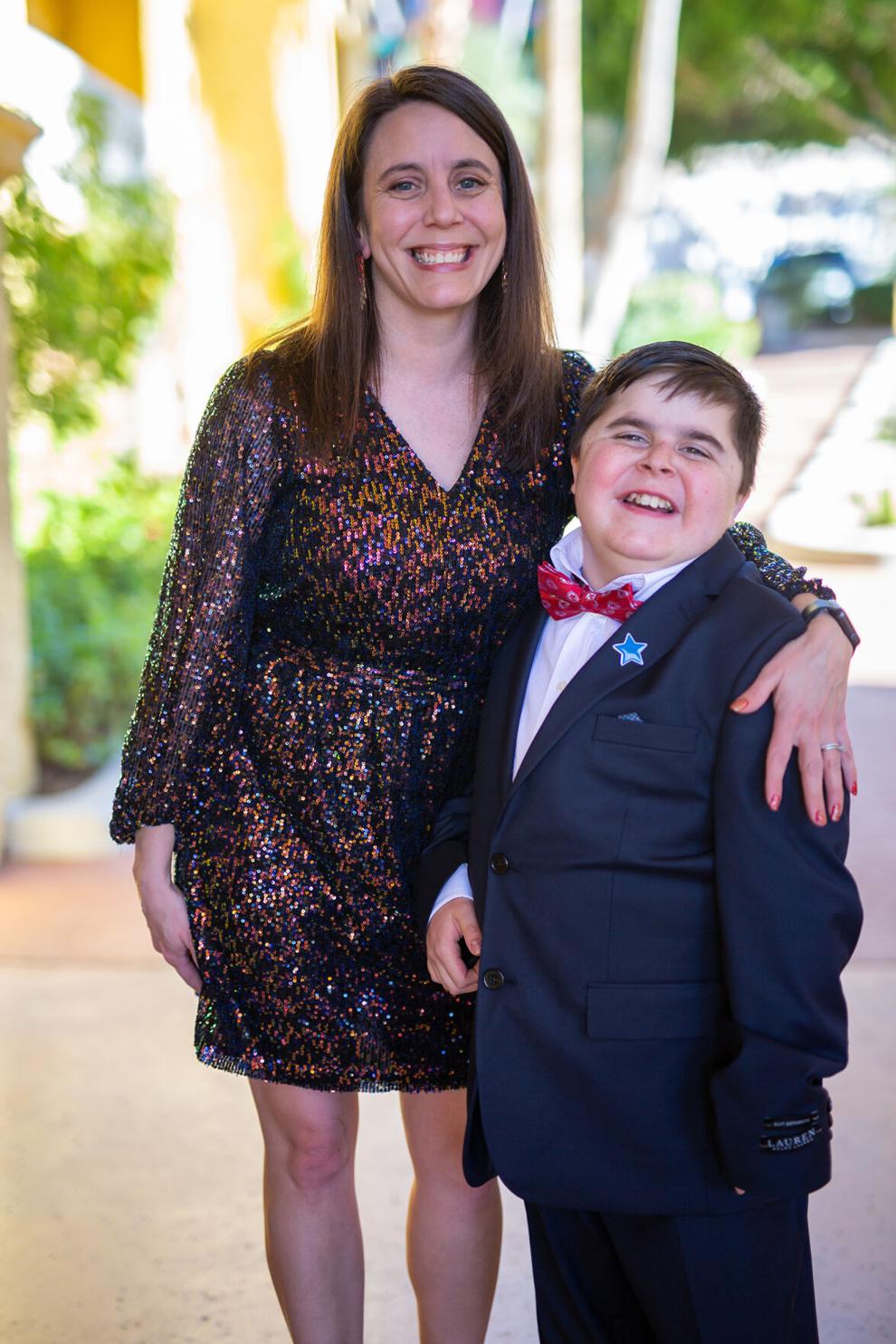 "It was so heartwarming and so amazing to have so much love and support. And really the whole school was just beyond thrilled that he was going to the Super Bowl," Barbara said.
Gavin's dad, Jeff, and his sister, Abby, joined Barbara and Gavin on the trip to Phoenix but it was Gavin and his dad that had the seats to a game where tickets cost thousands, commercials cost millions and half-time shows are over the top.  When asked if there was anyone he wished could have also been with them, Gavin thought of his grandpa, who is also a huge Kansas City Chiefs fan.
If the game wasn't exciting enough, Make-A-Wish went over the top with a set of events leading up to the Super Bowl. There were meet-and-greets with NFL players, fun at Dave & Busters and Top Golf, and a lot of great food. There also was a gala for which Gavin donned a suit complete with a Chiefs bow tie and matching red tennis shoes. The Make-A-Wish group was given a tour of the stadium as well and got a peek at the Chiefs locker room before the Kansas City players even had a chance to see it. 
"I've never seen so much Gatorade and Old Spice," Gavin said.
To see the players on the field is one thing, pure admiration for talent and teamwork. But off the field, Gavin discovered, those players' personalities are as big as their towering presence. Gavin especially enjoyed meeting Manny Jones, of the Arizona Cardinals. Manny and Gavin snapped pics with silly photo props, played some ping pong, and traded autographs before the day was done. All of the players were easy to approach and talk with, which the Meyers said makes watching these guys out on the field that much more incredible of an experience. Gavin's family now have enough souvenirs and memories to make a terrific sports themed mini-museum in their Cottleville basement.
The experience marked Gavin's first time attending any NFL game – and what an exciting game it was! 
Gavin's favorite player is Travis Kelce (#87), who scored the first touchdown for the Chiefs. The game was highly competitive with both Kansas City and Philadelphia trading off touchdowns one after the other until the Chiefs walked away with the win.
The classic question for players after the Super Bowl typically results in the phrase, "I'm going to Disney World!" But for Gavin, the answer is closer to home.
His love for football is only equaled by his excitement for baseball. Channeling all that Super Bowl-win energy, Gavin is excited about pitchers and catchers reporting to Cardinals spring training.