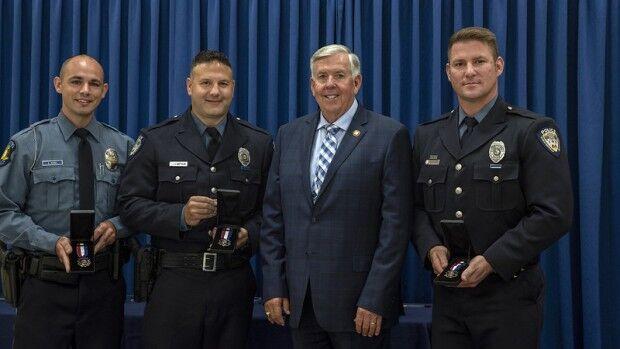 Gov. Mike Parson, on Sept. 1, awarded a Medal of Valor to Chesterfield Police Officers Ryan W. Broeker, Andrew C. Mattaline and Devin R. Kitrel (now with the St. Peters Police Department).  
According to a press release issued by the governor's office, Broeker, Mattaline and Kitrel performed a daring rescue on Sept. 23, 2020. 
Broeker, Mattaline and Kitrel were working the midnight shift to investigate a rash of auto break-ins as part of a plainclothes, undercover assignment. At about 2:45 a.m., the officers responded to a call for a vehicle that had struck a tree at a high rate of speed. The vehicle was extremely damaged, with the front end crushed in. 
As the officers approached the vehicle, they noticed the glow of fire beneath the car. They attempted to enter the vehicle, but the heavy damage prevented entry. The driver had been killed on impact; however, after additional officers arrived on the scene, they were able to get the car open and see an injured passenger, who was conscious but trapped. That person was severely entangled in the wiring of the engine compartment of the mangled vehicle. 
Fire quickly fully engulfed the engine and passenger compartments. With no fire crews on scene, immediate action was required to save the victim's life. Broeker, Mattaline and Kitrel ignored the danger to themselves and amidst fire, smoke and heat, worked together to cut the victim out of the wiring and debris.
Broeker used a fire extinguisher as the fire encroached farther, then Kitrel and Mattaline assisted in pulling the victim from the burning wreckage. Moments after the victim had been freed there was an explosion inside the car. The officers moved the victim farther away from the vehicle until medical help could arrive. 
Despite the danger to themselves, officers Broeker, Mattaline and Kitrel's brave and decisive action likely saved the victim's life.