As he was commemorating the state's Bicentennial on Sept. 10, Gov. Mike Parson noted that it had been almost that long since a Missouri governor spoke at Thornhill in Faust Park.
Since July, Parson has been traveling around the state on a Bicentennial Tour. Thornhill, home of Missouri's second governor, Frederick Bates, made the list of stops.
Parson's visit marked the first time in 196 years that a governor has visited the home, he said.
After taking a tour of Bates' 1819 mansion, Parson relayed some of its history.
Prior to serving as the state's governor, Bates was appointed by President Thomas Jefferson to serve as Secretary of the Louisiana Territory.
Bates acquired the property, nearly 1,000 acres, in 1808 and 1810. In addition to the mansion, the property includes its original barn, a second barn built in 1860, a distillery, a smokehouse, an icehouse, a granary, and the blacksmith's shop. With nearly 300 books, it had one of the largest libraries in the Louisiana Territory.
In 1824, Fred Bates was elected the second governor of Missouri but died in office less than a year later.
Parson noted that Bate's brother, Ed, was attorney general under President Abraham Lincoln. He also noted that George Armstrong Custer, a U.S. Army officer and cavalry commander in the Civil War, was the first official guest in the home. It was also the place where outlaw Frank James (Jesse's brother) turned himself in to the governor.
Nearly 200 acres of the property was donated by Leicester and Mary Faust in 1968 to St. Louis County with the requirement that Thorhill's library, kitchen and porch be restored.
With just 56 governors before him in the state's 200 years, Parson said he and Bates were in a "significantly small club." Also on a distinctive list are the state's famous sons and daughters.
"One town is where Walt Disney grew up (Marceline), down the road lived a high-ranking military officer – Gen. John Pershing (near Laclede), and on from there was J. Penney, of J.C. Penney, (outside of Hamilton)," he said.
Other famous Missourians he mentioned included George Washington Carver, who resided near Diamond; President Harry S. Truman, of Independence; Edwin Hubble, of Marshfield (Hubble Space Telescope); Daniel Boone, os Defiance; and President Ulysses S. Grant, of White Haven.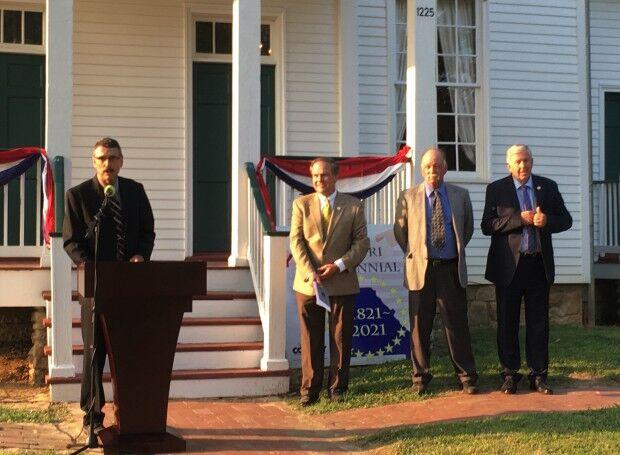 One Missouri farm that has been in the family for 205 years has the signature of John Quincy Adams (president) on the title, Parson noted.
In addition to other Bicentennial celebrations around the state, the governor's office will host a Bicentennial Inaugural Parade in Jefferson City on Sept. 18. The parade will feature the Budweiser Clydesdales and will celebrate the swearing-in of Missouri's elected officials. Edith Harrington, 98, a World War II United States Cadet Nurse Corps member, will serve as the parade's grand marshal.
The Missouri State Capitol will feature community engagement items on display, including Missouri professional sports championship trophies (Kansas City Chiefs – Super Bowl, Kansas City Royals – World Series, St. Louis Cardinals – World Series, and a St. Louis Blues – Stanley Cup replica).
The Bicentennial Inaugural Ball will follow the parade on the Missouri State Capitol North Lawn and will feature live music and a fireworks display.
Parson served six years in the U.S. Army and more than 22 years in law enforcement as the sheriff of Polk County. He was a member of the Missouri House of Representatives (2005-2011), the Missouri Senate (2011-2017), and served as lieutenant governor in 2017-2018.
While in the Army, Parson served two tours overseas. He said that when he returned, he vowed to never leave the state again.
"We're here today because of what people have done before you; we're able to celebrate 200 years," Parson said.
He boasted about Missourians' work ethic, values and "being neighborly."
Of the pandemic and world affairs, he added, "We've been through hard times before; we're going to be just fine."