There were differing opinions from the Chesterfield Finance and Administration Committee as to proposed ward district changes within the city following the 2020 census.
With the release of population data, city staff reviewed the existing ward boundaries and determined that population shifts mandated that the ward boundaries be modified. Under state law, the city is required to have ward boundaries that are "substantially equal" by population.
In 2010, the population of the city was 47,484; it increased by 2,515 or 5.3% in the latest census.
At the committee's Sept. 28 meeting, City Administrator Mike Geisel presented the proposed redistricting map.
"When reviewing the ward boundaries, logical boundary lines (i.e. major roadways, access to neighborhoods, creeks and similar physical constraints) were used to create consistent areas for voter representation," Geisel explained.
While wards 1 and 3 are largely built out, substantial growth is expected to occur in wards 2 and 4, Geisel said. So, those wards have been pushed slightly below the average, with Wards 1 and 3 being slightly over.
The recent census numbers do not include planned or recent developments like Fienup Farms, Aventura at Wildhorse Creek, The Pearl at Wildhorse Creek, Wildhorse Village and Downtown Chesterfield on the former site of Chesterfield Mall.
Geisel explained that Fienup Farms alone is 220 homes, which could be mean an additional 600 people (based on 2.2 persons per home), Wildhorse Village is another 700 units and the mall property is an unknown at this point.
"We're looking for a long-range plan, not a quick fix," he said, explaining that ward plans are for the next 10 years, until the next census.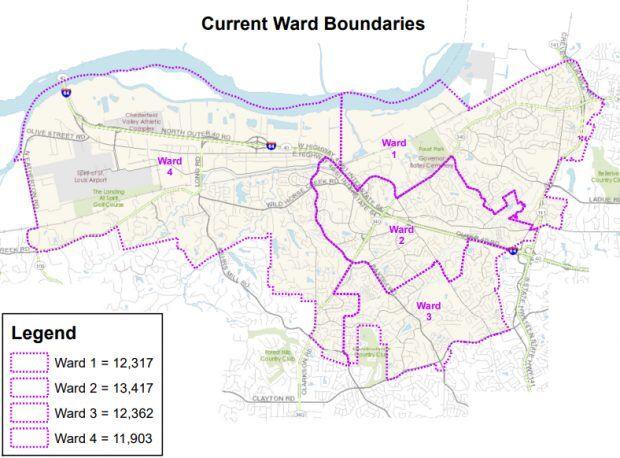 The current map has irregularities and odd shapes stemming from the last redistricting done in 2001. The intent in this redistricting is to smooth out the boundaries while leaving subdivisions whole, Geisel said.
The current population by ward is 12,317 (Ward 1), 13,417 (Ward 2), 12,362 (Ward 4) and 11,903 (Ward 4). With a total population of 49,999, the four-ward average of 12,500 would ideally lead each ward to be between 11,875 and 13,125, Geisel said.
"We know growth is going to occur and we have at least an idea of where that's going to occur," said Justin Wyse, director of planning. "Looking at those areas where we're projecting growth to occur …," he asked, "How can we set ourselves up for logical growth in the future without radical changes to the ward boundaries?"
Proposed populations by ward are 12,893 (Ward 1), 12,074 (Ward 2), 12,892 (Ward 3) and 12,140 (Ward 4). In some instances, subdivisions were moved to different wards.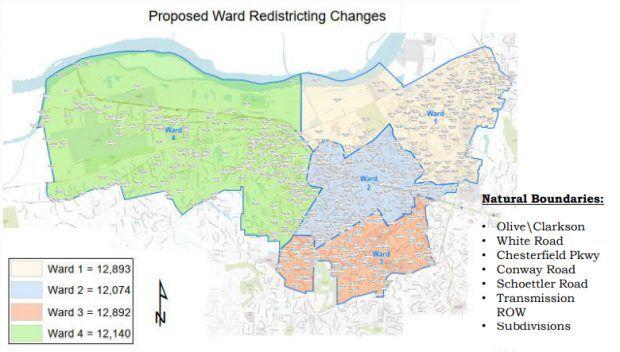 However, the proposed redistricting was met by pushback from some on the committee.
Council member Barb McGuinness (Ward 1) said she believes the changes are too aggressive. "In my opinion, why not just take some from Ward 2 and give it to Ward 4 and be done with it," she said. "For 20 years these have been the ward boundaries; if you don't have to make radical changes, there's no reason to do it."
Councilman Dan Hurt (Ward 3) also objected to the changes. "The people who elected us, you're now taking that away," he said. "You're not taking away so much from Ward 2 and giving it to Ward 4, you're moving all the wards around. I'm not for that approach. I think Ward 3 should stay the way it is. Most of the movement should be between Wards 2 and 4."
Mayor Bob Nation noted that the majority of Ward 4 is commercial and has no more large tracts of land for subdivisions, limiting its potential for growth. However, given the GIS (geographic information system) technology and analysis staff used to determine the wards, Nation said he believes they should rely on that expertise.
Council member Aaron Wahl (Ward 2) agreed.
"It's a good idea for us to allow the employees of the city who – this is part of their job(s) and what they're trained to do – do it and present something that they think is best," Wahl said.
Council member Mary Ann Mastorakos (Ward 2) cautioned that council members shouldn't be concerned about keeping certain subdivisions or voters in their wards, so that redistricting doesn't become political.
City staff hopes to finalize redistricting prior to the municipal candidate filing for the April 2022 election, which begins Dec. 7.
A public hearing will be held by the city council prior to any ward changes.