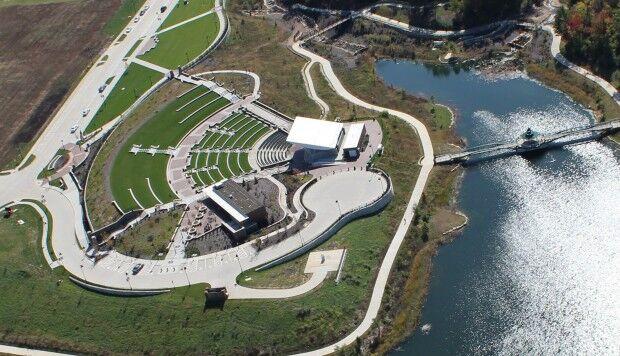 Recording artist Gladys Knight describes it as being in the top five beautiful outdoor  venues where she has performed, explaining that she enjoys walking the nearby trail when she has free time.
Country singer Aaron Lewis says it's beautiful and especially likes wetting a line in search of bass and other fish in the adjoining lake.
The "it" in both references is the Chesterfield Amphitheater in the city's Central Park. The favorable feedback represents just some of the positive comments Jason Baucom has received from performers as well as those attending the increasing number of shows being held there and others in the performing arts business.
Baucom, who joined the city of Chesterfield's Parks, Recreation and Arts Department six years ago and now is superintendent of arts and entertainment, has no illusions of grandeur.
"We don't claim to be the experts in this business and we sure aren't trying to compete with the large ticketed venues in the St. Louis area," he insisted. Instead, he focuses on the importance of building the Chesterfield Amphitheater's "brand," an effort he firmly believes is meeting with success.
"Our notoriety is beginning to build as the best small outdoor venue in the Midwest," he said. "In this area, there's just nothing else like what we have here."
The amphitheater's brand is based on a number of things. Its sound system and acoustics are two factors important to all performers and their agents.
"Performers obviously want to sound good when they are out there on stage," Baucom said. "If you don't have a good sound system and good acoustics, you're going to have a hard time attracting serious talent."

Building trust goes right along with building the brand.
"Performers, agents and others in the business are a pretty tightly knit group," Baucom said. "They talk around the water cooler, so to speak, just like everyone else. So if you screw up in some way, word definitely gets around.
"But word also gets around if you do things right. We not only make sure we meet all the specifications in the contracts we negotiate, we try to exceed them so that people want to come back here."
There are signs that the brand-building efforts have had an impact.
"We now have other cities coming to us for information on what we've done and are doing," Baucom said. Also, agents have started calling to ask Chesterfield to consider performers they represent.
The amphitheater has just 304 seats front and center but the layout offers good sight lines for crowds of up to 5,000, most of whom bring their own portable chairs or blankets.
"Most of those who attend are from Chesterfield and the immediate area, but we're also finding our events are bringing in people up to two to four hours away," Baucom said. "It all adds up to a sizable economic impact on the community."
As an illustration, Baucom told of an Arizona couple who flew here for a concert when country music singer Ray Scott was the featured performer. "They are real Scott fans and try to get to at least two of his concerts every year. They hadn't been here before and thought it would be a good place to try out," he related.
Not all the amphitheater shows are ticketed events, but the ones that are help support the variety of free events staged there.

"We're trying to meet the needs of the community and we offer a wide mix of programming to do that," Baucom said.
Of the six ticketed shows held at the amphitheater during the past season, three were run in-house while the others either were partnerships or involved renting the facility to a sponsoring organization.
As an outdoor, rain-or-shine facility, the amphitheater and those who perform there are at the mercy of Mother Nature.
"We haven't had to cancel a show so far, but we have had some delays," Baucom said. For example, if there is lightning in the area, there have to be at least 30 minutes after the last strike before the show can start or continue.
Whatever the reason for a delay, shows at the amphitheater have a mandatory ending time of 10:30 p.m.
Because it is a rain-or-shine venue, refunds on ticketed events aren't available. "Of course, if the artist cancels for some reason, that's a different story," Baucom noted.
In addition to the sound system, a number of other improvements have been made at the amphitheater in recent years. The drive where vehicles with the show can unload has been modified to make it easier for highway buses and large semi-tractor trailers to maneuver.
Similarly, some of the large planters near the concession stand and restroom area have been removed to eliminate choke points that hindered the flow of foot traffic. Making it easy for people to get to and from the concession stand area is important.
"We want to break even on show-related expenses through ticket sales. If we make money, it's through concession sales," Baucom explained.
A new area also was established in a center staircase in front of the stage to accommodate the sound mixing equipment and other gear needed for a performance. The area can be covered if necessary to protect the expensive and sensitive apparatus if bad weather threatens.
Although sharply inclined, the roof over the amphitheater stage provides an ideal screen for any visuals projected during a show.
The day of any major performance traditionally starts early and ends late. Equipment unloading, from trucks traveling with a show, traditionally begins at 7 a.m. The 8 a.m. breakfast is catered in for the crew and others with the production.
Bus and truck drivers, who often have driven all night from the previous show, and others needing sleep are taken to nearby hotels by 9 a.m.
There are countless numbers of errands to run and things to be checked or followed up on throughout the day, but everyone usually is ready for the catered lunch at noon. Speaking of eating, it is not unusual for a show contract to spell out what must be on the menu and other details related to mealtimes.
Sound checks and other testing come during the afternoon.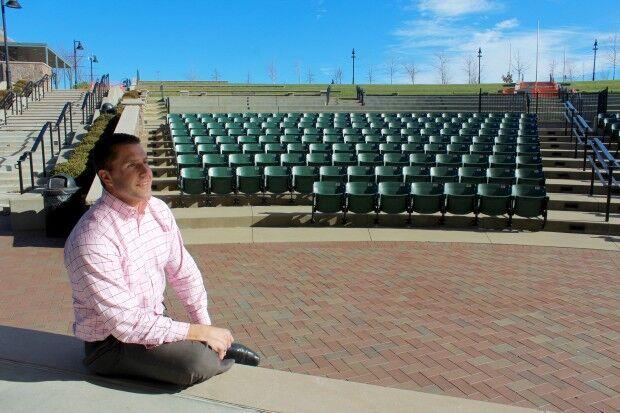 Baucom is on the scene throughout the day and remains there after the show to ensure the equipment tear-down and reloading processes go smoothly and the amphitheater is properly shut down. All of which means his "day" typically doesn't end until the wee hours of the following morning.
"I wore one of those fitness devices during a show day last season," Baucom smiled. "It told me I'd walked 28 miles since the day started."
Baucom has been able to hire some part-time assistants during the summer and he's grateful for the extra help. "With the staff here and the seasonal people, I've been fortunate to have a great team of people involved in getting the job done," he said.
He said his work is his passion. "It's truly rewarding to work on things in this [Parks, Recreations and Arts] department and then see everything come together and people having a good time."