Candlelit rooms filled with Victorian antiques from a bygone era. Long veils and dark dresses that sweep the old floorboards. Pallbearers carrying a casket through rows of mossy headstones in Bellefontaine Cemetery.
These images may seem like something from a movie set to some, but to members of the St. Louis Mourning Society, it's all part of another day's work of bringing funeral traditions to life for modern audiences.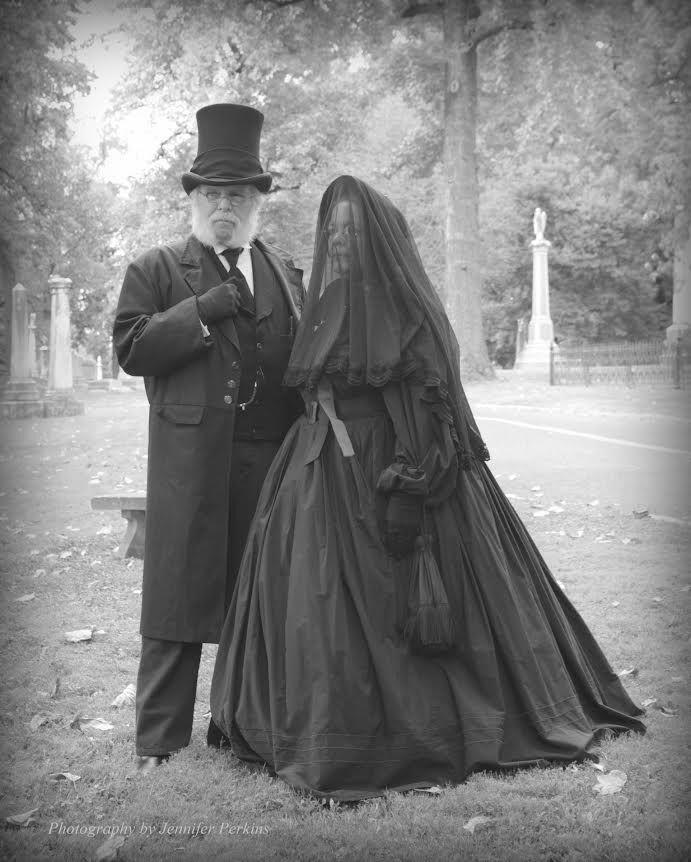 "I think there's something to be said for just representing things that happened in everyday life to people … I think it's easier to make an emotional connection over something like that," Katherine Kozemczak, of the St. Louis Mourning Society, said.
The society is a civilian reenactment group with an interest in mourning, death culture, spiritualism and the funeral customs of the mid-19th century through the early 20th century. Their main area of focus is public educational events that include authentic dress, props and other touches to provide an immersive yet accurate lens into the funerals of the past. 
"We talk about what would happen in the house if someone passed away at home, like how mourning would occur, how the family would behave, and all the different things they would do at home," Kozemczak said. "We would talk about the wake and the funeral in the house. We also talk about the clothing they would have worn, and what the protocol was around visiting a family when someone had died."
The era on which the group focuses is primarily the 1860s. It is a common and well-researched era for reeneactors, according to Kozemczak. 
"There are period dancing groups, all kinds of different groups that do reenacting in the 1860s," she said. "That's just something that most of us were doing outside of the Mourning Society, so it was already something we were familiar with."
The group is comprised mostly of historical enthusiasts and volunteers who share a passion for helping modern audiences experience the bygone traditions.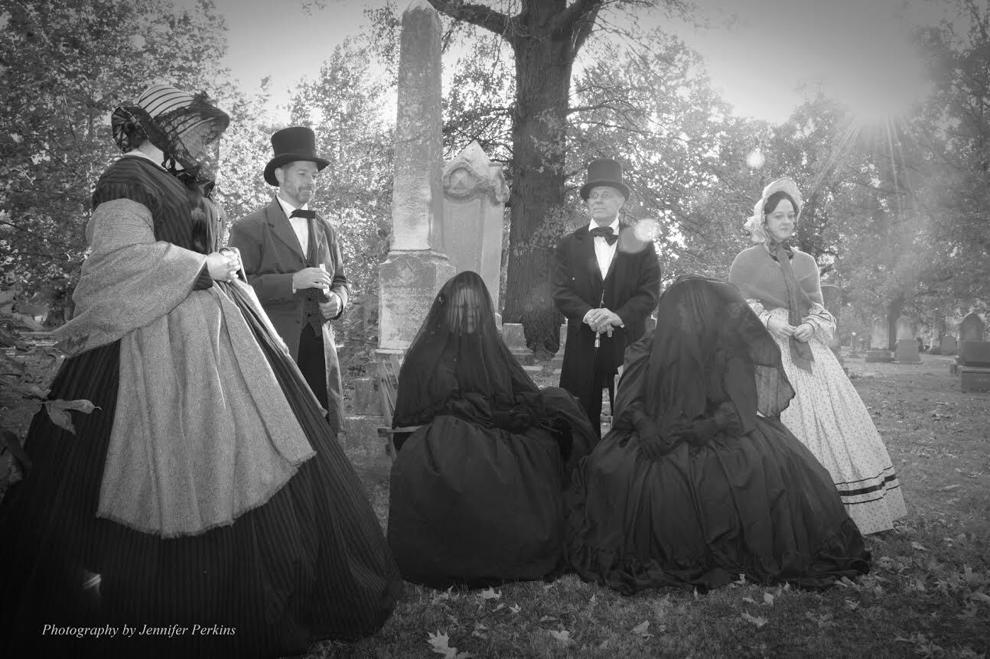 "Back in the past, when people read a story about what happened to someone, there's this level of disconnect between what we're experiencing and what that person experienced," Kozemczak said. "When you're actually there and you see the carrying of the coffin out of the church, I think it has a bigger impact on people. You can make that connection to people in the past." 
The Mourning Society has partnered with multiple local historic destinations to create a realistic atmosphere for their educational events. Those include Bellefontaine Cemetery, The Campbell House Museum, the St. Louis Public Library, Jefferson Barracks Historic Site, Missouri History Museum, The General Daniel Bissell House, The Field House Museum, and The Stephen and Peter Sachs Museum at the Missouri Botanical Garden.
The types of event and topics discussed vary based on the location.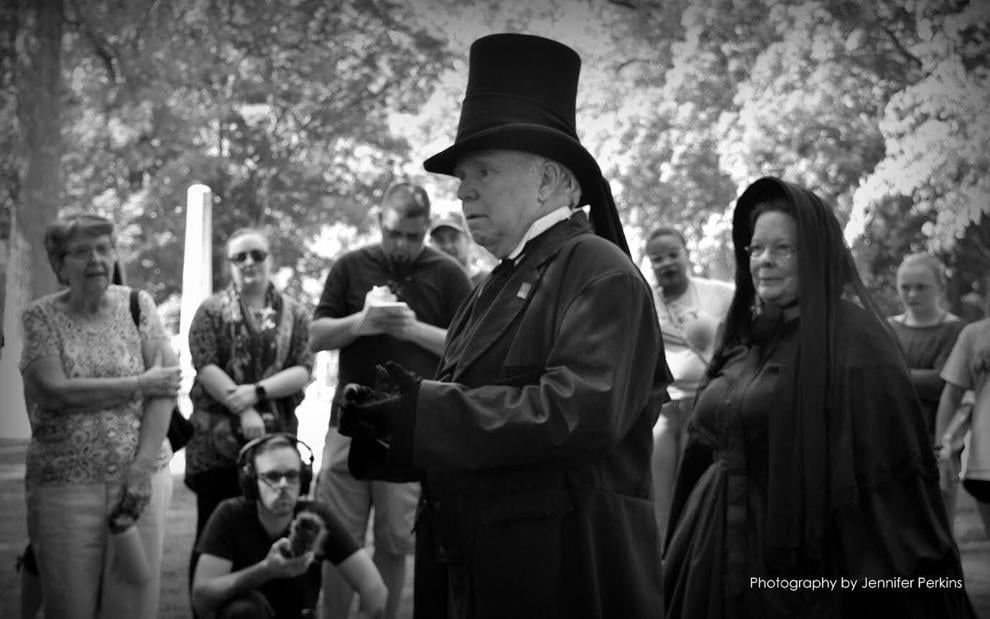 "The Bellefontaine event consists of a short tour, and a reenactment of a funeral; then a funeral procession," Kozemczak said. "When we're in a house, we have an exhibit in each room, with someone talking about a different topic."
Research goes into painting an accurate depiction of what the person's life was like in the 1800s.
"When we're at Bellefontaine, the person (discussed) is actually buried there," Kozemczak said. "If we're doing a funeral of a specific person, we try to base it around what that person died from, or maybe what they were involved in during their lifetime."
Not every person paid tribute is a famous figure from the past.
"Some of them are I guess what you could call historic figures, but some of them are just everyday people that died in the 19th century," Kozemczak said.
While other groups may prioritize more theatrical aspects, the St. Louis Mourning Society takes care to make sure that everything, from the coffins to the dark dresses, is accurate to what one would have experienced over 100 years ago. 
"The coffins that we use are antiques, and those belong to a member of the group," Kozemczak said. "We bring different kinds of mementos that they would have used during that period: cabinet cards, all kinds of different things they would have kept as mementos for someone who died."
Events in historic homes often allow the group's members to bring in more props and other personal, vintage artifacts. 
"People like to have a connection by seeing some of the items they would have used at that time," Kozemczak said.
Those items are unique in that they belong to personal collections of individuals in the society. For example, Kozemczak has a personal collection of authentic, vintage jewelry. This even extends to larger props and old equipment that wouldn't be out of place in an authentic 1860s funeral parlor.
" ... we have a collection of 19th century embalming equipment,"  Kozemczak said. "We have someone with a collection of medical items from the 19th century, so if you were ill, that's what they would be treating you with. Things like that."
Sometimes the discussions expand to the different illnesses that were prolific in the era, and if the diseases are still common in today's society.
"What kind of medical treatments were available for something like cholera?" Kozemczak said. "What would happen to you if you were sick from that disease, because most people don't know."
Beyond funerals and mourning, the group also makes strides to educate individuals on the Victorian viewpoint on death. This includes topics like mediums, seances and spiritualism, otherwise known as the belief that spirits exist and are inclined toward communication with the living. 
"Spiritualism was a real religion for people, it wasn't just ouija boards in the basement, or a couple kids at a party, which is what we think of now," Kozemczak said. "Back then, it was a serious religion, and that is the angle we wanted to take."
While many may be drawn to the group based on discussions of spiritualism and mourning, the group's ultimate goal is to provide a realistic perspective on the era's culture around death.
"We didn't want to go to spooky with it. We wanted to talk about the history of it," Kozemczak said.  "We do have people who come and they want a lot more pomp and circumstance, especially with the clothing." 
"Ladies want to wear these really beautiful black dresses with all this beading, but that's not really what they would have worn … it's not like Hollywood flashy. It's more realistic, and that's what we want to portray." 
For more information about the society, including upcoming appearances, visit mourningsociety.com.