The month of May is a typical month for college and high school graduations and a time when the question of "What do you want to do after high school or college?" enters into conversations. For those who may not yet have an answer they like, Americorps St. Louis could help.
Samuel Unnerstall, a former St. Charles West High student, is a current Americorps STL member. A resident of O'Fallon, he took the advice of his grandfather, Gene Kissling, who found value in taking a gap year between high school and college. In his junior year with the help of his parents, Unnerstall began researching programs that would complement his love of biology and ecology. One option was the Peace Corps, but with overseas work and a 2-year commitment, he found the option a little intense. Conversely, he was really pleased to discover Americorps. He connected with Americorps STL and began his 11-month commitment in September 2022.
Americorps STL is a nonprofit program that tackles a variety of projects like trailblazing in parks, firefighting restoration projects and disaster assistance. Members have worked with conservation projects since 1994. In 1995, they responded to the Oklahoma City bombing and in 2001, responded to the Sept. 11 terrorist attacks in New York. Members have also helped out with various hurricane and tornado assistance efforts. In 2009, Americorps STL began responding to the needs of the city's homeless community during winter weather. 
"When the weather drops below 20 degrees, we open an emergency winter warming shelter for the homeless," Tim Elwell, Americorps STL development manager, explained. "Day services are also available where we offer food, showers and clothes along with resources like case management, housing and medical assistance."
Americorps has structured training programs that allow members to master the skills they need,  such as working with a chainsaw, fighting a wildland fire, or other skills to match what the project needs. Some members go on to get Firefighting Red Cards and other certifications that they leverage in careers after their Americorps rotation comes to an end. 
Unnerstall remembers his training, specifically at the start, and how intimidating some of the tools, like chainsaws, can be initially. 
"I had personally never used a chainsaw before the program," he said. "The training was able to help me get a true balance of respect and safety for the tool but also confidence to know what will happen in a situation, and react accordingly to have things go safely. It was definitely a situation that was scary at first but now I really love it!"
Most Americorps members range in age from 18-35 serving an 11-month term with a typical Monday through Friday work week. These projects provide an opportunity to work with their hands and enjoy a true spirit of giving back in a very tangible way. Members are given a living stipend, and most remote assignments provide meals and lodging. There are also education awards available to members providing student loan assistance or other awards towards the cost of education.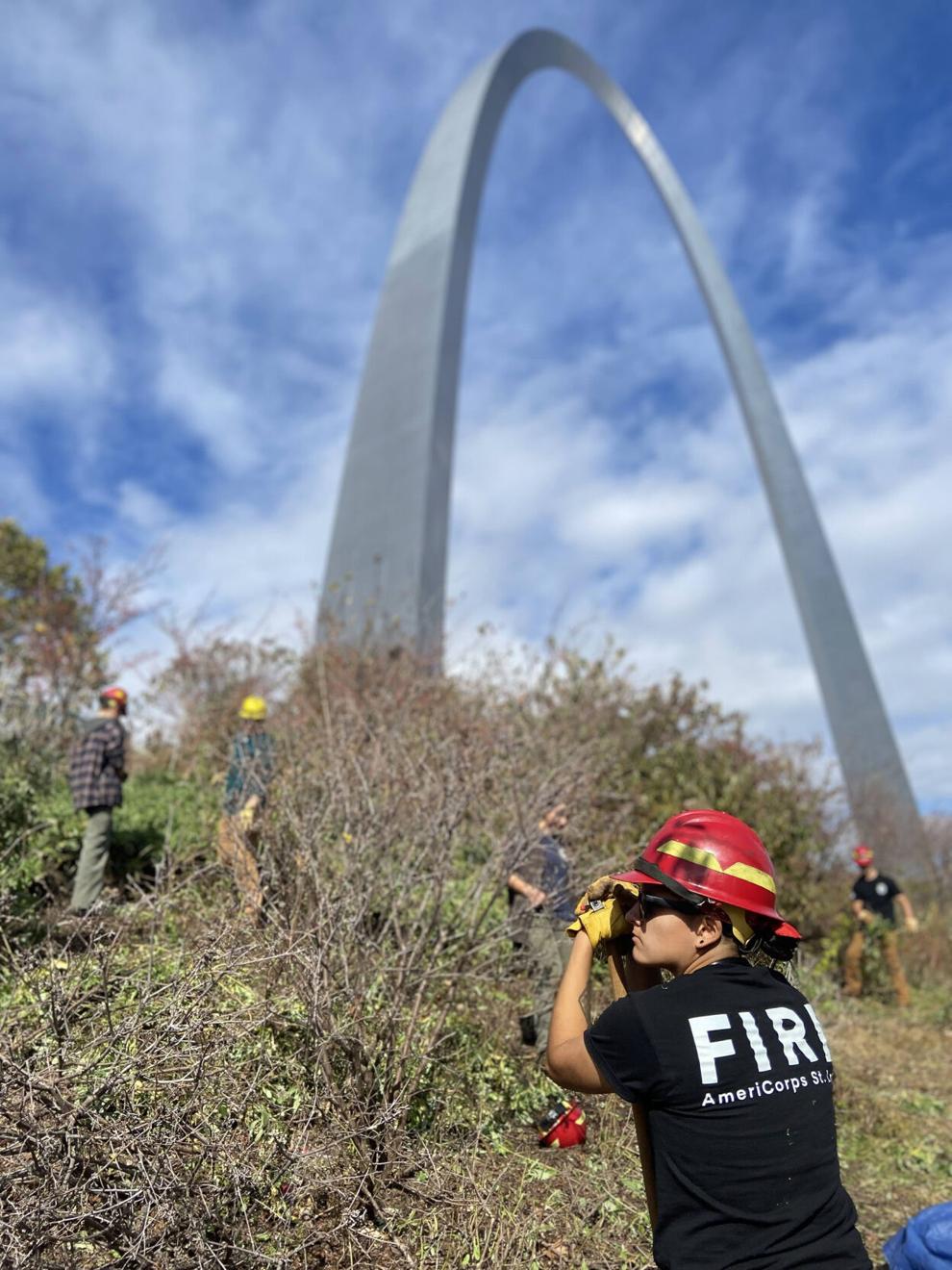 Earlier this month, more than 30 members served in the Lake of the Ozarks. The project involved a 10-day stay at the park where members spent most days in the great outdoors doing glade restoration work, felling cedar trees and clearing invasive plants. The team lives together during the 10-day exercise, cooking together, sleeping in provided lodge housing by the parks department. Previous project work included prescribed burns in Eminence, Missouri, to help control any chance of wildfires spreading during the dry summer months. The work is hard, dirty, strenuous and wonderful. 
Program Manager Nick Ciaramitaro said the rewards of the program include learning about the uniqueness of Missouri. 
"People might be surprised to find out how rare some of our ecosystems are in Missouri," Ciaramitaro said. "An eastern collared lizard is a really pretty lizard that looks like it belongs in the southwest. The prickly pear cactus is also a flowering cactus that looks like it belongs in Texas. Both are actually native to the Ozarks in Missouri."
A typical day on a project like the one at the Lake of the Ozarks park starts with a structured 7 a.m. campfire meeting to outline the day's assignments. Teams do equipment checks before heading out to the field. Around 3:30 p.m., the teams start to navigate back to the camp for any equipment maintenance, some training and free time. Dinner is served around 8 p.m. and then, members play cards and relax a bit before a night of well-deserved sleep.
For Unnerstall, one of the surprising opportunities has been the ability to really grow his interpersonal and soft skills. The skills of dealing with adversity, critical thinking, being flexible to the way things can change quickly are developed throughout the experience. At the beginning, everyone's a little unfamiliar, he said, but the program structure really helps to develop connections. 
"The connections are sibling-like in a way, which also makes it so much fun to mess with each other,"  Unnerstall recalled. 
Even on the weekends or days where the members have the day off, they will still get together to play a game of Wiffle Ball or ultimate Frisbee. 
One element that has made a difference for  Unnerstall as a first year member is the team leadership. The second year team leads help new members find answers, but in a way that promotes comprehensive understanding. 
Additionally, Americorps' connections to its partner organizations have given its members credibility that goes a long way in allowing them to take on more within a given project. The training that team leads provide has helped the members prepare for certification exams as well. Unnerstall is amazed at how much he has learned in a short while. 
"It's difficult for me to remember right now just how little I knew back at the start of the program," he shared.
His experience took him as far as Florida to aid in disaster recovery related to Hurricane Ian in late 2022. One exercise there was what Unnerstall called a "muck and gut" where the team spent time doing demolition and proper disposal of a house with mold and water damage. 
"We were leaving just the frame, pulling out kitchen sets, dryers. It was an impactful experience where their entire house and personal possessions were just destroyed. It was so impactful and tough to see, but a great experience I would do again," he said.
Later this year, Unnerstall and other Americorps STL members will travel to Butte, Montana, for six weeks to help the Montana Forestry Service. Members will have the opportunity to apply what they have learned while taking in the mountainous landscape and cooler summer weather.
Unnerstall has some advice for those considering Americorps STL as an option to the question: "What do you want to do after high school or college?" 
"If you can commit yourself to learning, and try to take something out of it, it will absolutely give you what you need," he said.
In addition to being able to claim first-hand experience on his future resume, Unnerstall can also leverage connections he now has with the agencies and companies that partner with Americorps. Those include the National Forest Service, Department of Natural Resources and the Missouri Department of Conservation, to name a few.
So what's next for Unnerstall?  
He is considering applying to come back as a second year Americorps member. Inspired a good deal by the team leads, he looks forward to being able to give back to the program in that way.