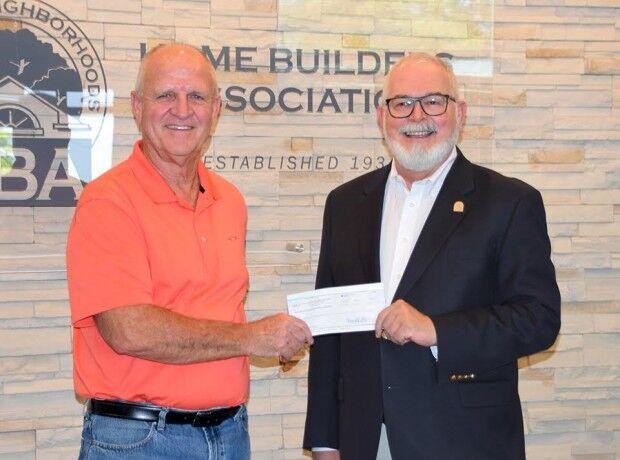 COMMUNITY CARE
A $12,500 donation was made from Home Builders Charitable Foundation to DOORWAYS. The donation will be used to update the foyer of a building in DOORWAYS' Family Residential Complex, which houses 86 people, more than half of whom are child dependents. DOORWAYS provides affordable, secure housing and related services for people living with HIV/AIDS. The HBA is a local trade association of more than 600 member firms representing the residential construction industry. The Home Builders Charitable Foundation, the HBA's charitable arm, is a non-profit organization dedicated to providing housing assistance to those with special shelter needs.
PLACES
Salads 2 Your Door (salads2yourdoor.com) is a healthy food delivery service founded by Chanala Rubenfeld of Chesterfield. The business was born from a need to help busy people have access to quick, healthy meals for themselves and their families on a consistent basis. It features full-meal salads and smoothies that can be tailored to meet any dietary restrictions. The growing franchise has expanded to Kansas City and Atlanta. 
PEOPLE
Bella Gente Salon has announced the addition of Chesterfield native, Sarah Hoffman as its newest stylist. After pursuing a career in the corporate world for the last 25 years, Hoffman recently returned to her hometown and decided to pursue a new passion as a licensed cosmetologist/hairstylist. 
• • •
The Cancer Research Foundation has tapped business, community leader and cancer survivor Mark Mantovani to help expand its footprint in St. Louis as its first board director from this region. The foundation began funding at Washington University in St. Louis in 2012, and over the past nine years has funded $1.2 million at the Siteman Center to 14 cancer researchers. The organization makes early investments in young researchers who explore ideas for the prevention, treatment and cure of cancer.
AWARDS
Friendship Village Director of Nursing Margie Batha was awarded the Florence Nightingale Award from Abbott EMS for nursing excellence. Batha was nominated for her outstanding service to the Friendship Village residents and staff. She was recognized for her strong leadership abilities and positive attitude.
EVENTS
The Chesterfield Chamber of Commerce hosts its 7th Annual Fall Golf Classic on Monday, Oct. 18 at WingHaven Country Club, 7777 Winghaven Blvd. in O'Fallon. Registration opens at 9 a.m. with shotgun start at 10 a.m. Box lunch, dinner buffet, awards, silent auction and raffle at the clubhouse immediately following play. Fees begin at $150 for individual play. Register online at chesterfieldmochamber.com.
• • •
The West St. Louis Chamber of Commerce hosts its general membership meeting from 11 a.m.-1 p.m. on Thursday, Oct. 28 at Forest Hills Country Club, 36 Forest Club Drive in Chesterfield. Kelli Risse, owner of Rise Up and Live Wellness, will speak on "The Mess of Stress: Finding Peace Within the Chaos." Admission is $30 for members; $35 for nonmember guests. There is a $5 surcharge for registration less than 48 hours prior to the luncheon and for walk-ins. To register, call (636) 230-9900 or visit westcountychamber.com.